This article will show how to configure stacking in Nebula. Stacking is available for XS3800 (July, 2023), and you can have a maximum of 4 switches in your stack. The Switch stacking requires pro pack and this article will further show you how to add/replace a switch to the stack, best practice switch stacking scenarios and how switch stacking works.
Table of Content
Introduction
Switch stacking is a network architecture technique that involves combining multiple network switches into a unified stack or stackable unit. In a stacked configuration, multiple switches are interconnected using specialized stacking cables or interfaces, creating a single logical switch entity. This allows network administrators to manage and control the entire stack as if it were a single switch.
The primary purpose of switch stacking is to enhance network performance, scalability, and manageability. By stacking switches, organizations can achieve increased bandwidth and throughput by aggregating the capacities of individual switches within the stack. This allows for efficient data transmission and improved network performance, particularly in environments with high data traffic or demanding applications. If you have a single backbone switch only, it could make some of the users not getting connectivity if that switch fails:
Switch stacking also simplifies network management by providing a consolidated management interface. Instead of managing each switch separately, administrators can control the entire stack from a single point of access. This centralized management streamlines configuration, monitoring, and troubleshooting processes, saving time and effort.
Furthermore, switch stacking offers scalability benefits. As network requirements grow, additional switches can be easily added to the stack, expanding the capacity of the network without significant disruptions. This scalability allows organizations to adapt their networks to changing needs and accommodate future growth seamlessly.
1) Prerequisite for Switch stacking in Nebula
a) Model Support: [17.10] XS3800-28 with V4.80(patch2) firmware
b) Maximum of 4 units per Switch Stack
c) Maximum of 10 different Switch Stacks per Nebula Site
d) All units in the switch stack must belong to the same Zyxel Switch series
e) Requires Nebula organization in Nebula Pro Pack status
f) NCC considers each Switch unit in a stack when calculating Nebula Pro Pack license requirement
g) Cloud-Managed switch will lose cloud configurations when switching to Cloud-Managed Stacking mode
h) An IT or administrator must be present on-site to perform physical cable connections
i) All switches must initially have individual connection to Internet without crossing other switch units to be added to the stack
2) Best Practice Switch Stacking
a) Use a ring topology in order to create redundancy in your network
Example: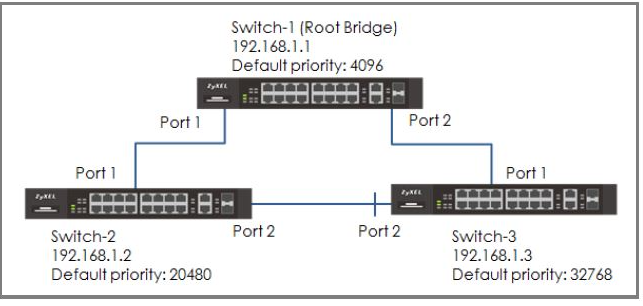 b) Apply Link Aggregation to each stack
This is done to provide redundancy during a link or hardware failure.
It is also used to provide increased bandwidth that can be used

3) Switch Stacking Roles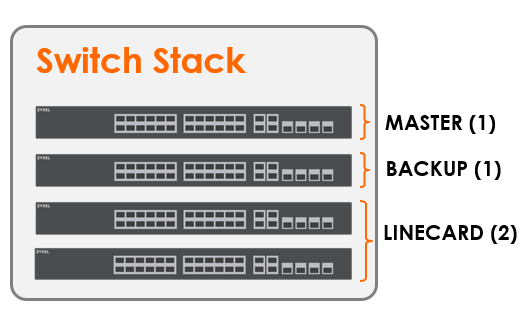 •MASTER – handles user management and provisions settings to the other slots
•BACKUP – takes over the MASTER role when stacking channel loses connection to MASTER
•LINECARD – takes over the role of BACKUP when stacking channel loses connection to MASTER
4) Configure Switch Stacking
Step 1. Add the switches to Nebula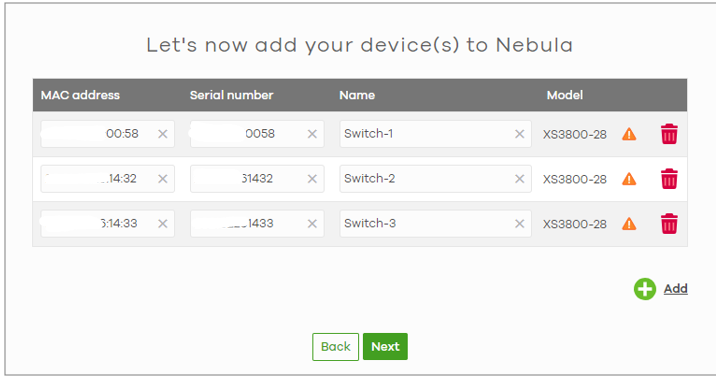 Step 2. Create a Switch Stack Profile
Navigate to Site-wide -> Configure -> Switches -> Stacking Management

Step 3. Follow directions indicated on the Wizard
Prerequisite
a) All Switch Units added to the same Nebula Site
b) All Switch Units are the of the same product series and firmware version
c) Wait until all Switch Units are online
d) Stacking Ports should be disconnected and in link-down state
Step 4. Add Stack devices

Step 5. Physical Connection (On-site)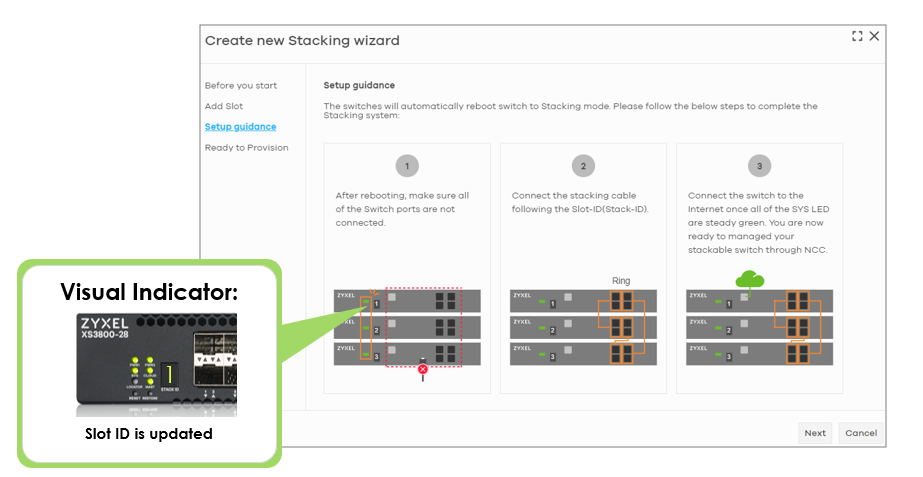 Important!
Avoid connecting two different Channels to the same Channel -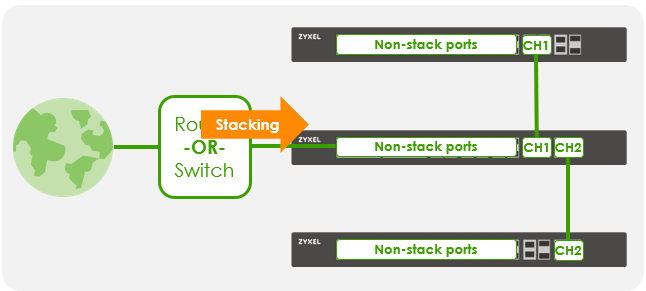 Step 6. Ready to Provision
All slots must be able to reconnect to NCC after NCC provision stack settings to all slots
Provision button is greyed-out until all switch in stack are back online
Administrator must manually click on Provision button to start cloud management
Administrator must verify local switch status if device cannot go back online
5) How Cloud Stacking works
Nebula stacking has Force Master disabled as a default and a priority set to 32. The criteria in Nebula is as a default is only uptime and lowest MAC.
Which switch becomes the MASTER?
MASTER role is assigned to the unit following the criteria order:
1. Force Master – ENABLED
2. Highest Stacking Priority
3. Longest System Uptime (per 10min interval)
4. Lowest MAC Address
BACKUP role is assigned to the unit with the next best criteria

6) Adding & Replacing a Switch Stack Slot
a) If there are empty slots, the new unit added MUST replace the empty slot
b) When removing slots, all port settings related to the slot will be erased
c) Replaced slot will need to manually reapply switch/port settings
d) Can request slot setting migration and procedure from support team
e) Slots with the following settings cannot be removed/modified unless disabled first:
- Port Mirroring
- Link Aggregation
6.1 Step-to-step guide
Step 1. Power On new Switch Unit
Step 2. Connect new Switch Unit to internet with a non-stacking port

Step 3. Add new Switch Unit to a your Nebula site
Step 4. Add new Switch Unit to slot member and click on "Change" after the new switch comes online

Step 5. Connect stacking ports of the new Switch Unit with the existing switch slots