This guide will show you how to reset a switch via console.
In order to do the factory reset, we will need the default configuration file (.ROM) which can be found on our official FTP:
Navigate to the directory with the exact name of your switch to find the firmware:
In this example we will use the folder of the GS2210-8HP: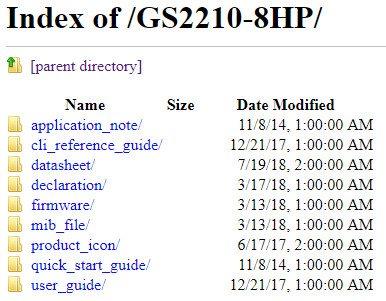 Click on the firmware folder and download the latest firmware for your device, extract all files to a location of your choice - for example, the desktop.
Please connect the console cable to the RS232 now to your switch and you can use a terminal emulation software such as Tera Term to connect to the switch using the COM port.
Power on the device and wait until you see the prompt:
Press any key to enter debug mode within 1 second
Press any key now and you will enter the debug mode.
On screen you will now see the following:
GS2210-8HP>
By typing atlc you will start the XMODEM upload mode.
GS2210-8HP> atlc
This allows you to do the following:
In Tera Term navigate to File > Transfer > XMODEM > Send...
In the now opened window select the previously downloaded .ROM file and click "Open"

This will start the send process and it now might take a while to upload the file to the switch. (Note: This upload may take several minutes.)
Once the switch has received the ROM file, it will start overwriting the existing configuration file with the default configuration file (.ROM) and therefore resetting the switch.
When the console prompt returns to:
GS2210-8HP>
Please type in the following command:
GS2210-8HP> atgo
 This will reboot the switch.
Once the SYS LED stops flashing the switch is fully booted and reset back to factory defaults, ready to be configured again.
KB-00206