This article shows you how to trace packets on an AP. This can be used to troubleshoot issues with CAPWAP, Bandwidth and VLAN.
Table of Content
1. Connection via SSH
Use Putty or TeraTerm to access the AP via an ssh session or console connection: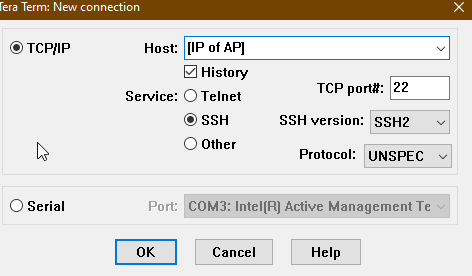 Check the SSID with the following commands:
Router> _debug wireless_dbg iwconfig
Router> debug system brctl show
Assume the station is connecting to the SSID "Kuestriner VH" , we can see this SSID is "wlan-2-2", which the interface is "localbr0".
If the SSID is "wlan2-1", the interface is "br0".
2. Check Station
Check if the station is connected.
Router> show wlan slot1 list all sta  --------for 2.4G clients

Router> show wlan slot2 list all sta  ---------for 5G clients

3. Packet Trace
Confirm that the AP receives the packets from the station. Perform a ping to 8.8.8.8 from the station. You can see the packet flow displayed like the following.
Router> packet-trace interface localbr20