Hardware stacking is directly connecting Switches to form a larger system that behaves as a single Switch or a virtual chassis with increased port density.

The main benefit of hardware stacking is to provide high availability and load balancing for servers.
Please Note:
- Limitations of Support Model Series and Quantity:
XGS2210 Series: up to 2 switches
XGS3700 Series: up to 8 switches
XGS4600 Series: up to 4 switches
Modularity
Stack 2 or more switches of different model types but stay in the same Series with 10G speed

Usually, the last two ports of your Switch are dedicated for Switch stacking (please check user-guide for further details). You can manage each Switch in the stack from a master Switch using its web configuration or console. Each Switch supports up to two stacking channels.

For example, if we stack two XGS4600 series Switches and use link aggregation to connect the two separate Switches to a server with dual NIC, service interruption can be avoided when one of the XGS4600 switches goes offline.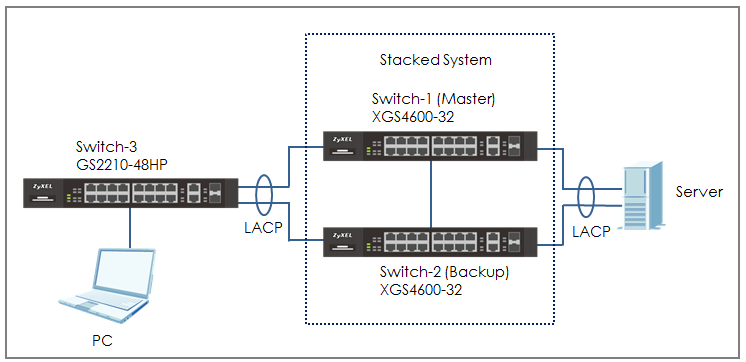 How to setup this Szenario, you can find here:
How to configure stacking for switch (high server availability) Stacking