Every electronic device can fail. The same thing applies to hard disks. With RAID arrays, we are able to mitigate data loss if the drive fails. How to proceed, when a drive failure occurs?
Synopsis:
In case of a single drive failure, RAID array will be marked as degraded and NAS will beep continuously to indicate important fault. Depending on your configuration, your RAID array may be resistant to failure of usually one, in case of RAID 6 and 10 even two disks (the important thing about RAID10 is that in some cases, fault of two disks within the same group can make the array to fail too). Whenever this occurs, it is important to replace the faulty drive as soon as possible.
Table of Contents:
1) Identifying failed drive
Log in to the WebGUI of your NAS. You will be prompted with warning that the RAID array is degraded. Confirm this dialogue to stop the audible alert.

Navigate to Storage Manager > Hard Disk to identify the failed drive. Depending on the status of the disk, it may display as failed (red circle) or offline (grey circle) if it doesn't start at all. You may also check the LED indicators of the NAS to identify the failed disk without logging into NAS.
2) Drive replacement procedure
Replace the failed disk.
Navigate to Storage Manager > Disk Group menu. Select the degraded RAID array and click on the Manage button. The only option here would be Repair RAID. Click on the Next button to continue.
On the next screen, select a new drive to rebuild the degraded array and click the Next button.

After the confirmation screen, the rebuild process will start. This may take a long time, depending on the size of the drives. After this process, the RAID array should be back in a healthy state

3) Failed RAID arrays
When multiple members of RAID array fails, the array will be stopped and recovery within NAS will become impossible due to data loss. The red danger icon will appear within Storage Manager.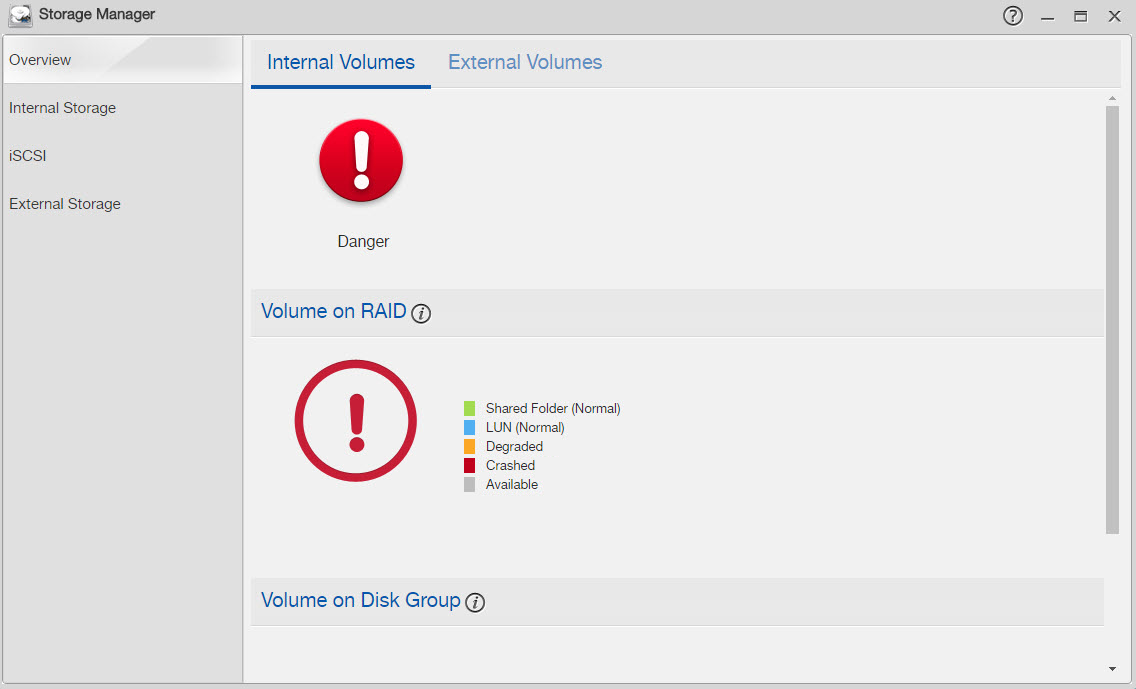 In such a case, removal of the whole array from the NAS is advised. Advanced users might want to try connecting the drives to Linux based PC, create their images, and examine the array using mdadm tool. If valuable data were stored on the drives, you may as well contact professional data recovery service, because every recovery attempt on failed array requires a different approach and this is beyond the scope of this article.
4) Additional resources
A collection of articles related to RAID arrays on our NAS appliances