This example shows administrators how to configure bandwidth control to manage traffic rates.
We can limit either incoming traffic, outgoing traffic, or both.
In this example, we use two computers: FTP Client (PC) and FTP Server (FTPServer).
PC will either be uploading files or downloading files from the FTP Server.

Configure bandwidth control to limit the traffic rate
Configure Switch
1. Enter the web GUI. Go to Menu > Advanced Application > Bandwidth Control.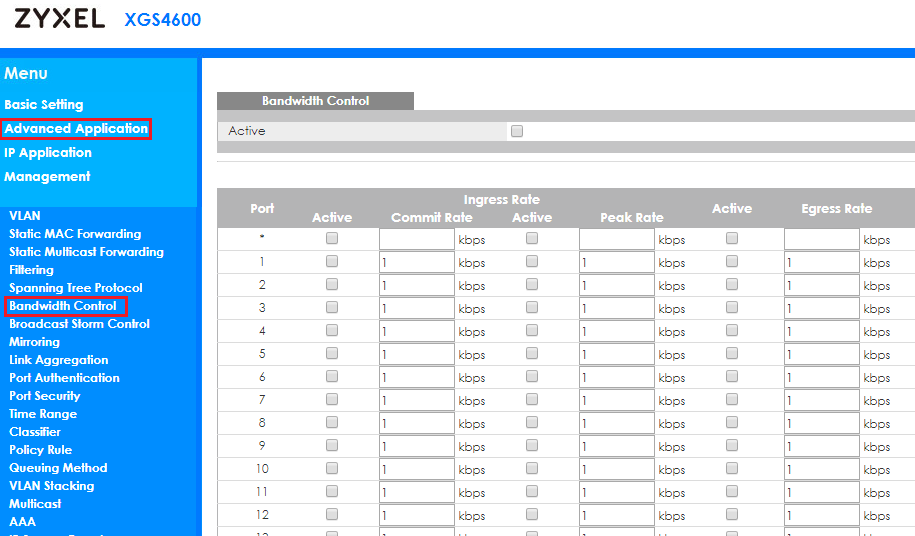 2. Check the "Active" box. Key in the rate in Ingress Rate (PC Upload rate) = 10240 kbps and Egress Rate (PC Download rate) = 20480 kbps.

Remember to check the port "Active" boxes as well. Click "Apply" in the end.
Test the Result
Use PC to upload a file to the FTP Transfer rate should be more or less 1.2 MB/s (or 10240 Mb/s).




Use PC to download a file from the FTP Transfer rate should be more or less 2.4 MB/s (or 20480 Mb/s).

KB-00308