Note: In case your internet service provider uses VLANs on the WAN port, you will need a designated device for forwarding tagged packets. Most of our VMG-series, set to Bridge-Mode, should do the job well. The VLAN-tagging option on NSG is currently under development and as of July 2019 will be implemented by end of Q4/2019.

When trying to connect your Nebula Gateway (NSG) via PPPoE, you have to directly connect to the Nebula Gateway locally and access the device via HTTPS.

Navigate to Configuration > Interface:



You now can choose between the WAN interfaces. Click on the respective interface either twice or highlight the interface you want to set PPPoE to and click on the "Edit"-Button to see this menu: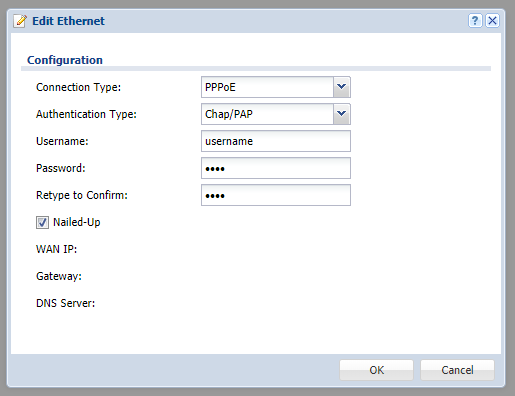 Here you can set up the respective PPPoE credentials and apply via the "OK"-Button.
In the interface menu, you now can connect the respective device:





Congratulations, you managed to set up the PPPoE Interface of your NSG!