This article explains what to do if the device is already registered in Nebula Cloud Center (NCC) by another user, if the device cannot be configured (reset the device), set another DNS server if it cannot resolve d.nebula.zyxel.com, how to use Advanced IP scanner to set static IP on your Nebula device, how to use ZON, if TFTP port 69 is iccupied and choosing the correct network adapter.
Table of Content
1) Device is already registered
This means the device hasn't been unregistered by the last owner. Please contact Zyxel support team via the device registration page in Nebula Control Center. The following picture is an example for your reference; click on "here" and provide the related information via the form. We will assist you to solve the issue soon.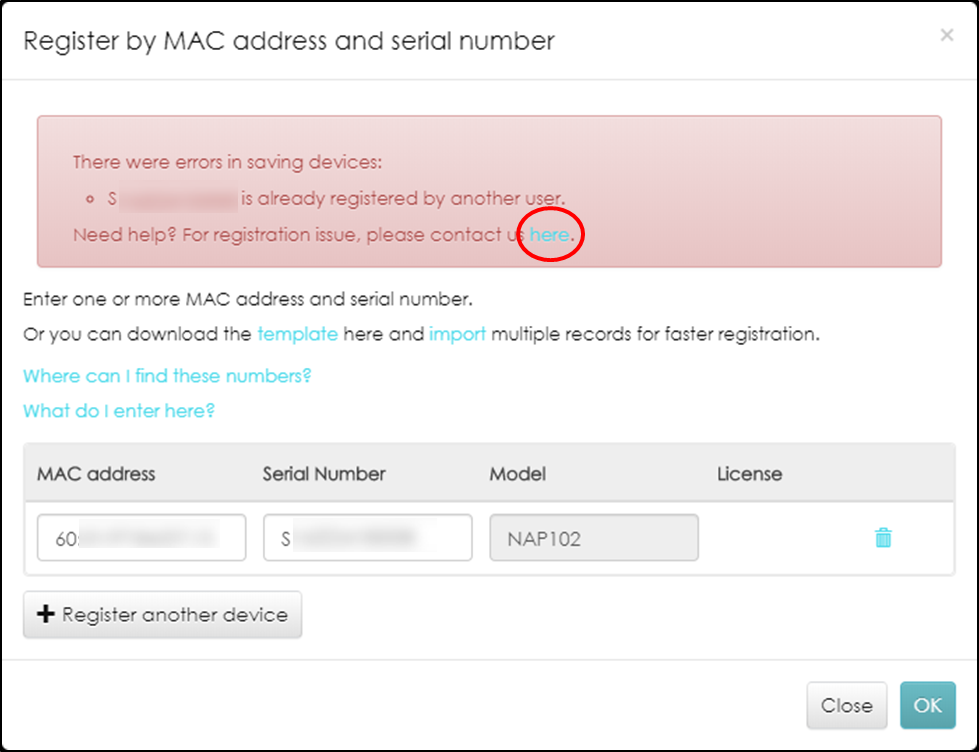 2) Device is registered but cannot be configured correctly - Reset device
If the device cannot get online on Nebula Control Center when you do the registration, please reset the device. On NSG Series for example, you can find the reset hole near the Ethernet port connection. Other devices might have different placements.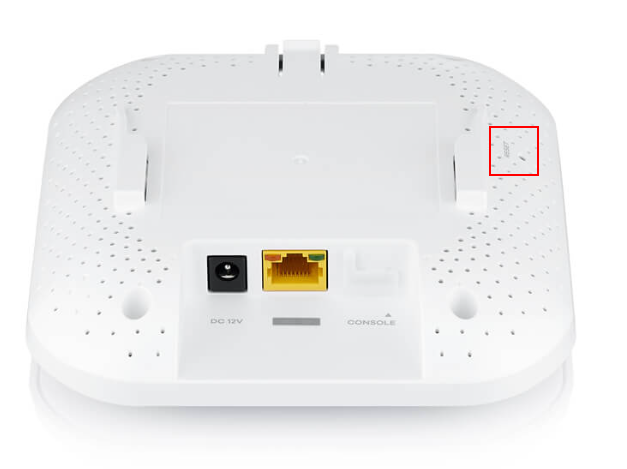 If the device can get online on Nebula Control Center but cannot broadcast your SSID promptly, please reset the device. If the issue still happens, you can proceed to contact Zyxel support for further assistance. For the LED behavior, take a look at the Nebula Control Center online documentation page to gain more information.


3) The device is not receiving a working DNS server/DHCP Setup
Nebula devices try to connect via Port 6667 or Port 4335 to the Nebula cloud, and refer to the FQDN d.nebula.zyxel.com or s.nebula.zyxel.com.
Perform a nslookup to see if your gateway can resolve these addresses:

Some ISP-DNS-Servers have problems in resolving this FQDN, so we recommend using the DNS-Server 8.8.8.8 (Google) or alternativel 1.1.1.1 (CloudFlare DNS), since these DNS servers are mostly easily reached. It might be, that otherwise the request in resolving the FQDNs towards your ISP-DNS' will exceed the Time-To-Live of the DNS-requests.
4) Advanced IP Scanner
If your device hasn't come online in Nebula and you cannot find it in Nebula Control Center, it could be useful to see if the Nebula device has received an IP address in the network. If it has an IP address assigned from the DHCP server, it should be able to be reached on the web interface.
First download Advanced IP Scanner and install the program. Then run it and start to scan the LAN network:
If you run a scan, you can look for the MAC address of the device to easier identify your device.
If you can identify your device here, please enter "http://IP-address" or ""https://IP-address" (e.g. https://192.168.1.33) and then login locally to the device. The password should be 1234, or if it has been connected in Nebula before (and not RESET), you can find the password in Nebula Control Center under Site-wide -> General Settings -> Device credentials.
Once you're in the device, you can go to IP Configuration and set a statically assigned IP address (e.g. 192.168.1.150, which doesn't conflict with any other IP address, netmask: 255.255.255.0, gateway IP: 192.168.1.1), then set the DNS server to 8.8.8.8. Wait 5 (up to 10) minutes for the device to connect to Nebula.
If you cannot find it there, you can either scan all the other LANs and VLANs in the network (e.g. 192.168.10.0-254 or 172.10.1.0-172.99.1.0) to see if you can find it there. Otherwise, proceed to the next step in this article.
5) ZON Utility Tool
The last step on finding your Nebula device on the network, is to download and install Zyxel One Network (ZON) Utility Tool. This tool can find the devices in your network via the ZDP (Zyxel Discovery Protocol), which is a type of broadcast protocol that all Zyxel devices respond to. If the device is in the network, but hasn't showed up in any of the searches, most likely, it should show up in the ZON utility tool.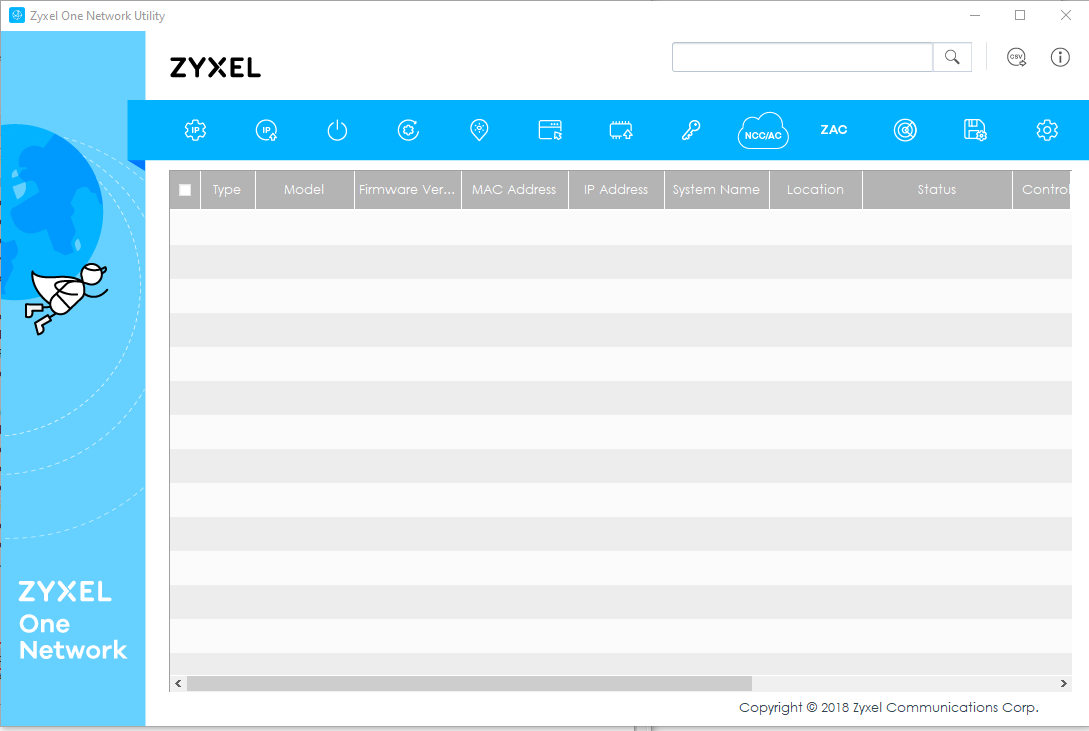 Please start the ZON utility tool as an administrator on your PC, make sure that the service in Windows called "ZyTftpd32_svc" is running: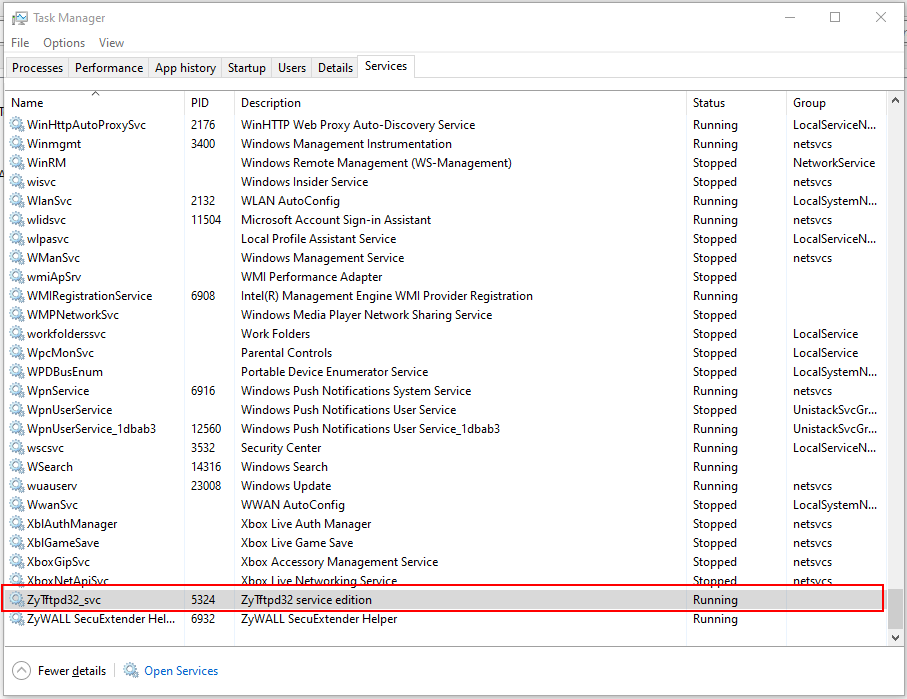 Then open the ZON Utility tool and make sure that you're using the correct network adapter on your PC:
Navigate to "Settings

-> Network Adapter" and choose the correct adapter (If you're using WiFi, it should say "Wi-Fi" and if you're using a wired network it should state "Ethernet"):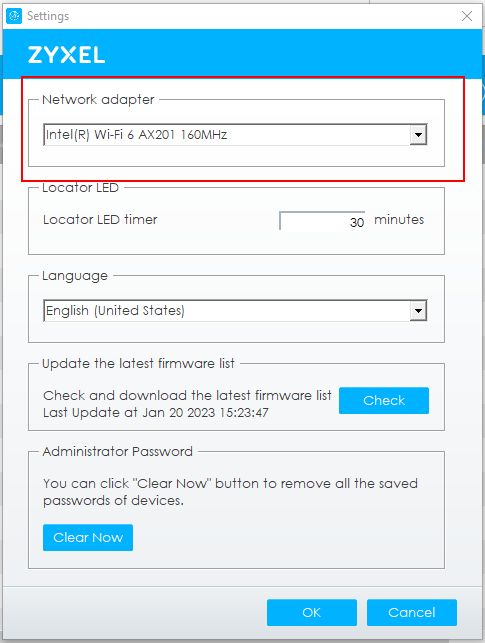 If you still don't know what network adapter you're using, you can navigate to Control Panel -> All Control Panel Items -> Network Connections" or "Network -> Change adapter options":

Then click "Clear and rescan" to rescan your network for Zyxel devices.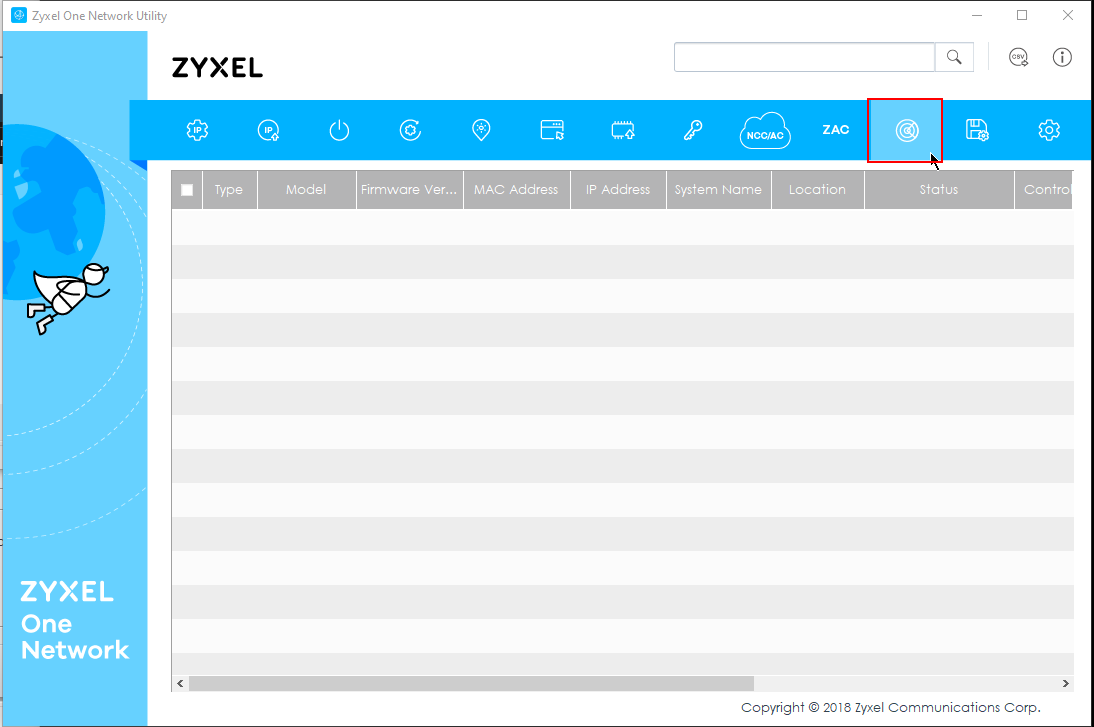 If you find your device in ZON, please firmware upgrade your device using "https://download.zyxel.com" and download the latest firmware. Then you can apply it and see if it comes online, or if it gets an IP address.
KB-00473