In comparison to the GS1300 switches, the GS1350 switches do offer even more "Surveillance Switch" features. These are namely IEEE 802.3bt (GS1350-6HP only), Auto PD Recovery and Continuous PoE.
In addition the GS1350 switches can be managed via web GUI.
1. IEEE 802.3bt (GS1350-6HP only)
1. IEEE 802.3bt
The first 2 ports of the GS1350-6HP can offer IEEE 802.3bt 4PPoE Type 3. This means they can supply power of up to 60W.
2. Auto PD Recovery
This feature can restart your PDs automatically in case they are not responding. You can let the switch monitor it passively via LLDP or via Ping.
In case the PD is not responding, you can configure the action that should be taken.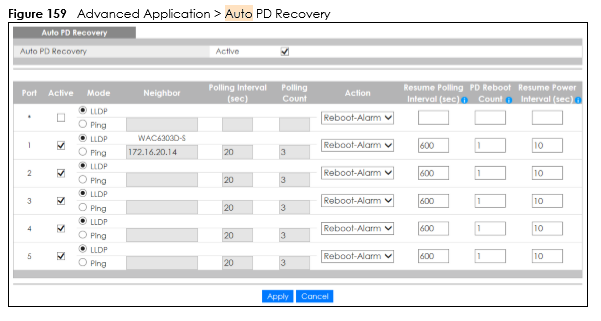 Select Reboot-Alarm to have the Switch turn OFF the power of the connected PD and turn it back ON again to restart the PD after sending an SNMP trap and generating a log message.
Select Alarm to have the Switch send an SNMP trap and generate a log message.
3. Continuous PoE
Select Active to guarantee continuous power supply to the connected PDs while the Switch is restarting after a warm reboot. The Switch will NOT perform a power cycle on the connected PDs.
If you do a cold reboot, the Switch also restarts the connected PDs.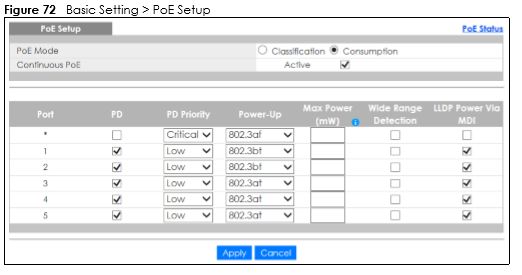 KB-00512