This article should help you to enable PoE Extended Range on your GS1300 series "Surveillance" switch.
Extended range allows you to connect a PD that is up to 250 m away to a port.
It would be best if you at least use a cat 5E cable.
The maximum data speed is 10Mbps.
The maximum PoE power that can be supplied to a PD at 250 m is 15W
1. Enabling PoE Extended Range
2. Comparison of the GS1300 series PoE capabilities
1. Enabling PoE Extended Range
Use the DIP switches to configure extended range. Move the DIP switch up to turn extended range on ports according to the following table.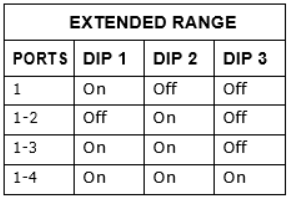 Note: After you enable extended range using the dip switch, you must press the Reset & Apply button to restart the Switch for extended range on selected ports to take effect.
All LEDs blink while the Switch restarts. Please wait until the PWR LED is steady green. The ports in extended range will have amber LINK/ ACT LEDs (ports connected to a 10 Mbps or a 100 Mbps Ethernet network) and green POE Mode LED.
2. Comparison of the GS1300 series PoE capabilities