By default, the USG / ZyWALL / ATP Series have an untrusted certificate and Hotspot User (Guest) need to click to continue/skip certificate message to maybe see the Login Page Information. This article describes the best-known scenario of how to cover that.
1. Issue
2. Solution
3. Limitations and Tips&Tricks
4. Further Information
1. Issue
You may see such messages in your environment.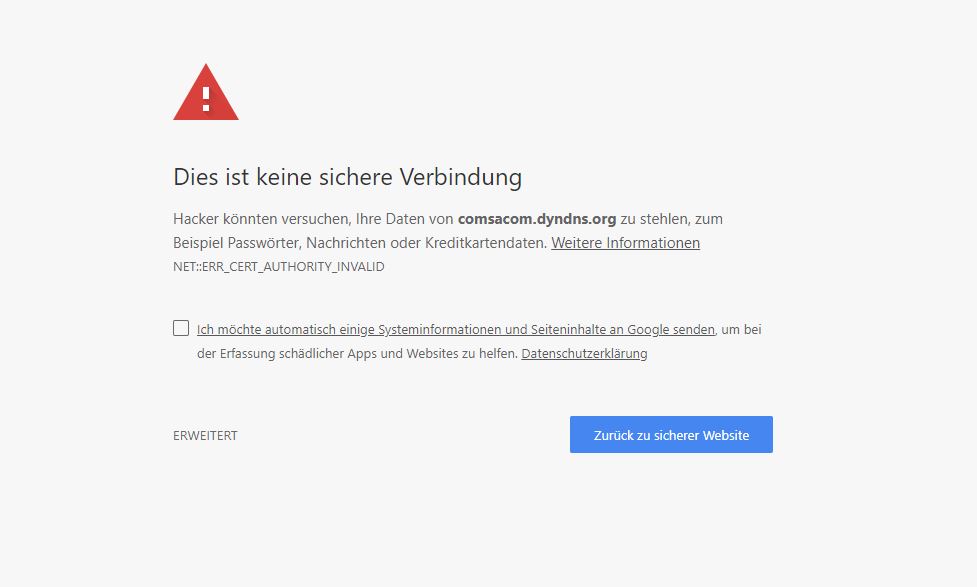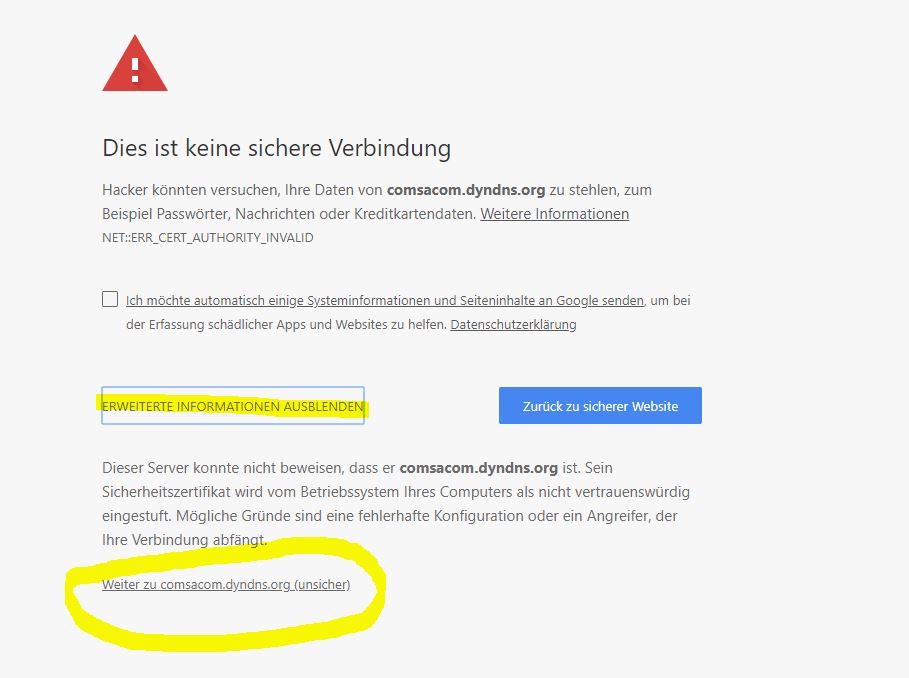 2. Solution
You need to purchase a certificate with an FQDN Name i.e. "hotspot.hotelname.de" (Usually a cheap Domain verified type certificate is enough)
Import the certificate include private key within the firewall device under
Configuration -> Object -> Certificate and upload it to "My Certificates"

Change under System -> WWW the certificate to uploaded one


You can decide if you want to keep "Redirect HTTP to HTTPS" active or not. Both can work in the end.
Add an A-Record in DNS setting to match your prefer: WAN IP to your FQDN Name
Only use WAN IP, if this IP is not used in NAT for HTTP / HTTPS Port and if it´s a static IP, otherwise use LAN IP, but WAN is recommended.


Login by SSH to USG and enter the following commands:
configure terminal
web-auth redirect-fqdn <FQDNNAME>
write
exit
Make sure your LAN Subnet (for Hotspot Users) have ZyWALL as first DNS Server to catch FQDN

With these Best Practice configuration, we can support up to 80% of all clients / mobile phones that can avoid the HTTPS issue or HSTS issue, but also this solution has some limitations.
3. Limitations and Tips&Tricks
Limitations if the client i.e. Android Phone, iPhone, Mac, Windows 10 .. .. can´t! support Hotspot Detection Feature (older versions, blocked by software...)
If the Website not support HSTS certificate warning still pop-up but can skip
If the Website support HSTS (google, facebook..) it shows certificate warning and blocks it (no way to continue from here), in that case, a customer must visit 6.6.6.6 IP configured here to access it.


You can try to disable "Redirect HTTP to HTTPS" and see if that works better

Walled Garden list for some known HSTS pages can help to exclude some from Web-Auth first (no authentication) and let customer authenticate when visiting a page without HSTS (Hotspot license required)



For example:
*.google.com
*.facebook.com
The * acts like a wildcard.
4. Info Note
As soon as there is a new RFC Standard in place, we´ll monitor the situation and update our software versions, to deliver the best solution, which is available in the market, you can monitor it from here:
http://www.rfc-editor.org/info/rfc7710
Here is an article that describes a way of how to use Let's Encrypt certificates on a USG