Whether your business is small or mid-sized, onsite, or employees telecommuting, a business office network has to offer employees not just connectivity but also security. We are introducing the latest USG FLEX Series - a newly designed platform capable of up to 1.25 times firewall performance improvement and 5 times UTM performance gain.
The USG FLEX Series supports IPsec, SSL, and L2TP-based VPNs, making it an ideal solution for providing a secure network to access remote or home-based workers. Zero-configuration remote access removes complicated setup challenges making it easier for employees to establish VPN connections to the office without the need for IT support.
Advantages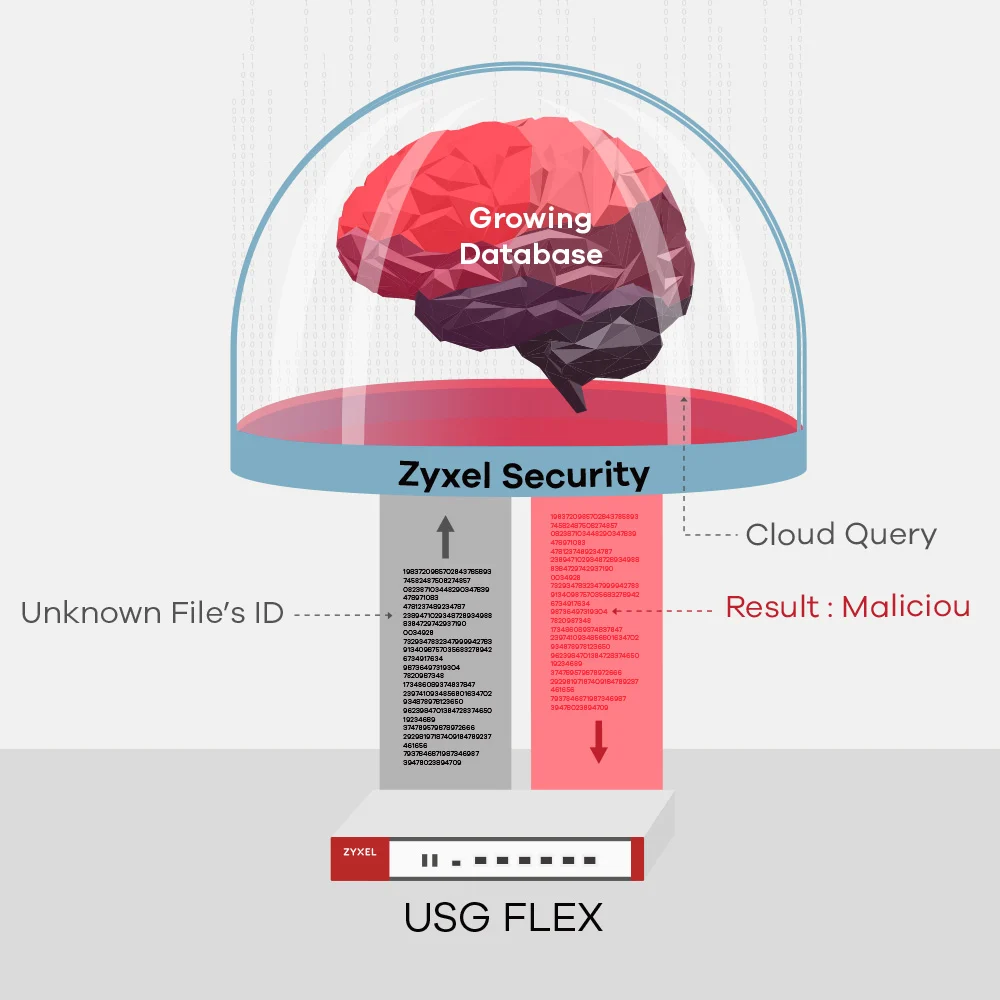 Higher precision detection uncovers threats
Zyxel Security Cloud keeps learning from collecting threat information. USG FLEX series supports advanced Anti-Malware with cloud query express mode, which expands billions of signatures. The cloud query with a high detection rate helps verify the file hash within seconds.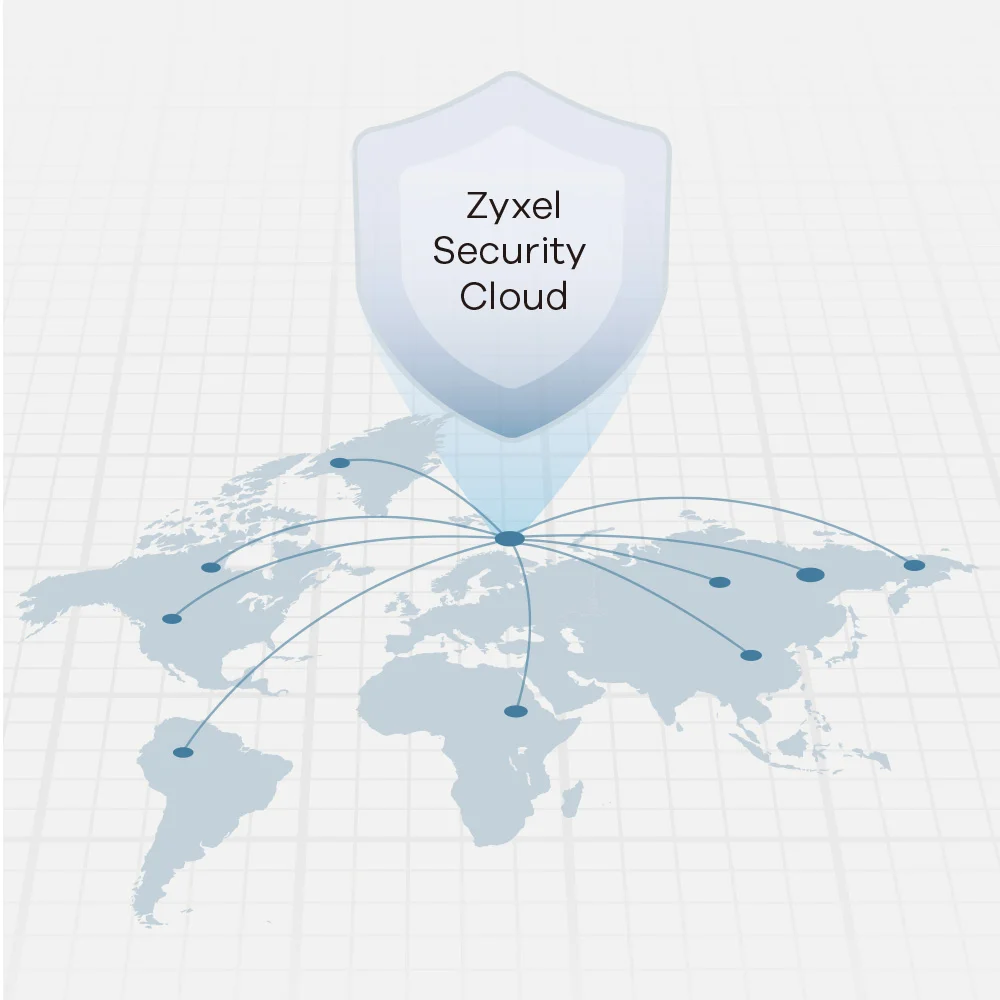 Best threat intelligence alliance
To ensure your network on getting the best protection, USG FLEX integrates threat intelligence from leading companies and organizations in the cybersecurity field for scaled information about file and real-time threat data. By leveraging a more extensive malware coverage with the multiple-sourced database, this increases the accuracy in threat detection. Web Filtering is also included to safeguard all internet access, especially with CTIRU (Counter-Terrorism Internet Referral Unit) to restrict access to terrorist materials online.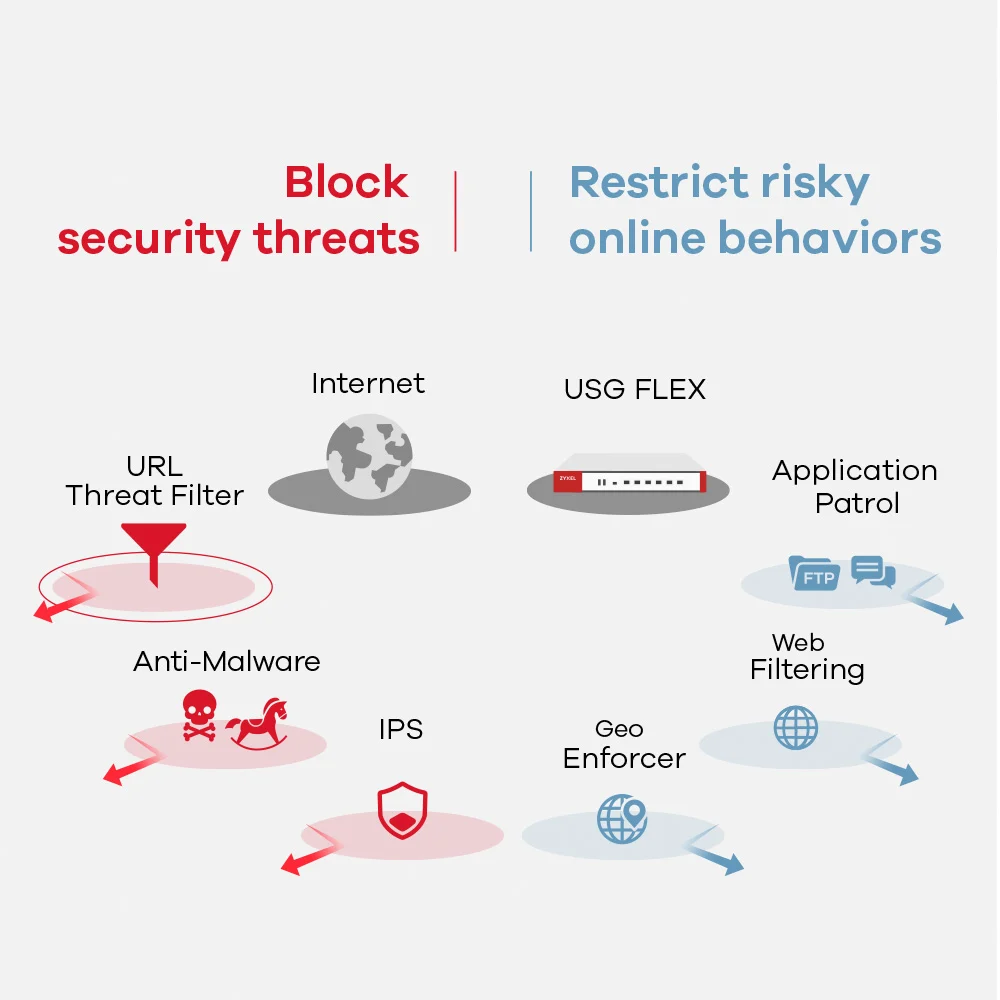 High assurance multi-layered protection
USG FLEX is designed with multi-layer protection against multiple types of threats from in and out. Anti-Malware, URL Threat Filter, and Intrusion Prevention block external attacks, while Application Patrol and Web Filtering empower you to restrict users' inappropriate application usage or web access, all together safeguarding your network without any unattended gaps.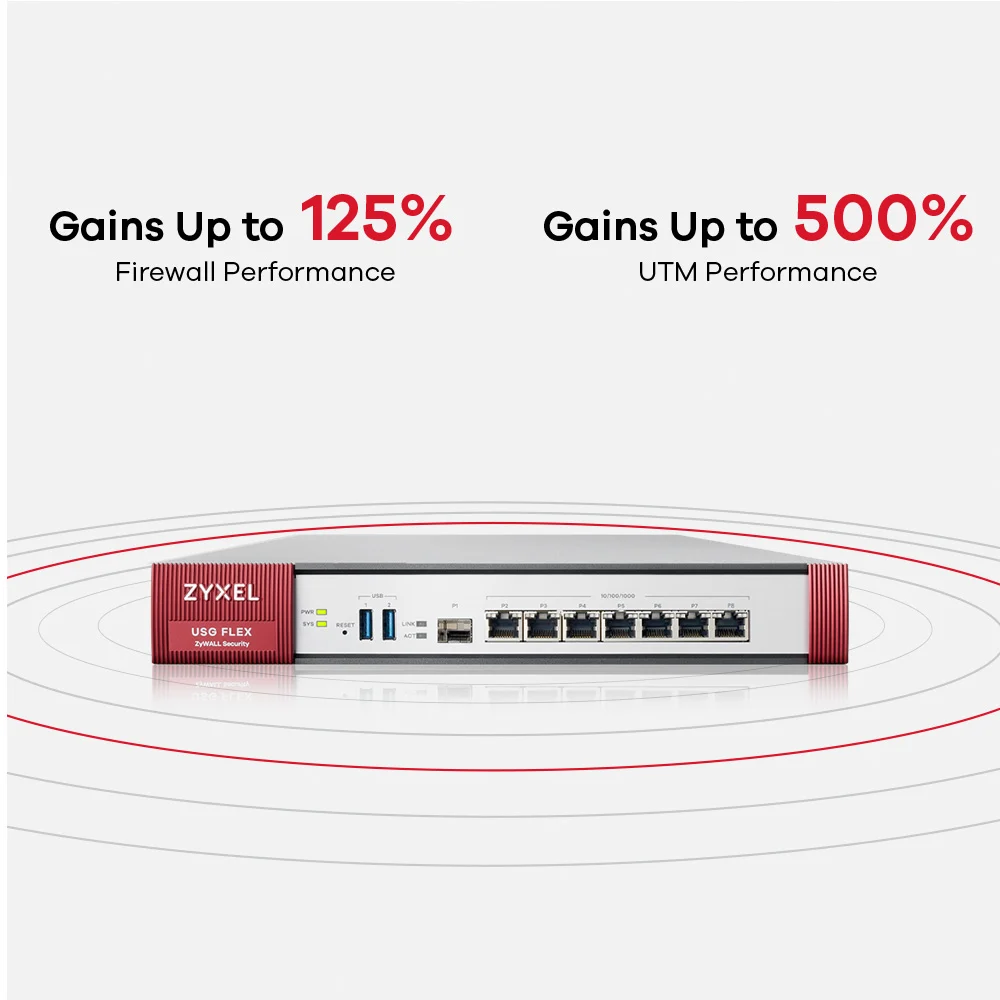 Performance boost
The newly designed platform is capable of up to 125% firewall performance improvement. The USG FLEX maximizes UTM firewall performance by minimizing power usage. Results of an additional 500% UTM performance have been observed with cloud query express mode.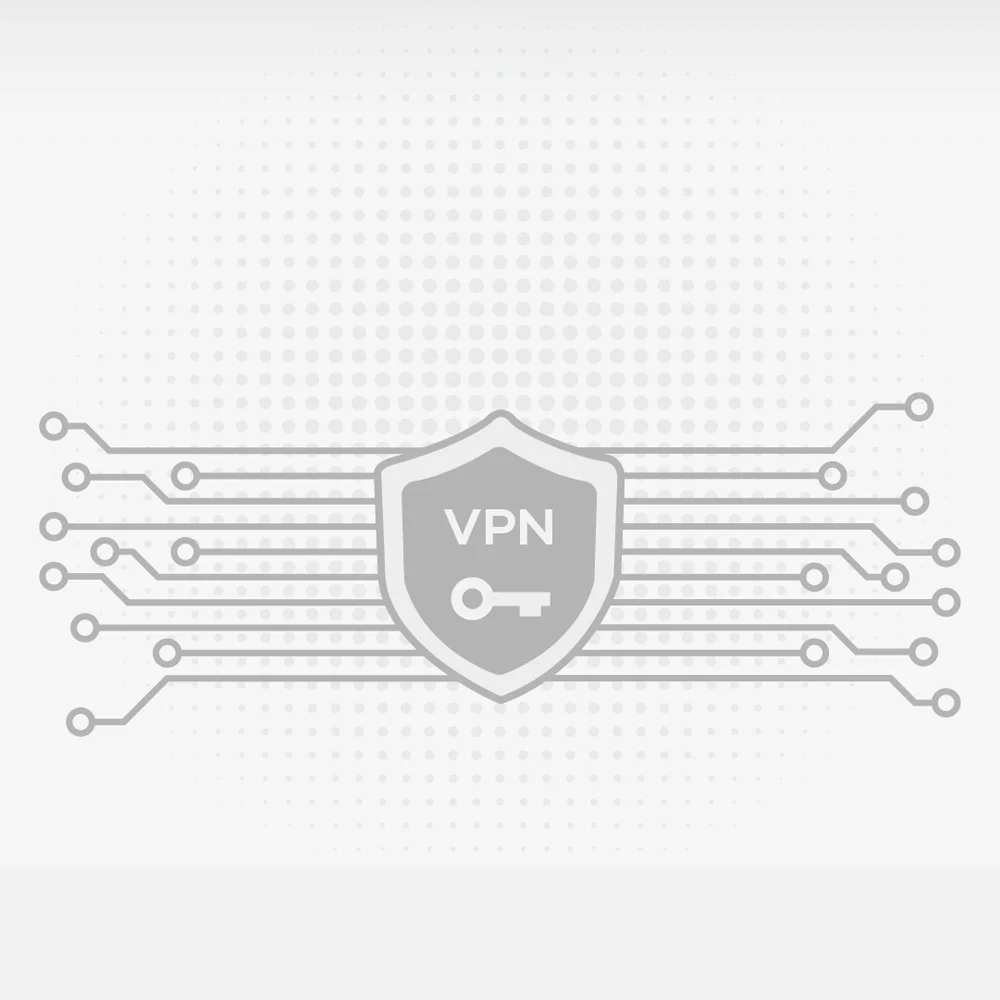 Work remotely and securely.
As demands for remote access and work from home have increased, USG FLEX offers IPsec, SSL, or L2TP based VPNs to provide flexible, secure network options for many of the standard operating systems. Zero-configuration remote access reduces complicated setup challenges. Microsoft Azure and AWS also validate the USG FLEX series for SMB convenience by using a combination of onsite and cloud-based infrastructure with hybrid networks.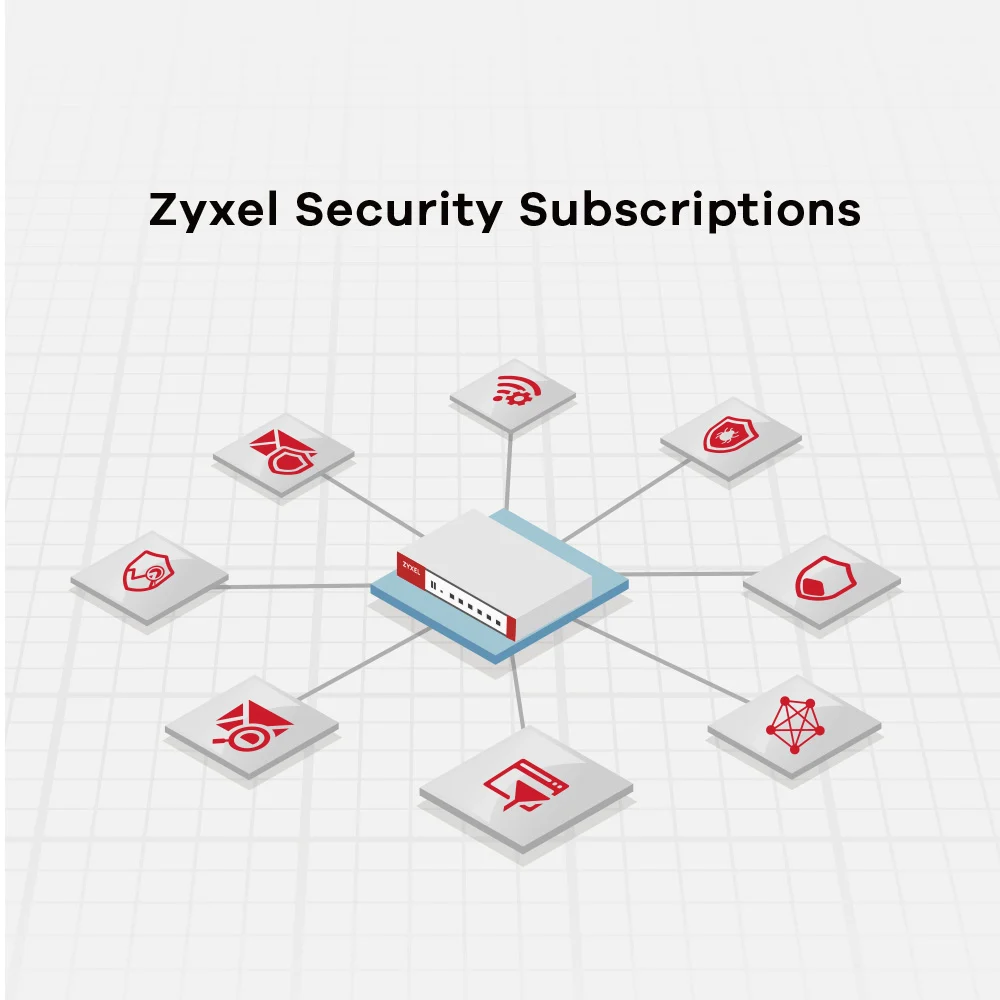 Flexible subscription for your need
USG FLEX security services turn your firewall into a comprehensive security solution. Add Unified Threat Management (UTM), and Hospitality bundled service to get the protection and connectivity that meet your network needs. You can also choose from a single license whenever you need, such as Web Filtering, Anti-Malware, SecuReporter Premium, and more.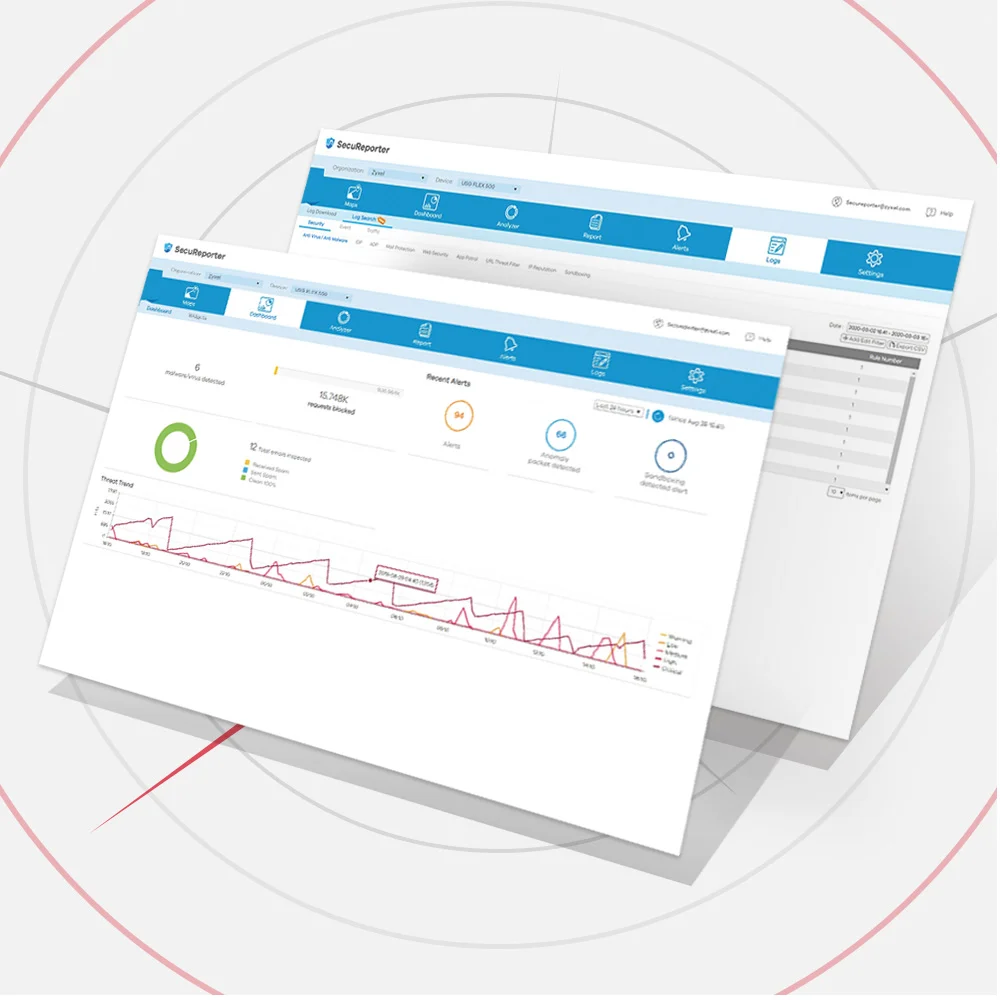 Analytics report and enhanced insights
USG FLEX series dashboard gives user-friendly traffic summary and threat statistic visuals. Utilize SecuReporter for further threat analysis with correlation feature design, making it easy to proactively trackback network status to prevent the next threat event. Centralized visibility of network activities for you to easily manage multiple clients.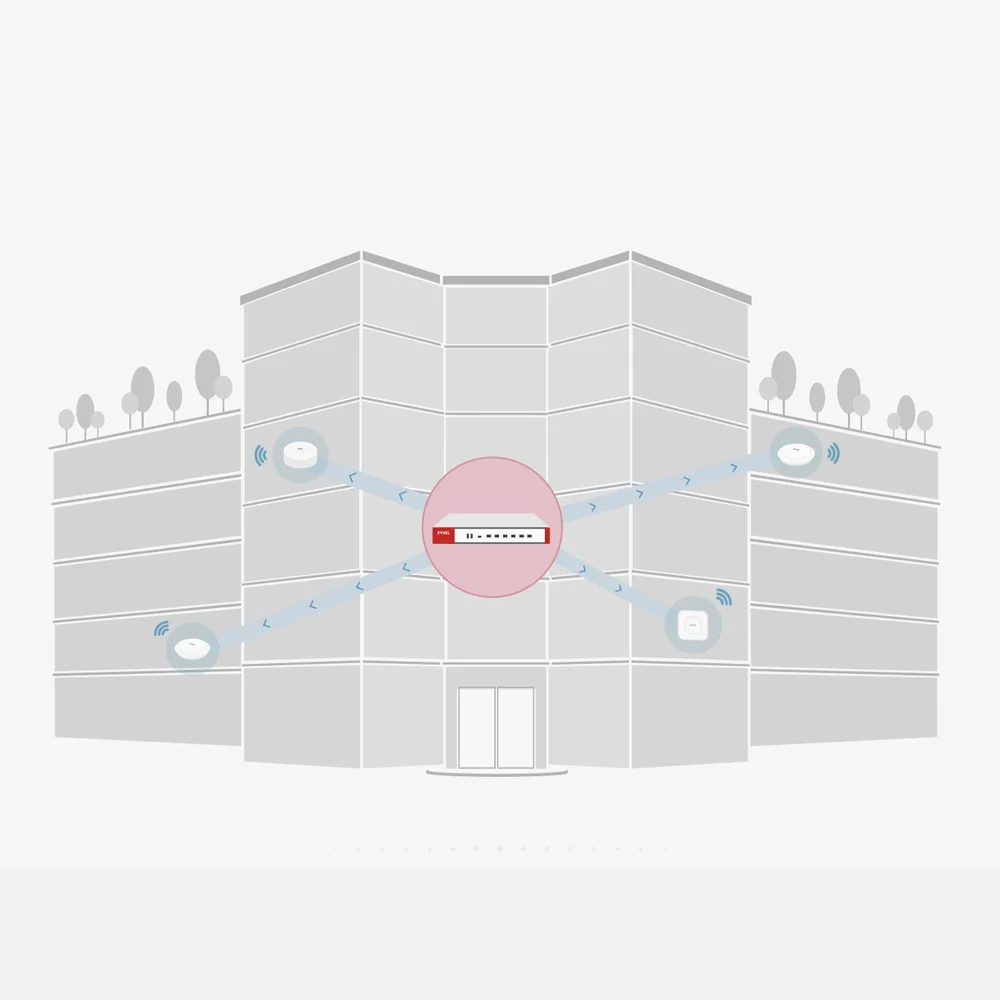 Comprehensive connectivity
ZyWALL USG FLEX series not only can protect your network, but it also supports Hospitality features including Hotspot, AP management, and concurrent device upgrade. You can buy a time-based bundle or quantity-based license to optimize your initial investment and maximize the scale in your environment.
Upgrade to Gain - M
igrate without Pain
If you still get USG series licenses, now is the time to migrate! USG FLEX provides hassle-free license migration from USG series with auto migration. Upgrade to a whole new 6-in-1 UTM bundle license from your USG existing licenses for more comprehensive protection.

You can migrate your existing license according to this mapping:

For further information and a full how-to, please feel free to visit our Businessforum - USG FLEX Frequently Asked Questions
For a full list of all the features our product is offering you, please visit our official website for USG FLEX.
Useful KB article for you to explore