In this article, we will deploy and configure a GPON/XPON Installation using our Customer Experience Center OLT2406.
This article has the following prerequisites:
(You can download the EMS Installation Data here)
Our Topics will cover:
Let's begin!
First we need to start the Client:

Login with Your EMS Server Credentials: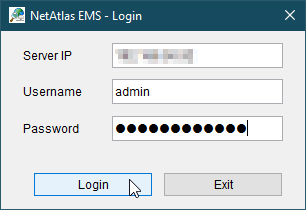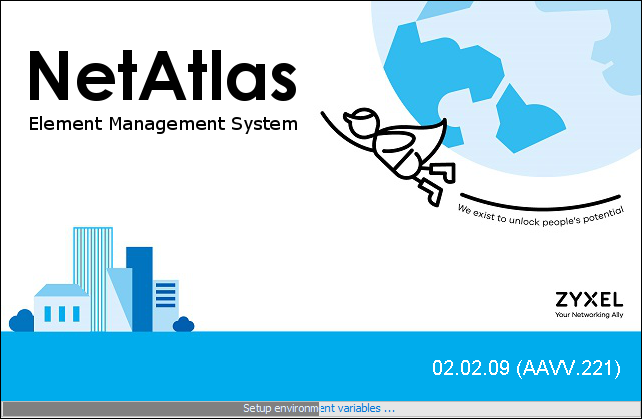 Adding A Node to EMS:
EMS -> "right click" -> Add Node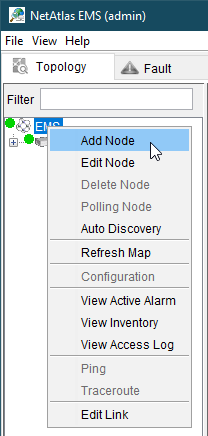 "Device"
Give the Node a Name and maybe a short description.
Type in the Management IP of the OLT and enter Your Username and Password.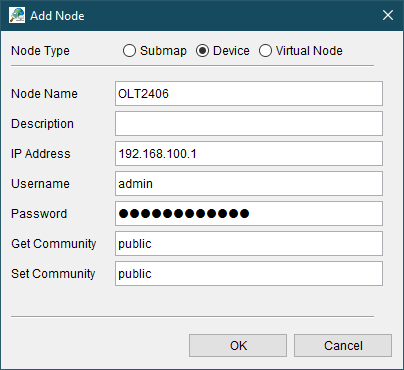 After You click on "OK" Your Window should like this: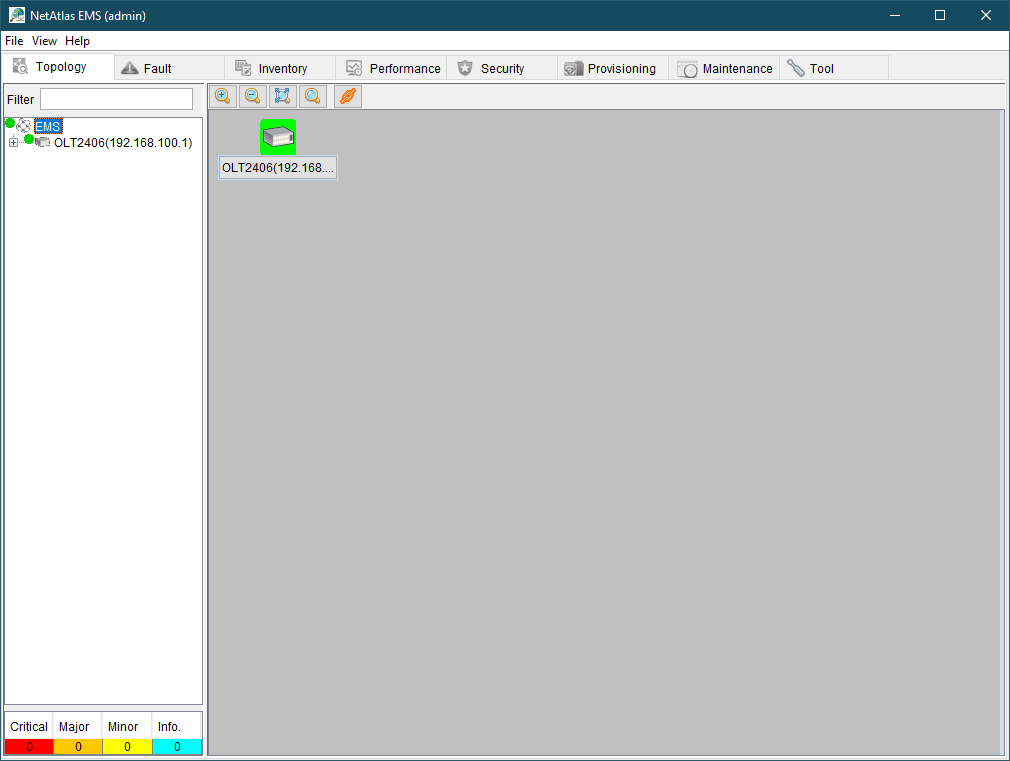 Setting up the Node:
"Your Node" -> "right click" -> Configuration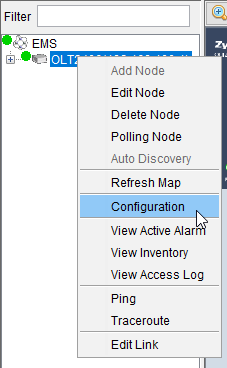 VLAN Setup:
Configuration -> VLAN -> VLAN
Now we can go ahead and set up our VLAN and DHCP according to our planned Topology: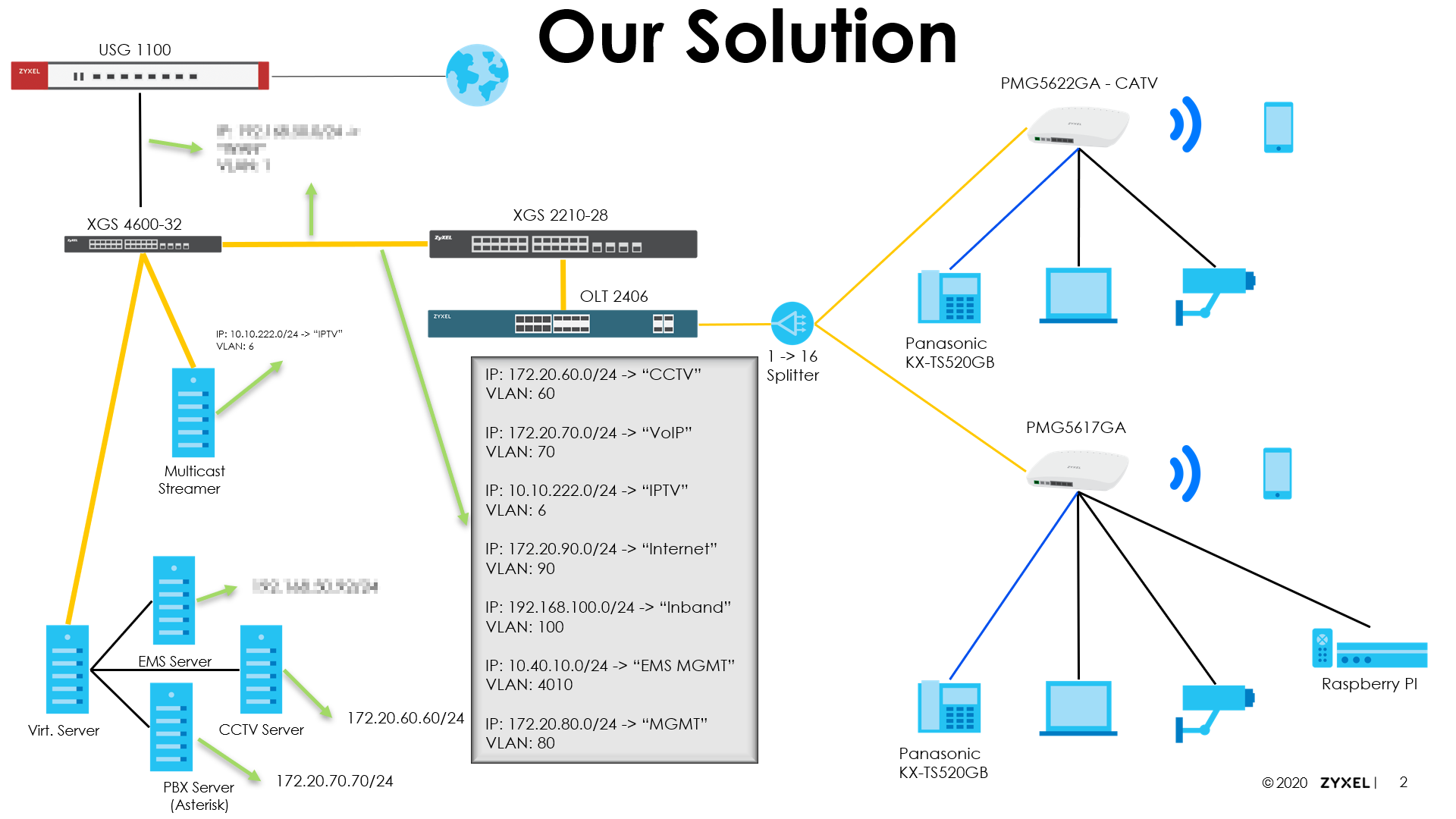 We do not Setup VLAN 100 since this will be sent out as untagged Traffic on the Switch Uplink Port to the OLT.
As well as VLAN4010 which is already predefined inside the OLTs Software and used for internal management of the ONTs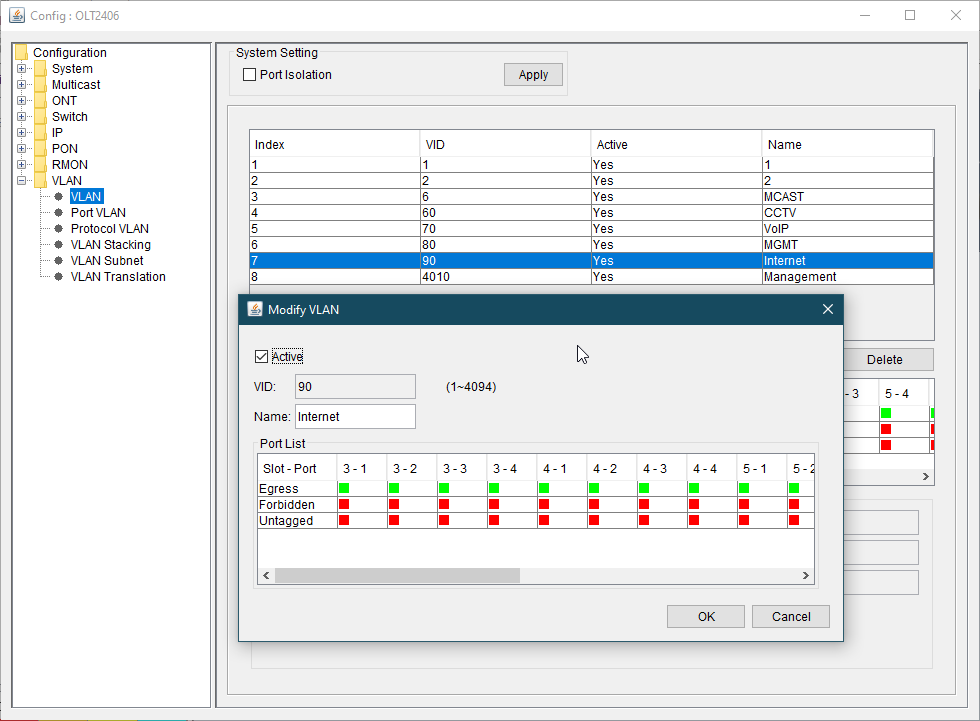 Afterwards, we set up the internal DHCP Server for VLAN90 which will be the Default Gateway and WAN IP of our ONTs.
All other DHCP related Settings are done on our Gateway (USG).
Configuration -> IP -> DHCP Server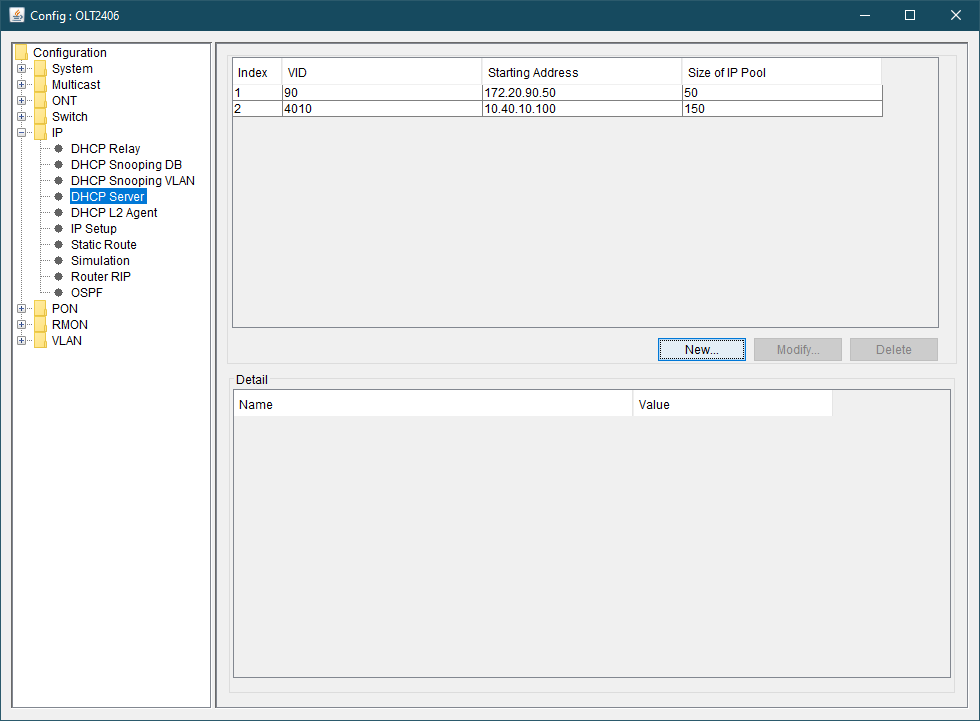 PON Configuration:
Configuration -> PON -> Pon Configuration
As a last step we need to configure the OLT's ONT registration Behaviour.
I configured the OLT to automatically accept and register connected ONTs with their Serial number and Password.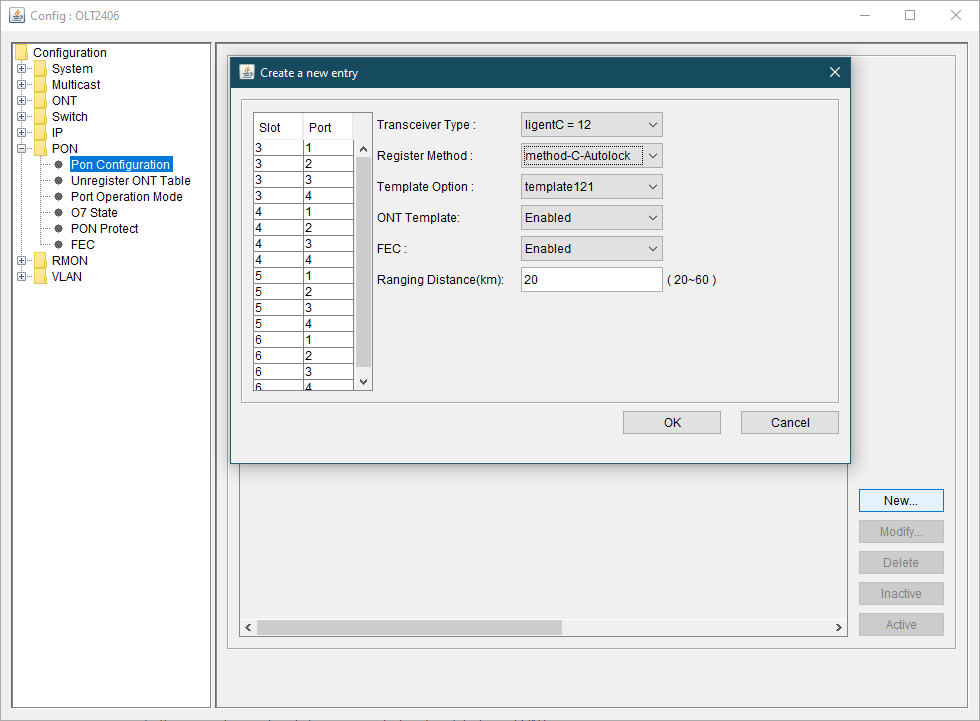 ONT Deployment:
In this example, we already have connected and updated our 2 ONT.
click on "Provisioning"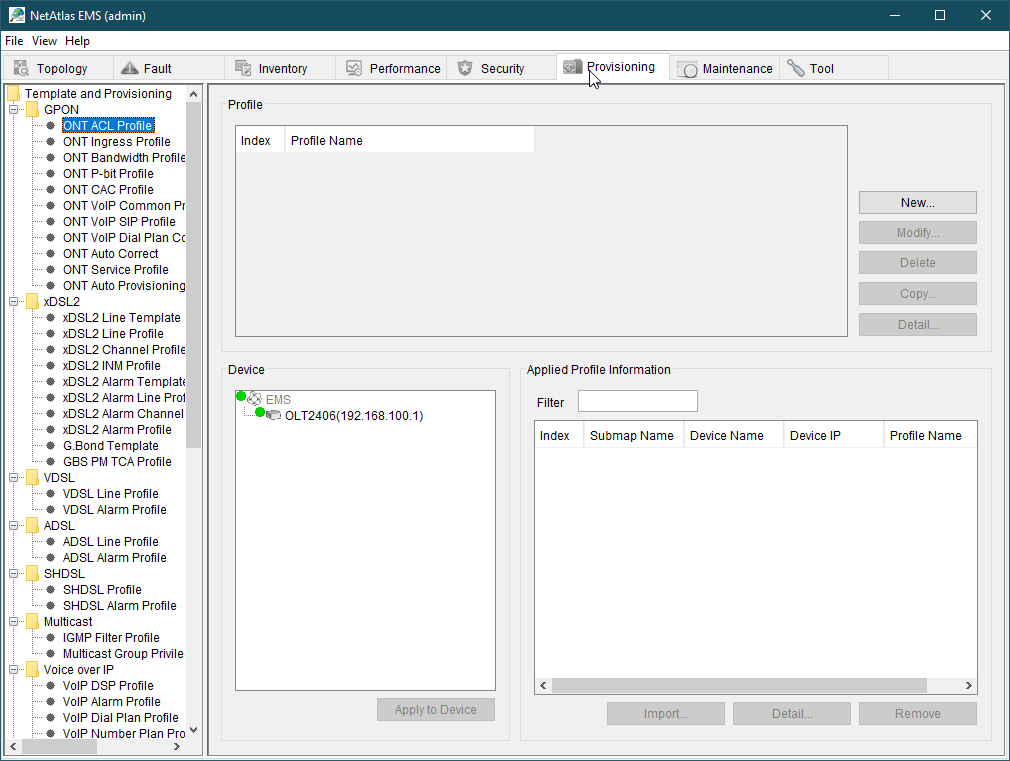 Ingress Profile
If it is not there already, we create a Profile "DEFVAL"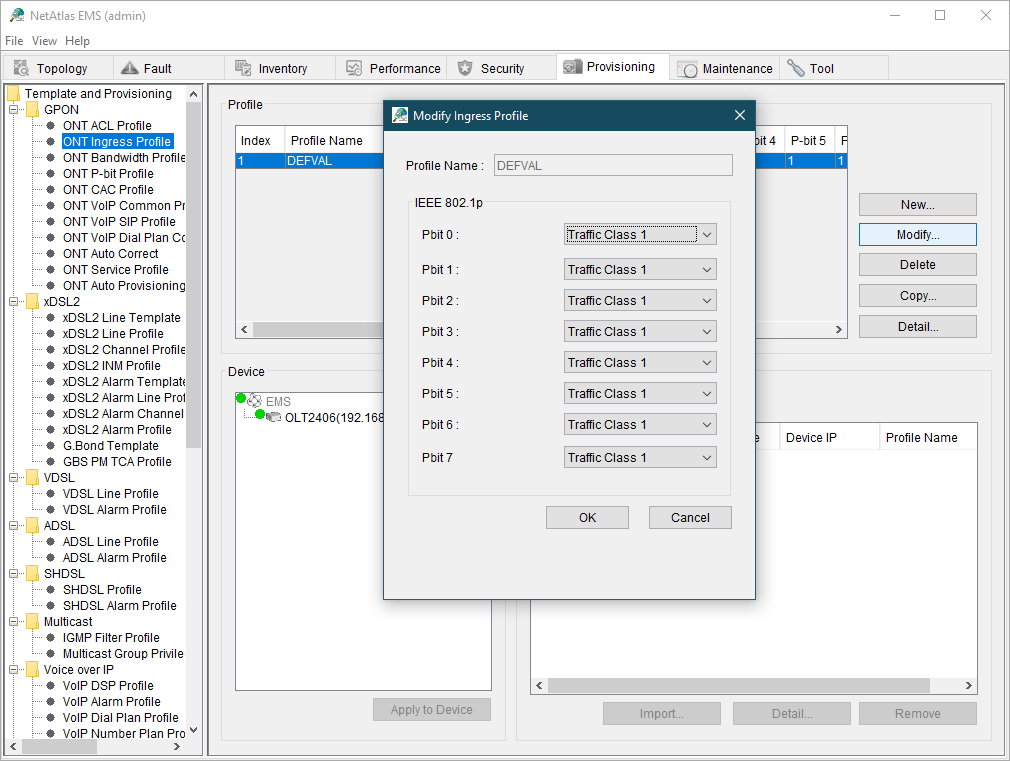 Bandwidth Profile
Here we create the different Bandwidth Profiles for our ONT Up- and Down Link.
I created a 10Mbits Upload and 50 Mbits Download Profile for this example.
Sustain Ingress Rate
equals to the minimum speed value or the lower threshold.
Assurance Ingress Rate
equals to the guaranteed speed value
Peak Ingress Rate
equals to the Maximum amount of Bandwith possible with this Profile
The BWM Module will always try to provide the best Bandwidth possible in between those Values (Calculated using the total amount of Bandwith Consumed by all ONTs).
VoIP Common Profile
The VoIP Setup consists of multiple steps:
First, we need to set up the common SIP/VoIP Settings on the OLT (Settings depending heavily on Your PBX)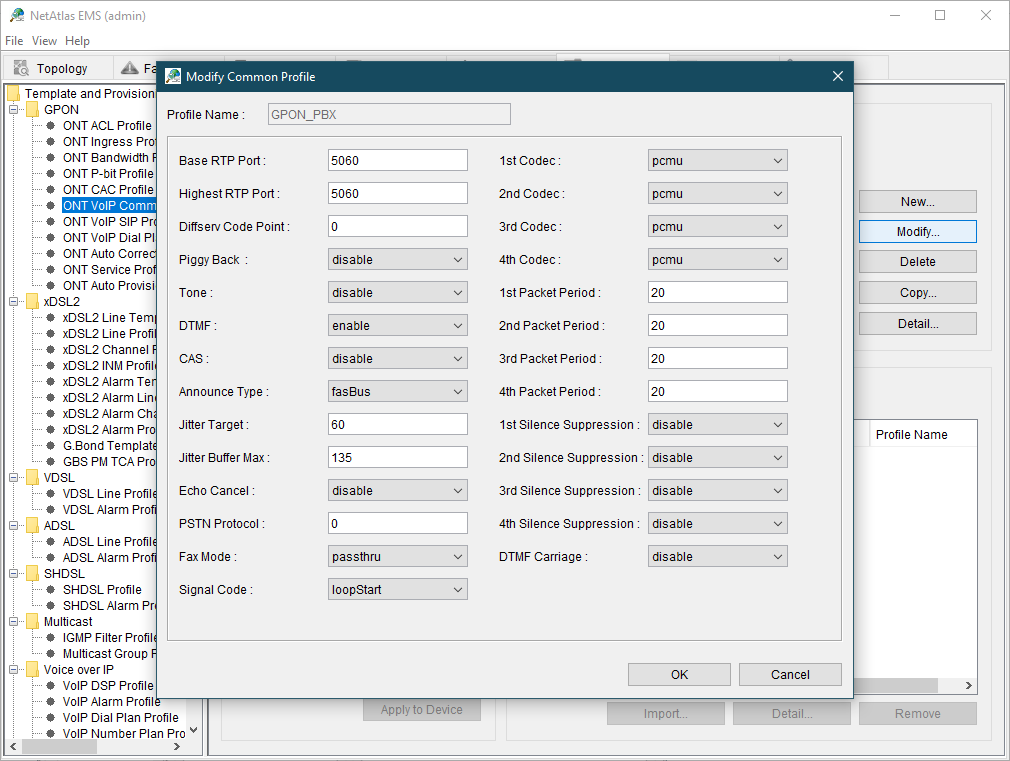 VoIP SIP Profile
Now we create the SIP Profile which will tell our ONT where our PBX is located and which functions it supports.
Service Profile
Now it is time to set the Service Profile for our ONTs.
The Service Profile equals to the Config that is applied to the ONT.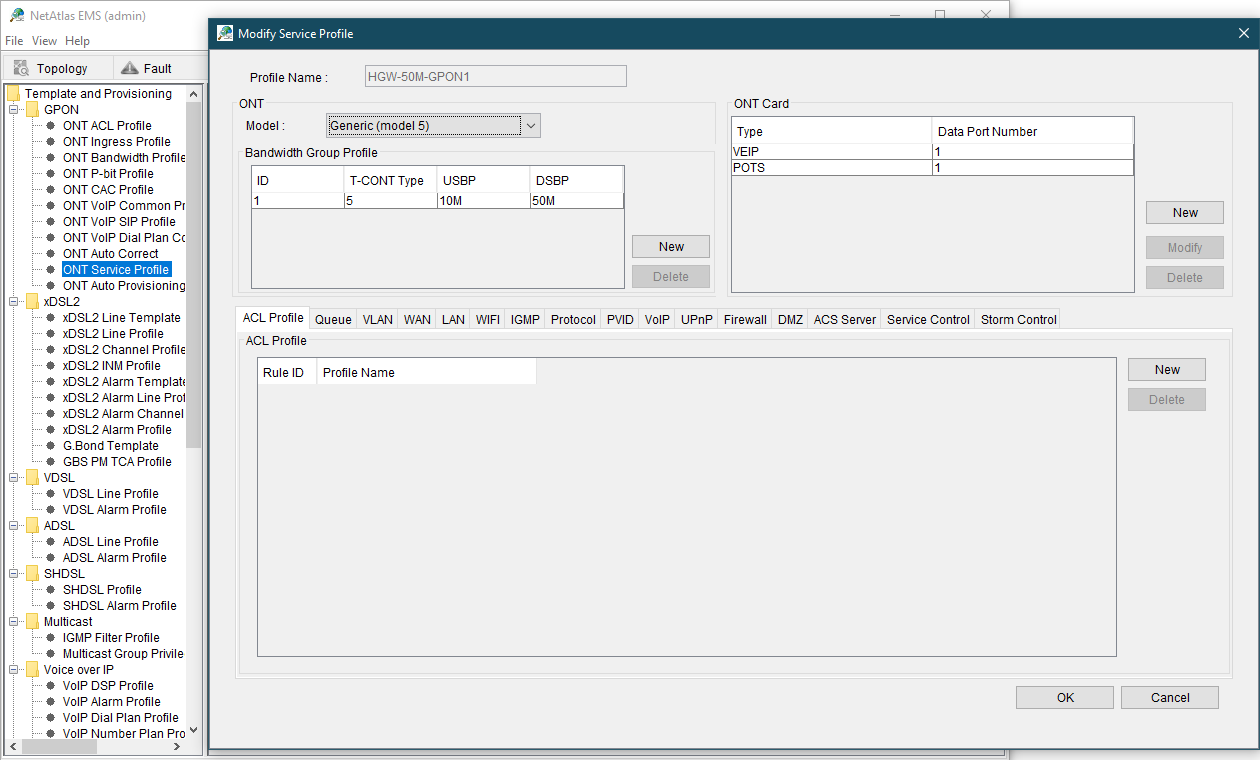 Since we are using PMG5617GA and PMG6522GA we choose Generic (model 5)
As BGP we set up the following: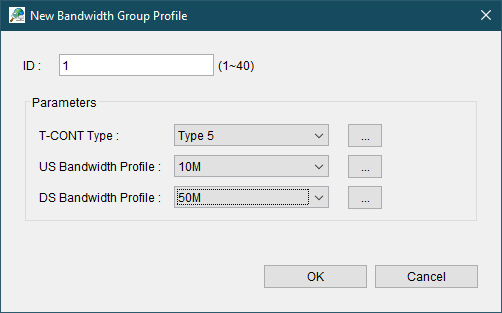 Then we add a new ONT Card (POTS):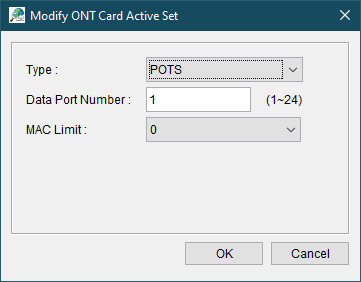 This is needed because we are using analog Phones on the FXS Ports of the ONT.
Next up is the Uniport Queue, where we set up our Basic Bandwidth Management: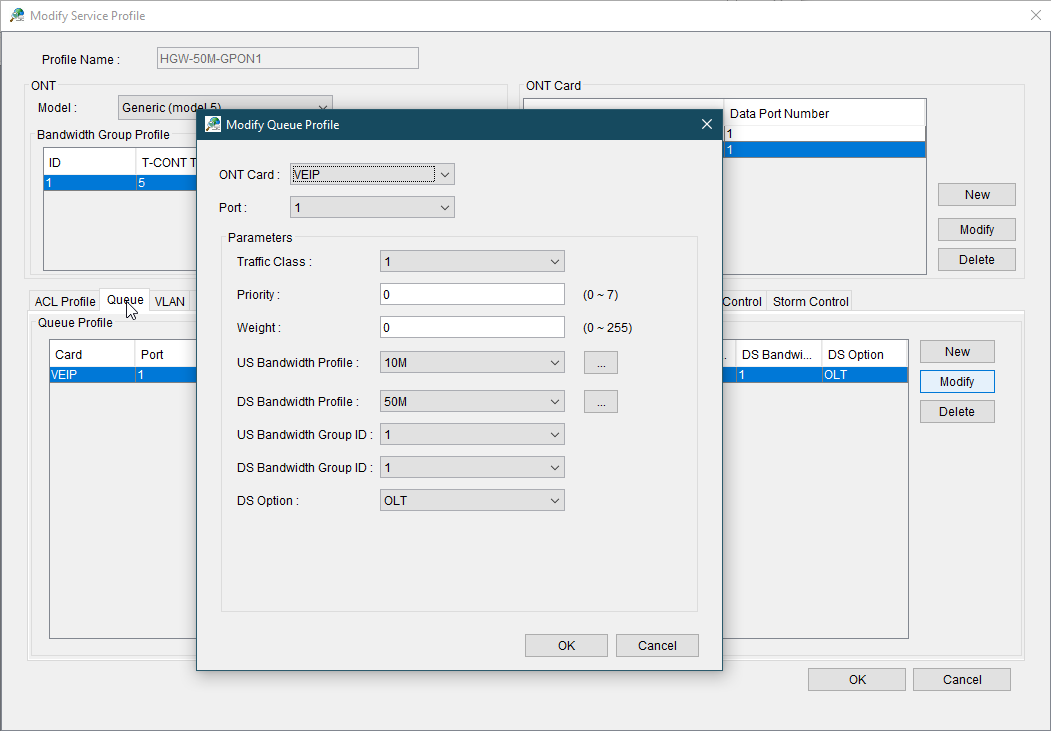 Next, we configure the VLANs on the ONT: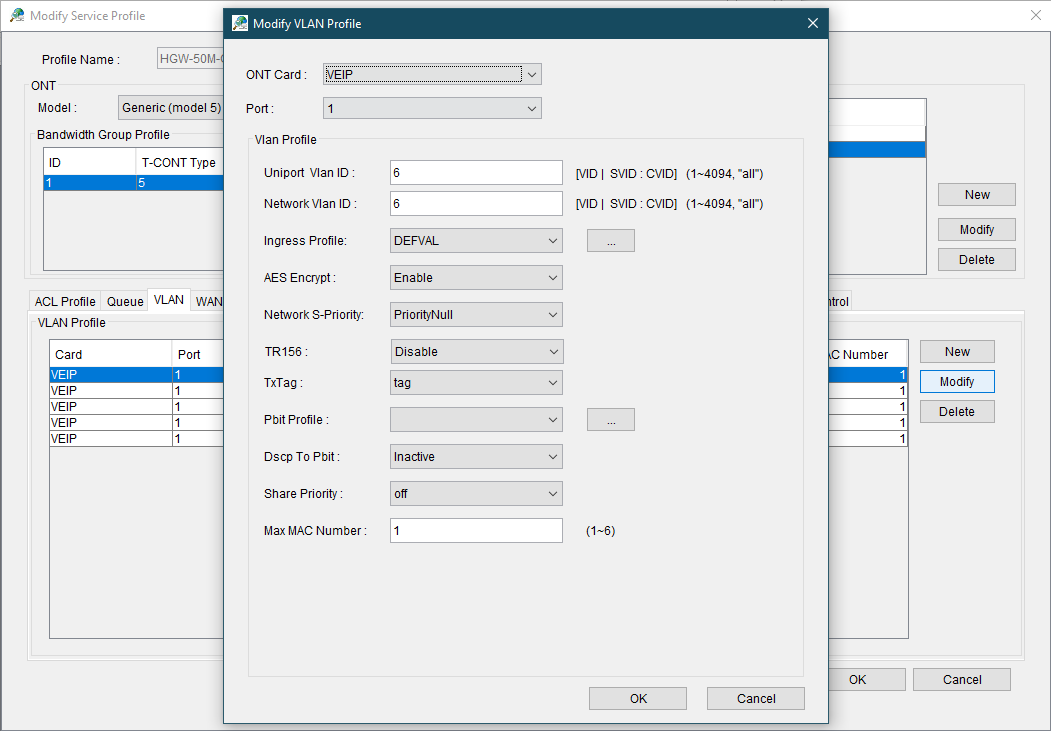 Which should look something like this in the End. Again, please keep in mind that we are using our GPON example Setup so the Settings can vary for You!
One neat function is AES encryption which You can set individually for each VLAN so that the communication inside this Vlan, between OLT and ONT, is encrypted.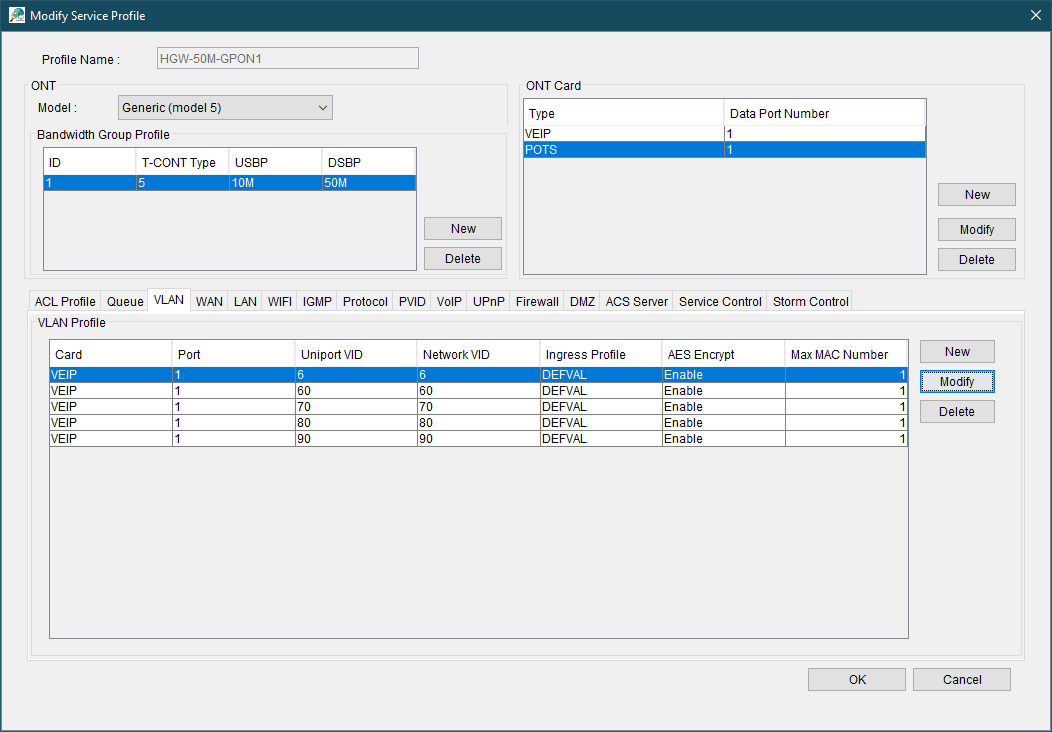 Now we create our WAN Profiles which will be mapped to the corresponding VLANs.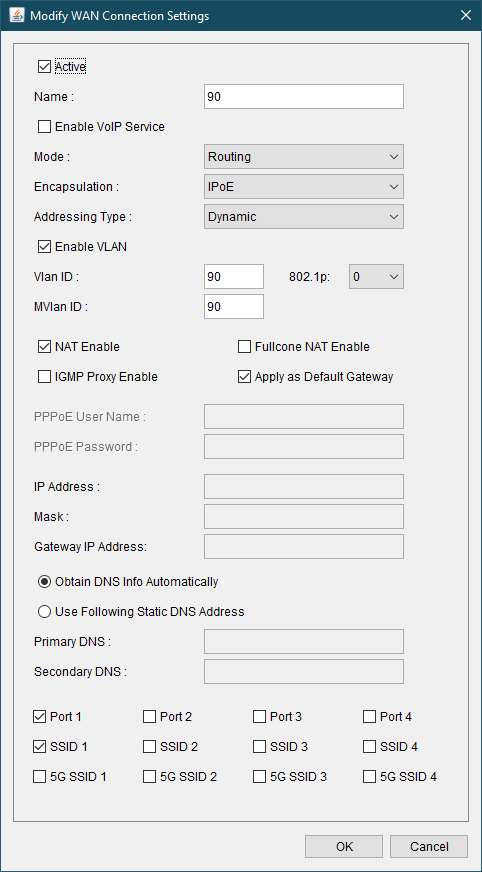 And again, in the End, our Configuration looks like this: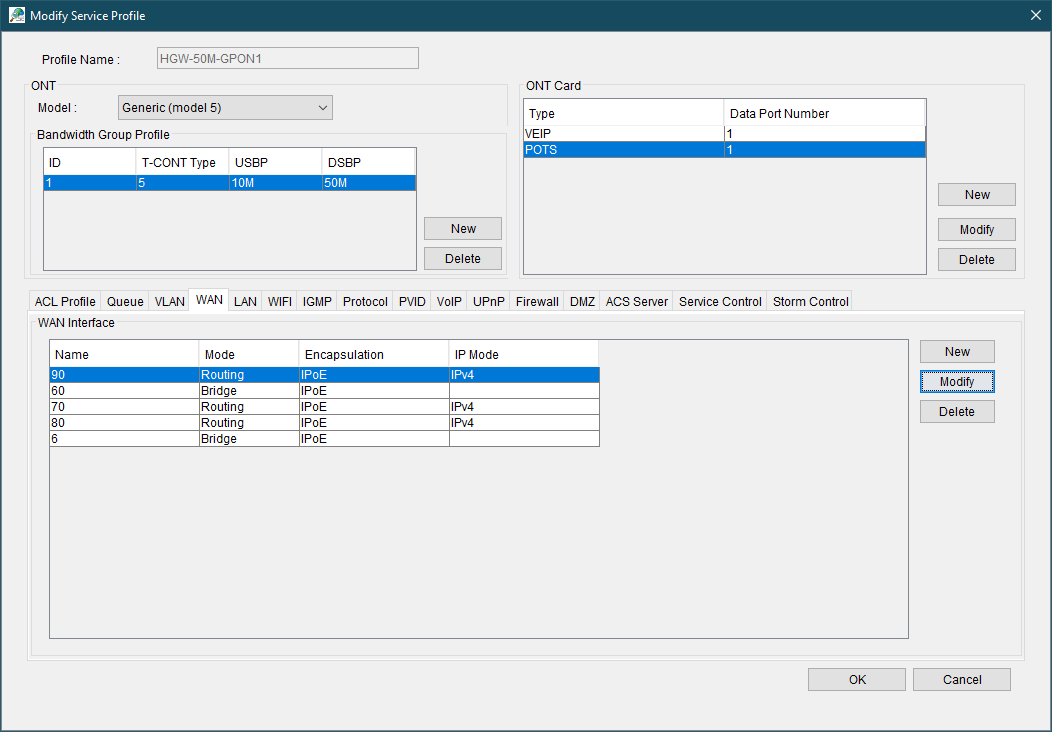 We will now configure our WiFi Profile for the ONTs: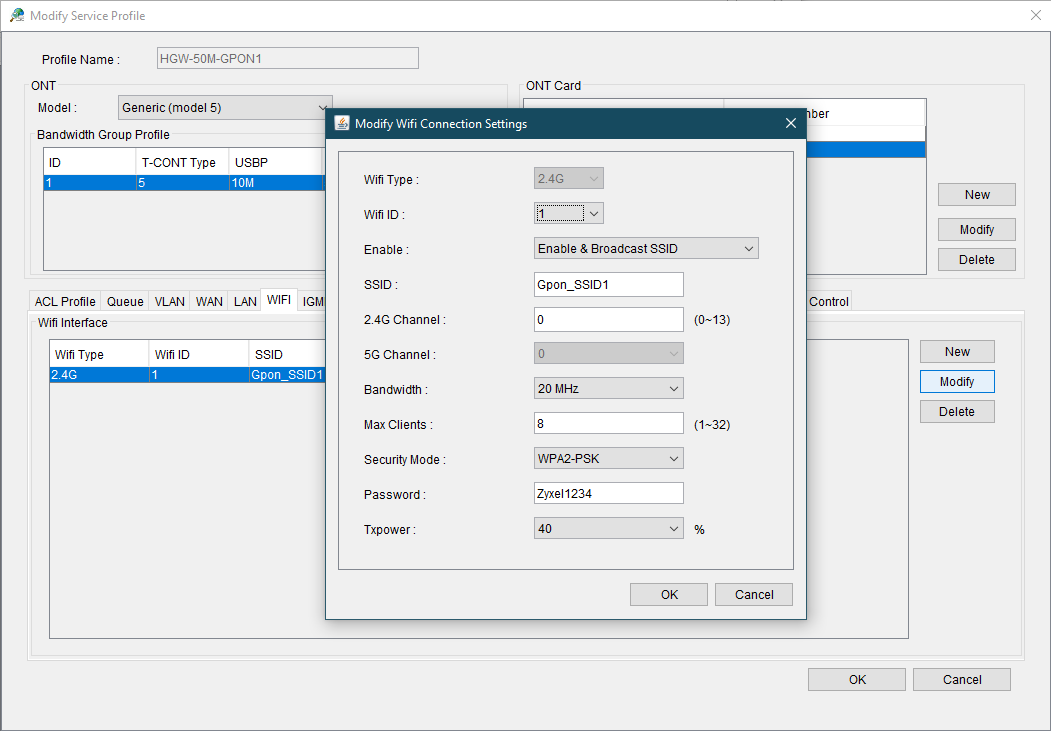 Since we are using a Multicast Streamer for our IPTV we need to set an IGMP Service Profile (Settings depending heavily on the used Streamer and VLAN):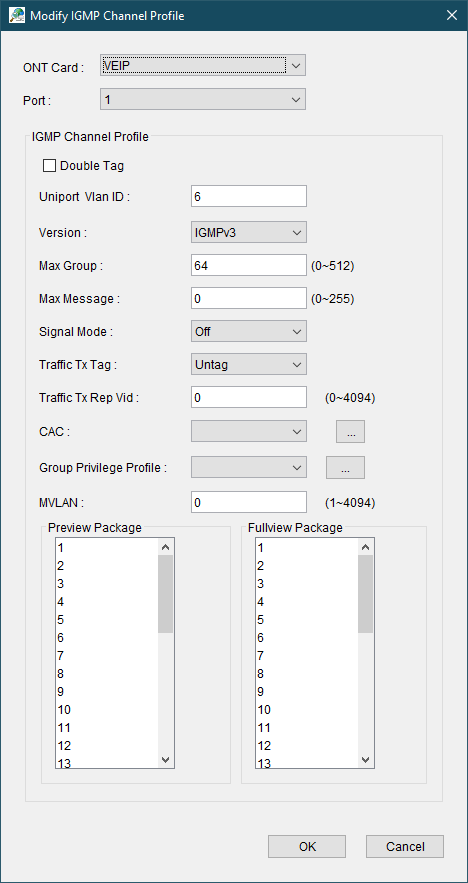 On the VoIP Page, we will set up a "generic" Profile since we will change the logins for each ONT.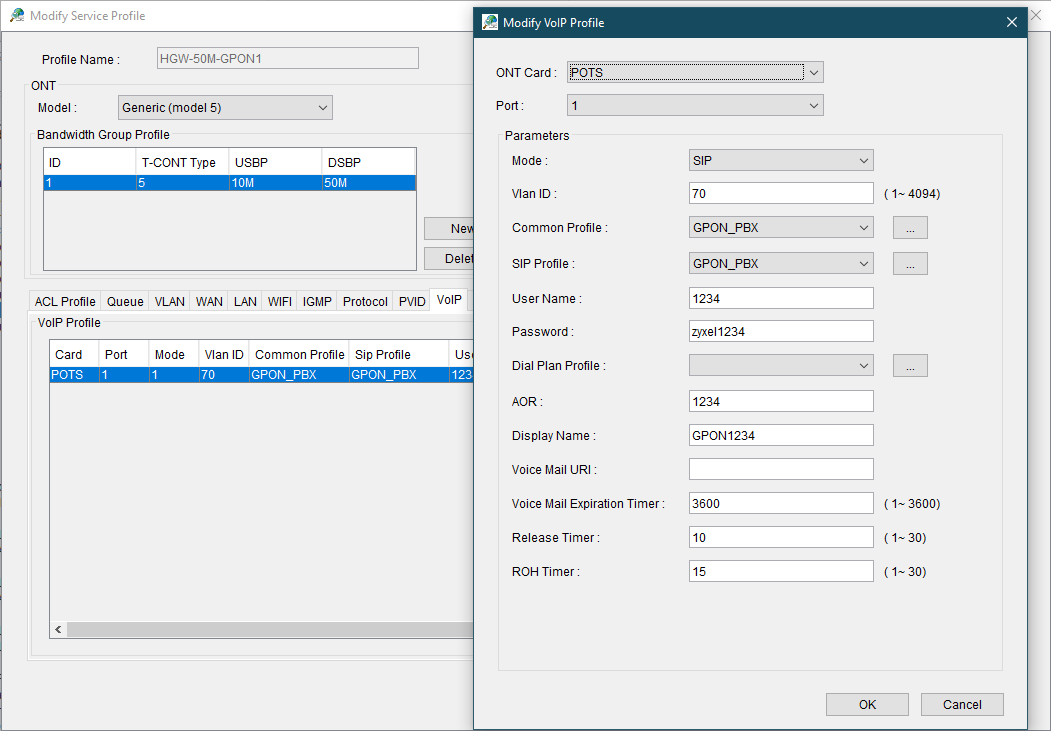 Our last step in the Service Profile will be activating the WAN Access to the ONT since we want to have the possibility to access them over the Mgmt VLAN.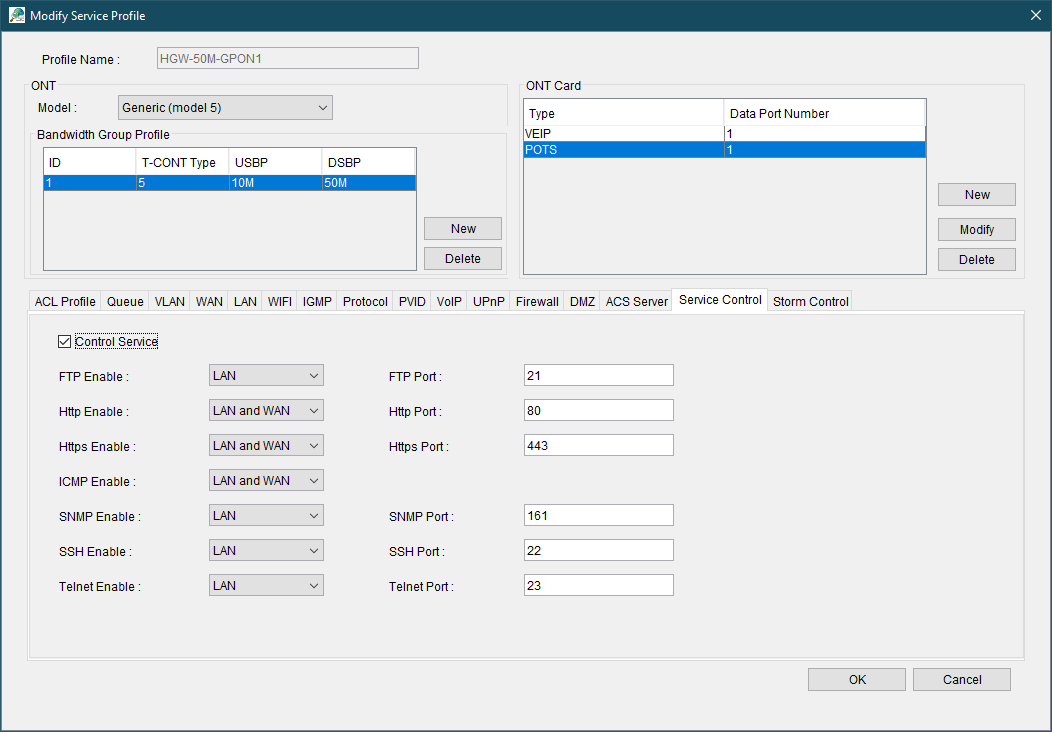 Disclaimer:
HTTP is only needed if You want to use the Shortlink from within the OLT Web GUI.
If this function is not needed, we highly recommend deactivating HTTP access from WAN!
Auto Provisioning
As You can see I already have one ONT registered and Provisioned.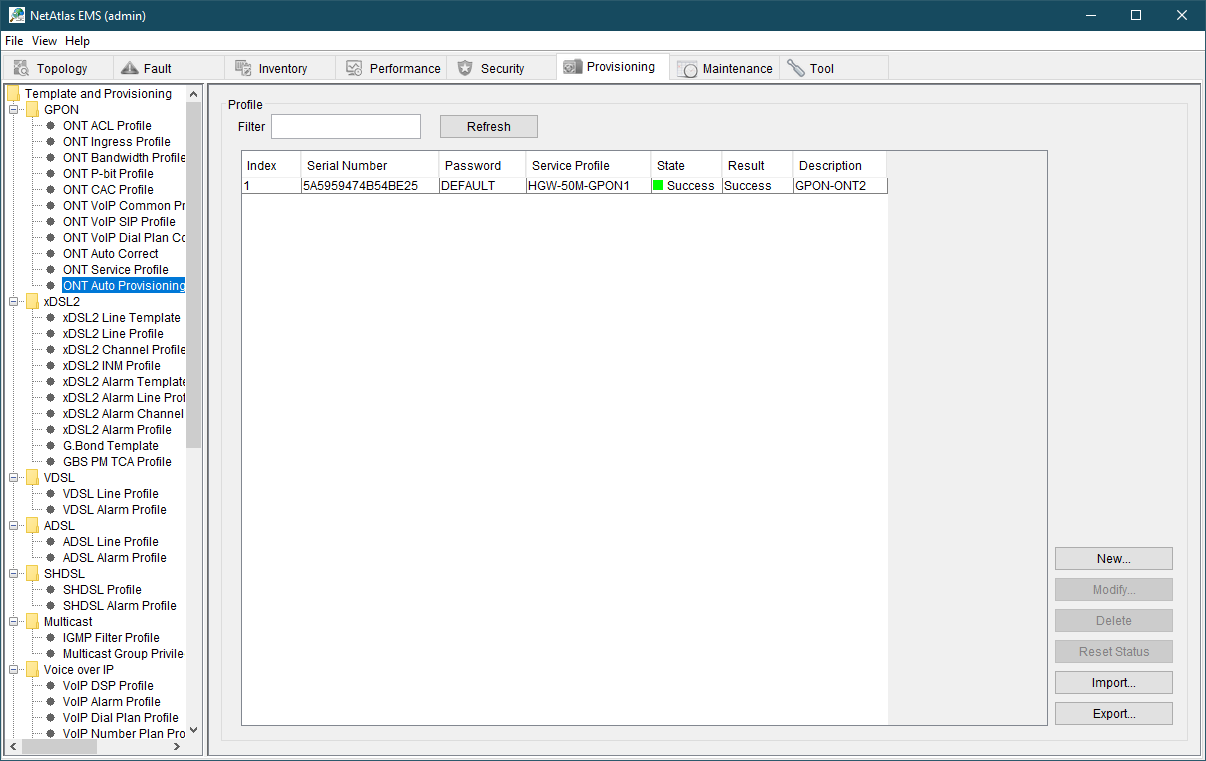 I am going to register the Second ONT doing the following steps: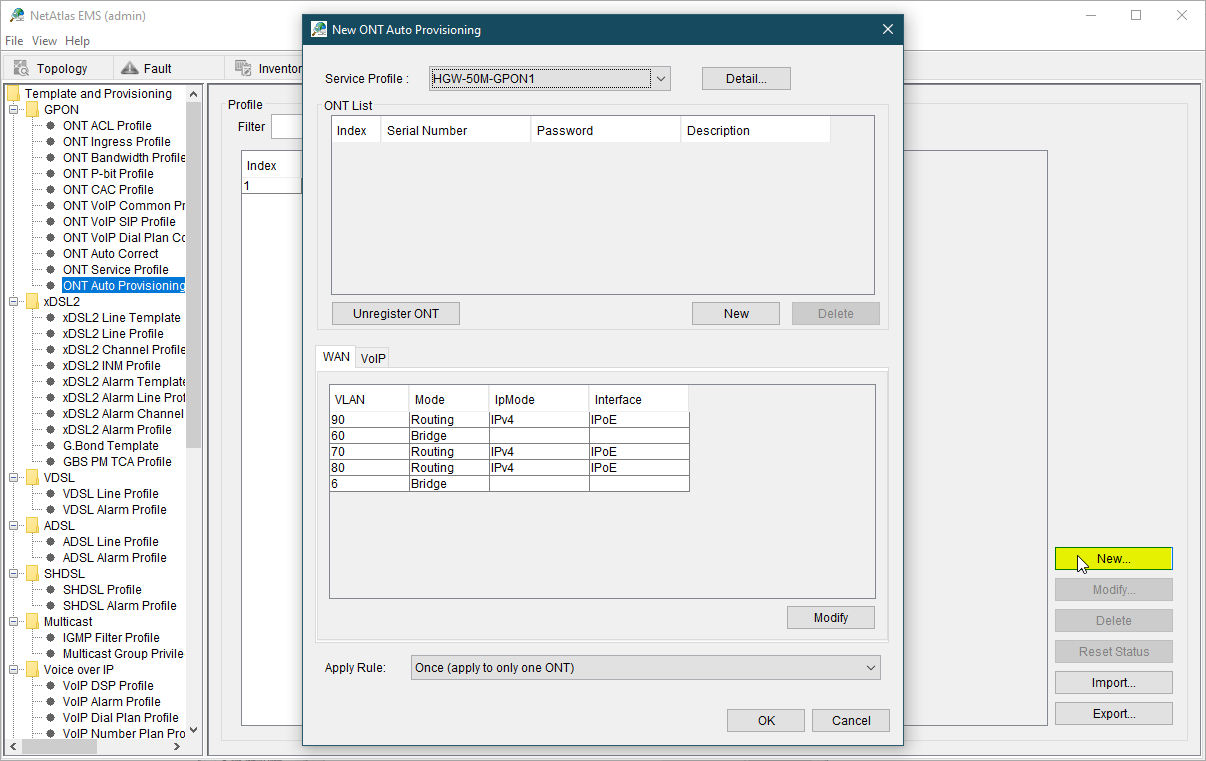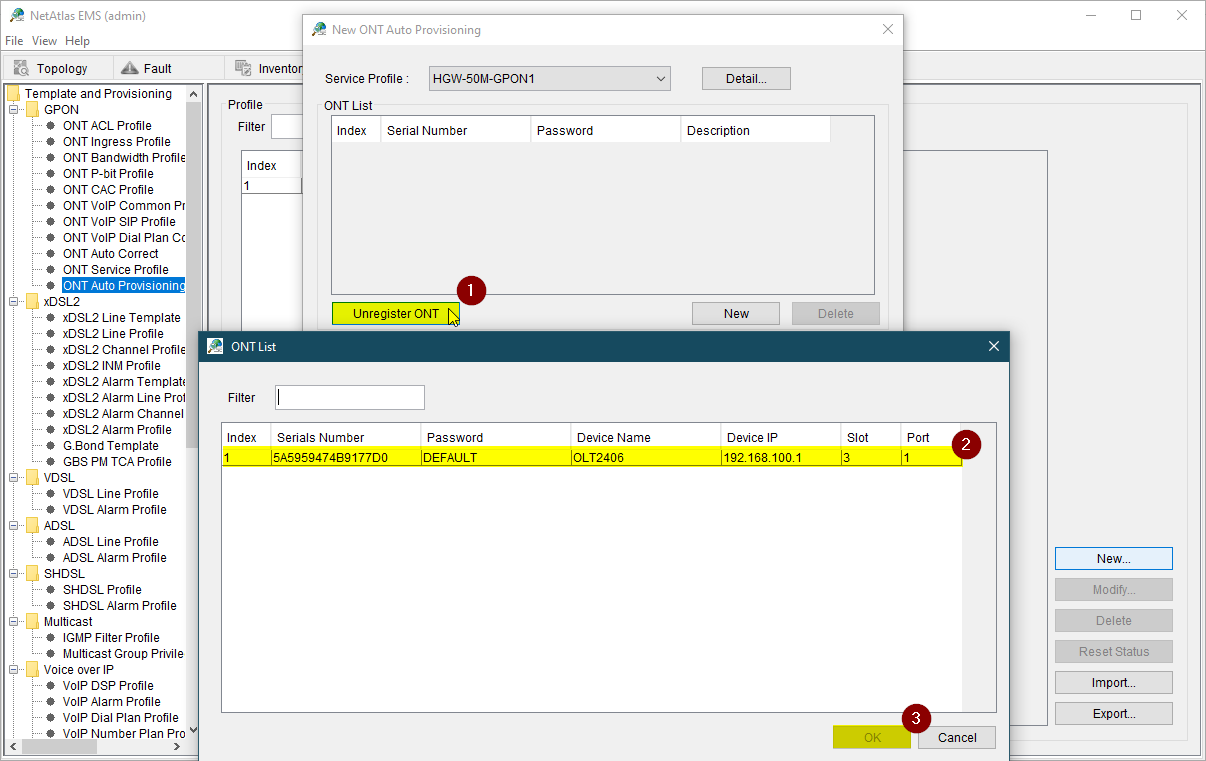 I filled in a description left the WAN Interfaces alone (since they are preconfigured in our Service Profile) and changed the VoIP Login Data.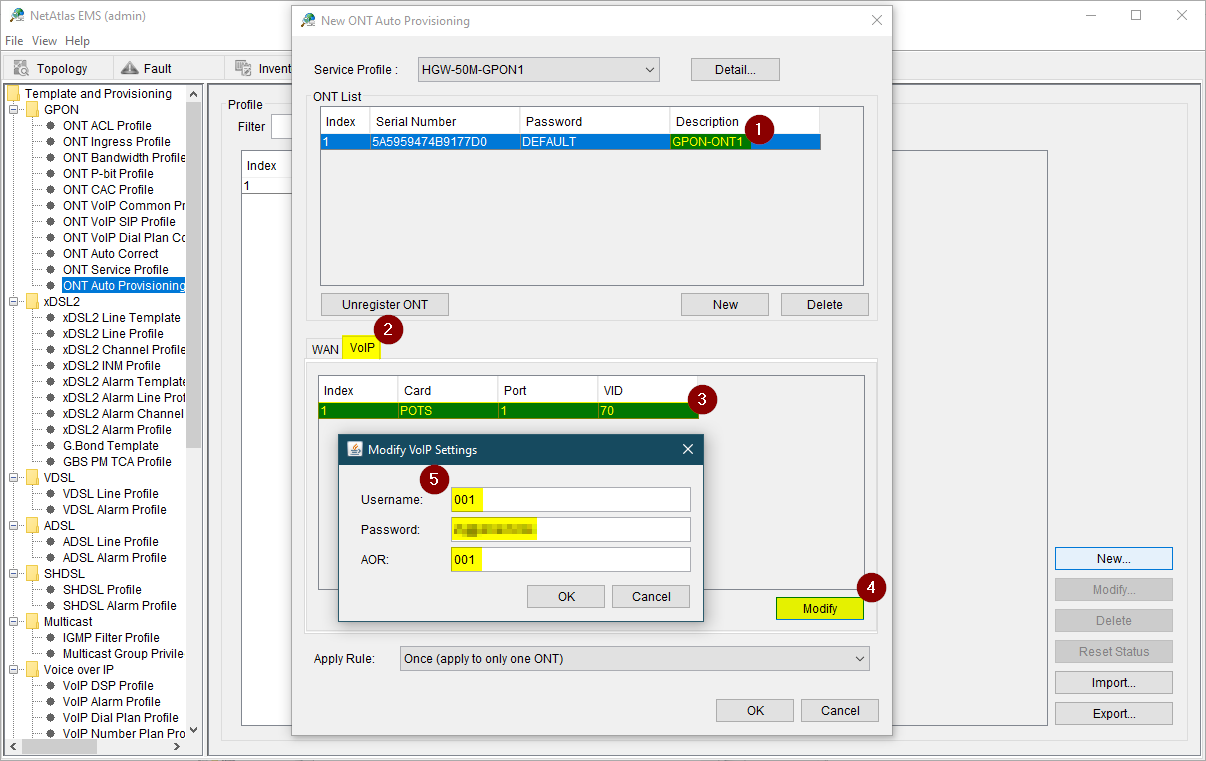 After we click on "OK", down in the right corner, we should see a "Success" Message and the Provisioning Process will start.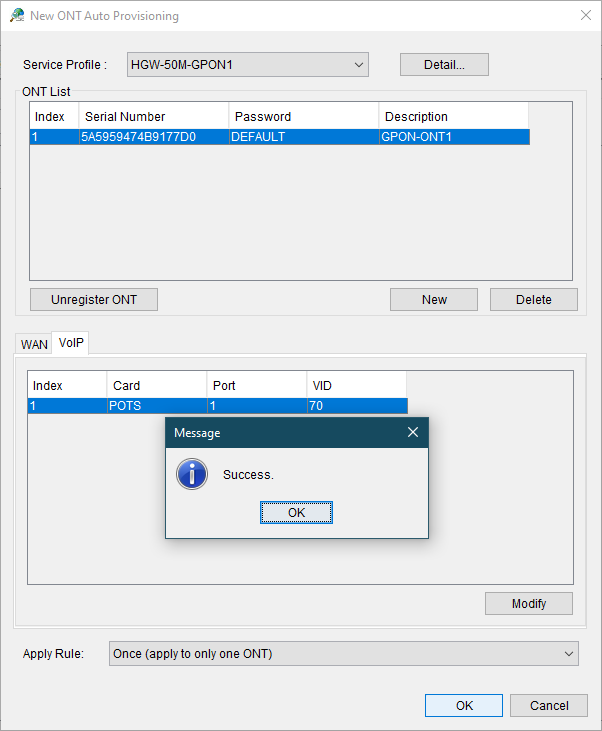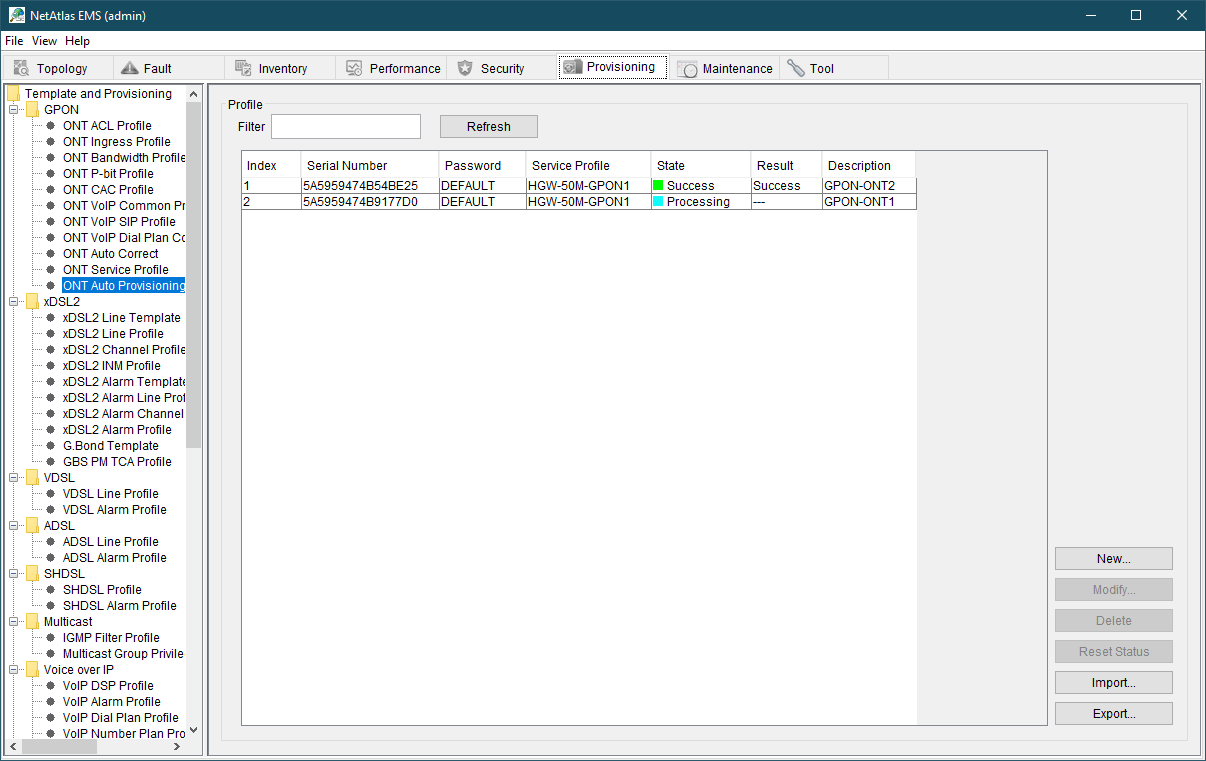 During this process, we will see different Statuses if we click on "Refresh".

If all went well, we should see this after a few minutes (depending on the Amount of ONTs You are provisioning at the same time).

And that's it! We have now successfully configured and Provisioned the OLT and 2 ONTs.