In case, one of HA Device is broke down or out of service, the client needs to purchase the new one and deploy back on the live Device HA-Pro environment. This guide will lead the user on how to swap one of the HA Pro synchronized devices when the device was RMA 'ed.
For example, if Device 2 is out of service, and the client needs to swap it to the new Device.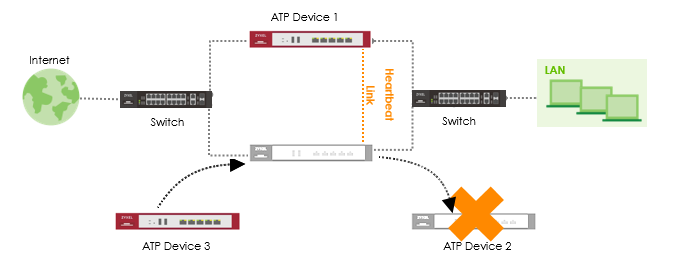 Before redeploying the HA-Pro environment
1. Make sure all licenses of Device 2 are transferred to Device 1 from myzyxel.com before Device 2 deliver to RMA
2. Confirm the Serial Number of Device 1 is entered on HA-Pro page.
Go to Configuration> Device HA>Device HA-Pro

3. Click the Service License on Device 1 Refresh button to check license update correctly from myzyxel.com
Go to Configuration>Licensing>Registration>Service>Press Service License Refresh

Note:
a. If RMA device which was the initial active role (S/N was filled on HA-PRO page), the user needs to modify the S/N to another Device (On Serial Number of Licensed Device for License Synchronization)
b. Before sending back the device to RMA, you need to disassociate HA on MZC.
After receiving the New device (Device 3)
1. Backup the Device 1 current configuration.
2. Make sure the Device 3 is reset to the default setting
3. On Device 3, the running firmware version must the same as the Device 1.
4. On Device 3, the partition of running firmware must be the same position as Device 1.
Active (Device 1)- Running Firmware 4.35(ABIQ.2)

Passive (Device 3)- Running Firmware 4.35(ABIQ.2)

Configuration on Device 1
Go to Configuration >Device HA>Device HA Pro, Enable Device HA
Make sure the configuration on each field is correct. (Management IP of an active, and passive device, password…)
Next, press Apply button.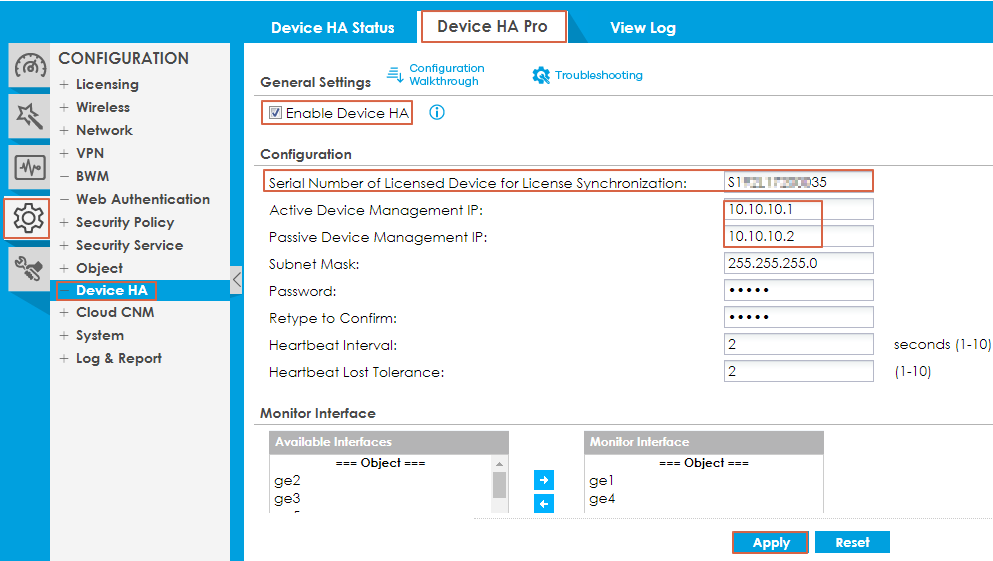 Configuration on Device 3
Go to Configuration >Device HA>Device HA Pro> Tick Enable Configuration Provisioning From Active Device 1nd Enable Device HA then press Apply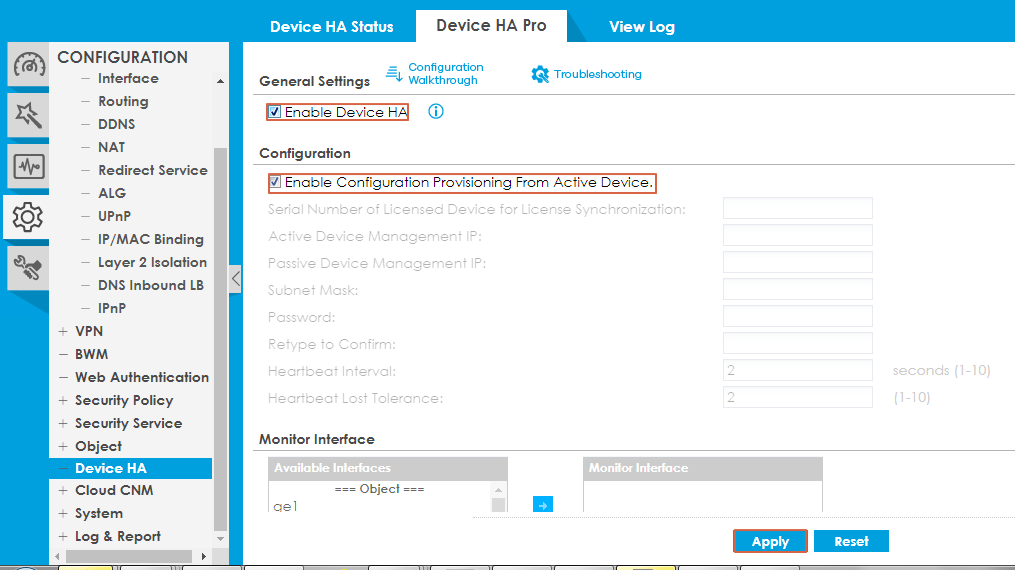 Press OK to complete passive configuration

Next, connect the heartbeat port (the last Copper Ethernet port) link and waiting for the full sync.
In this example, ATP800 heartbeat port is Port 12.
Note: Before sync completely, do not change any configuration
It takes time (around 10 minutes) for the first time full configuration synchronizes

The sync status also can be check from Console
To type CLI:
# show device-ha2 device-status
# show device-ha2 passive device-status
Until you get the information of the active and passive device.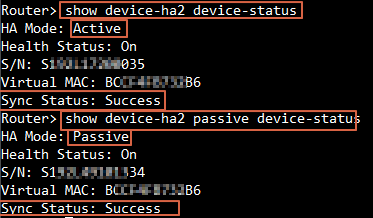 Then go back to console of the passive device to type CLI
# show device-ha2 sync summary

After the above configuration complete, Go to Configuration>Device HA> check Device HA status and View Log
Device 1 (Active Role)


Device 3 (Passive Role)