This tutorial will show you how to change the password on your NBG-419Nv2.
1) Login to your router
You can login to your router via http://192.168.1.1 (if it's in router mode) or http://192.168.1.2 (non-router mode) and with the user name admin and the password 1234
Non-router mode means that the router is in repeater mode and act as an access point, while the router mode means that the router act as the main router and is handing out IP addresses to the clients in the network.
If you can't reach the router through the IP-address, look at this article: Accessing your router via Web GUI
2) Go to the SSID (WiFi) Section
Navigate to Configuration -> Network -> Wireless LAN -> General
3) Write your new WiFi name and WiFi Password
A) Change your WiFi Name (Network Name (SSID)) - This will be the name that will appear on your device WiFi list
B) change the security mode to WPA2-PSK in the dropdown menu
C) Choose the encryption type AES
D) Change the WiFi password (Pre-Shared Key) - This will be the WiFi password that you will enter for the WiFi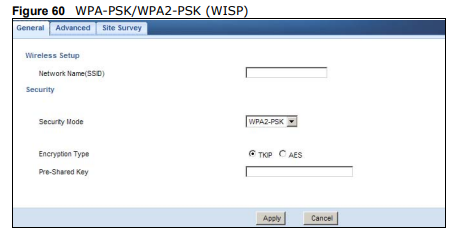 Note! We recommend to use the Security mode WPA2 instead of WPA because of security reasons.