What is VLAN Trunking: Based on 802.1q the Switch will discard unknown VLAN Frames. To pass through VLANs and only to configure easy you can use VLAN Trunking to allow and handle frames from unknown VLAN groups.
Enable VLAN Trunking on a port to allow frames belonging to unknown VLAN groups to pass through that port. This is useful if you want to setup VLAN groups on end devices without having to configure the same VLAN groups on intermediary devices.


Suppose you want to create VLAN 20 and VLAN 30 on Switch A and Switch B. Without VLAN Trunking, you must configure VLAN 20 and VLAN 30 on all intermediary Switches C, D and E; otherwise they will drop frames with unknown VLAN group tags. However, with VLAN Trunking enabled on port(s) in each intermediary switch you only need to create VLAN groups in the end Switches(A and B). C, D and E automatically allow frames with VLAN tags 20 and 30 (VLAN groups that are unknown to those switches) to pass through their VLAN trunking port(s).
How to Setup VLAN Trunking
Advanced Application > VLAN > VLAN Configuration > VLAN Port Setup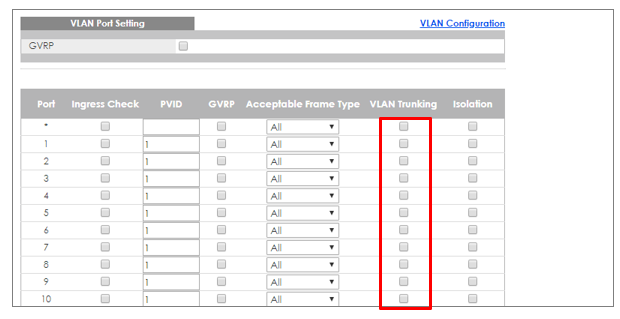 Ingress check: The Switch discards incoming frames on a port for VLANs that do not include this port in its member set.
GVRP (GARP VLAN Registration Protocol): is a registration protocol that defines a way for switches to register necessary VLAN members on ports across the network.
VLAN Trunking: Enable VLAN Trunking on ports connected to other switches or routers (but not ports directly connected to end users) to allow frames belonging to unknown VLAN groups to pass through the Switch.
Isolation: Allow this port to communicate only with the CPU management port and the ports on which the isolation feature is not enabled.
How to setup VLAN:
How to configure VLAN on Zyxel Switch [GS/XGS-Series]
GS1900: How to configure VLAN on Zyxel Switch

If you want to learn / know more about our VLAN design, please have a look here:
VLANs - Tagged VLANs vs. PVID (Setup Example Untagged/Tagged VLAN on a GS22XX-Switch)
VLANs - A deeper look at how they work
Setup Assistance, you´re looking for assisted configuration by our Professional Services Team? Please check here: Zyxel ConfigService Switch