Eliminate spots with poor wireless signals in those rooms with the Zyxel WRE6505 v2. Just plug the extender into a wall outlet, press the WPS button on the extender once, and then press the WPS button on your wireless router or gateway, the Zyxel WRE6505 v2 extender will copy your existing Wi-Fi network and extend those wireless signals to those dead spots for all your wireless mobile devices to connect to.
Disclaimer!  This article offers a general overview of the series and may not apply uniformly to every model, software/firmware version. Prior to purchasing or using the device, please consult the model/version-specific documentation or reach out to technical support for accurate information.

Before proceeding to set up the device, please use the quick start instructions to turn on the WRE6505 and establish a connection between your computer and the WRE6505 Quick Start Guide




Note: The wizard appears when the WRE6505 v2 is accessed for the first time or when you reset the WRE6505 v2 to its default factory settings. ( press the WPS button on the front panel for more than 10 seconds to reset the factory defaults of your WRE6505 v2). 
| | |
| --- | --- |
| Setting up a wireless extender can seem challenging at times. However, fear not, as this setup guide will help you seamlessly extend your Wi-Fi network using the WRE6505. For a swift and easy setup, you can either follow the steps outlined in this guide or watch the video tutorial provided | |
Note: To prevent connectivity issues, it is advisable to disable other network connections on your computer during the initial setup of the extender. For instance, if your computer is currently connected to the WRE6505 extender via a wireless connection and has a cable connection to the Internet, you might encounter difficulties accessing the extender's web interface. To access the web interface of the extender seamlessly, disconnect the cable connection and attempt again
Walkthrough steps:
Plugin your WRE6505, which should be set in repeater mode. On your computer, connect to the wireless network the WRE6505 broadcasts. (ZyXEL_2.4GEXT, ZyXEL_5.4GEXT).

After connecting successfully, open a browser and give in the following URL: http://zyxelsetup
Login to the device, by default username

:

admin

|

password

:

1234

The eaZy-Mode Setup Wizard should start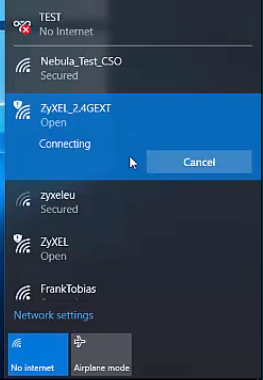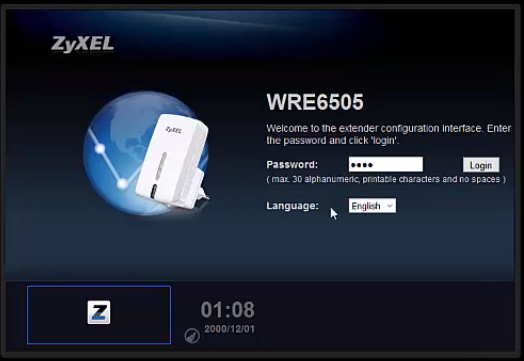 Select the frequency of the band you want to extend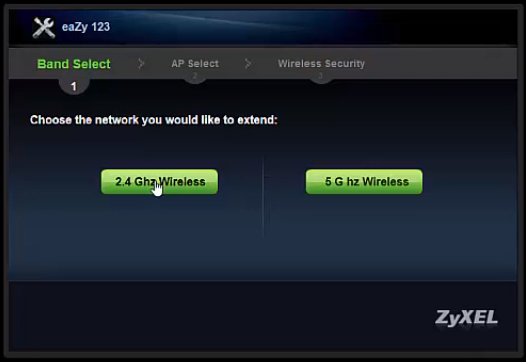 After the scan completes, select the SSID you want to extend and click on next.

Enter the password of your SSID you want to extend and click on next.

Change the SSID's name the extender is going to broadcast and click apply.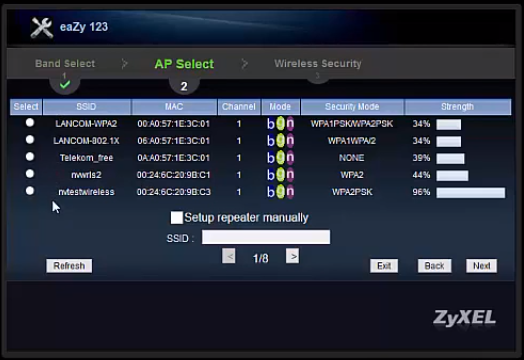 After applying the configuration there should be a stand "Connection Success"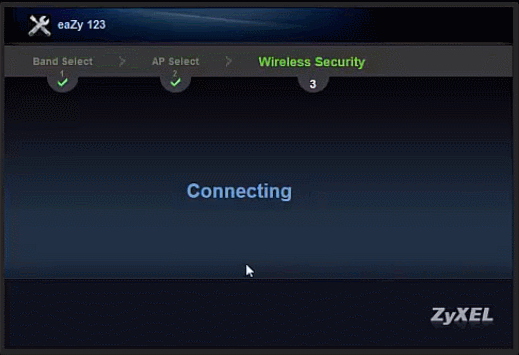 Wait for a little, and do a new scan on the end-user device for available WIFI networks

Connect to the newly created SSID