Smart Mesh is an excellent innovation of the Nebula Cloud Solution, which allows Nebula access-points to interact wireless and repeat the signal throughout your home or facility.
Smart Mesh works in a way that out of a multitude of access-points, only one of the access-points remains cabled to the main infrastructure ("root AP"), while the other units can be placed throughout the facility within the coverage range of the root AP. These units ("repeater AP") will interconnect with the root AP and build a wireless bridge and repeat the SSID in which the root AP is propagating.
This makes WiFi-installations so much easier, as you do not necessarily are dependent on ethernet-cabling on-site anymore.

Get rid of all the boundaries which come with traditional cabling and mesh your home today, the smart way!
1.Supported model list:
Smart Mesh supported model list:
All models.
Wireless bridge supported model list:
NAP203, NAP303, NAP353, WAC6103D-I, WAC6303D-S, WAC6502D-E, WAC6502D-S, WAC6503D-S, WAC6552D-S, WAC6553D-E, WAX610D, WAX650S
2. Configuration Guide
In order to set up Smart Mesh, first, you need to have two Smart Mesh compatible access-points connected to the same site, one of them being connected via Ethernet cable to the main network infrastructure.
Set up respective SSID-profiles to your likings via
AP > Configuration > SSID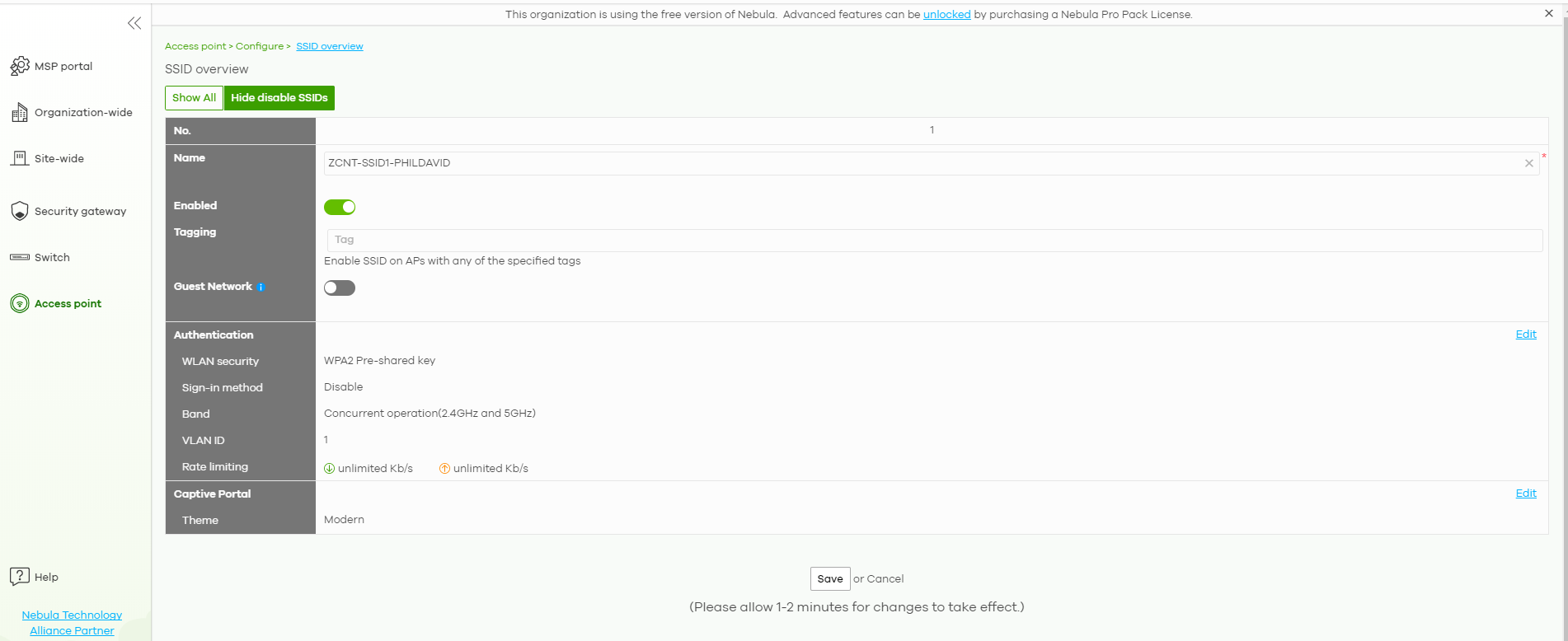 Afterward, navigate to
Access point > Configure > AP & port settings
and make sure to activate the "Smart Mesh"-Slider: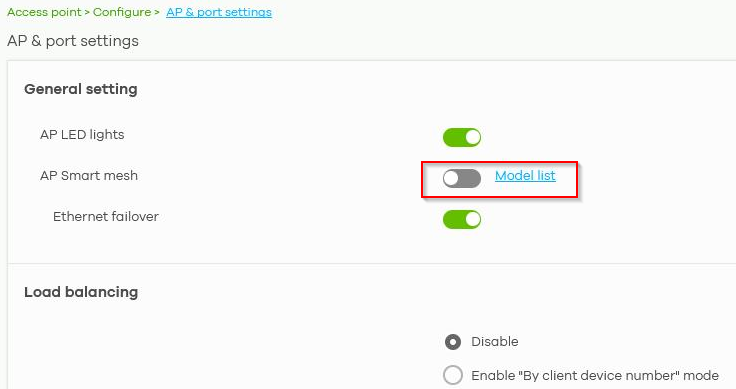 3. How "Smart Mesh" works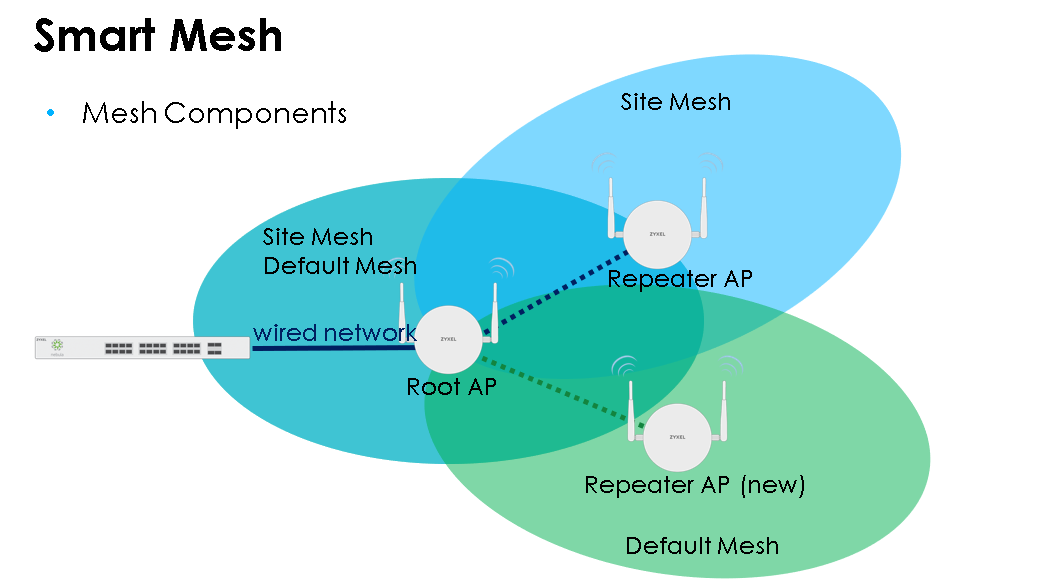 Root AP – Any AP that is directly connected to the wired network and can reach the gateway. If a Root AP loses connection to the gateway, the Root AP will change to the repeater role.
Repeater AP – Any AP that is not directly connected to the wired network or has no connection to the gateway.
Default Mesh – The mesh that forms between Root AP and Repeater AP's BEFORE Repeater AP's has been successfully added to the site. This mesh uses a common mesh ID among all Nebula AP's.
Site Mesh – The mesh that forms between Root AP and Repeater AP's AFTER Repeater AP's has been successfully added to the site. This mesh uses a unique ID shared between AP's in the same Nebula site.
That means that the AP's (from a specific firmware) not necessarily need to be connected with a cable to be provisioned by NEBULA. Only adding them to your site will allow them to communicate with the root AP via Site Mesh.
4. Configuring a wireless link to bridge to a wired network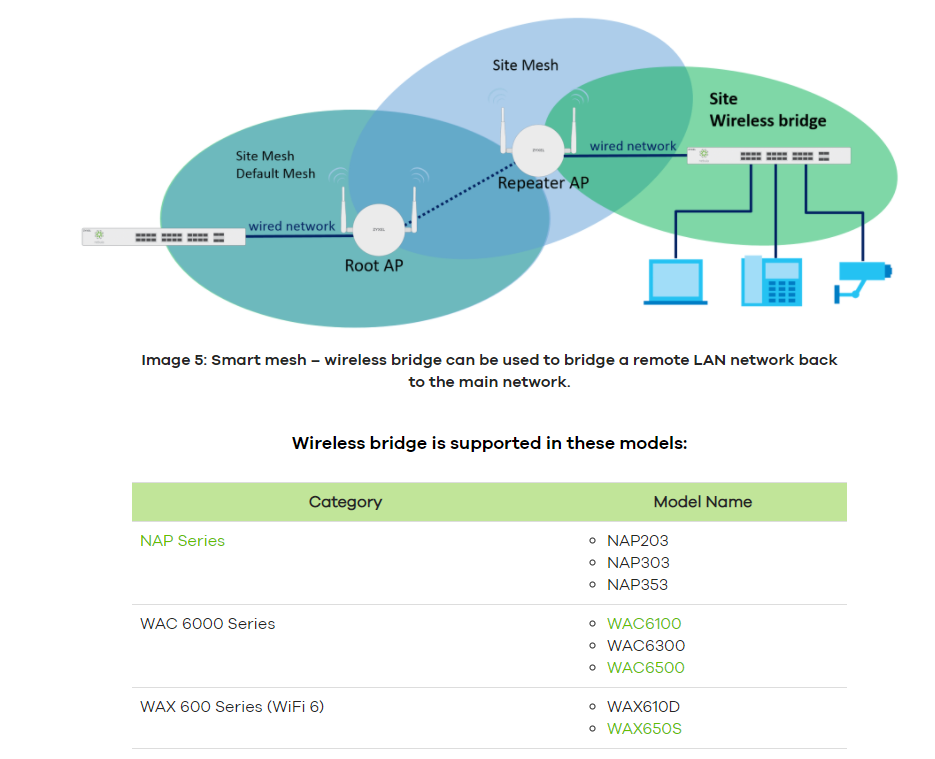 Note! Bridging to LAN requires Nebula Professional Pack
5. Things to consider
Establish mesh across multiple wireless hops (no limit)

Recommended wireless hops: less than 2 hops from wired network

Rule of thumb: throughout is halved across each wireless hop

Building up a mesh network, the smart mesh will usually build up via 5G first and if the signal is not good enough, it will change to 2.4G connection.
6. Successfully connected (Verification)
The units should show online and by different symbols: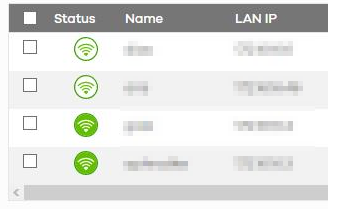 The hollow-green-symbol indicates that the respective AP is working as a repeater AP, while the color-filled icon displays the AP is running as a root AP.

Congratulations, you have set up successfully Smart Mesh on your Nebula devices!