Dynamic Frequency Selection is a requirement for the majority of channels in the 5GHz bands. However, DFS can have a very large impact on your network. So it is definitely important to know what this impact is and measure if you can suffer from it.
Radar
The 5GHz band is not only used by wireless applications like Wi-Fi and radio links but also by radar systems, more specifically weather radar. These radar systems use radio waves to detect precipitation. To do this, the radar sends out a pulse of energy during a fraction of a second, and then 'listens' to the signal that is returned by reflection on the precipitation particles in a precipitation zone. The exact location of the precipitation is determined from the time difference between the transmitted and received signal. Because the radar scans the atmosphere in all directions and at different altitudes, it can display a 3D representation of precipitation in the atmosphere. With dual-polarization, one can even find out whether the drops are raindrops or hail or snow.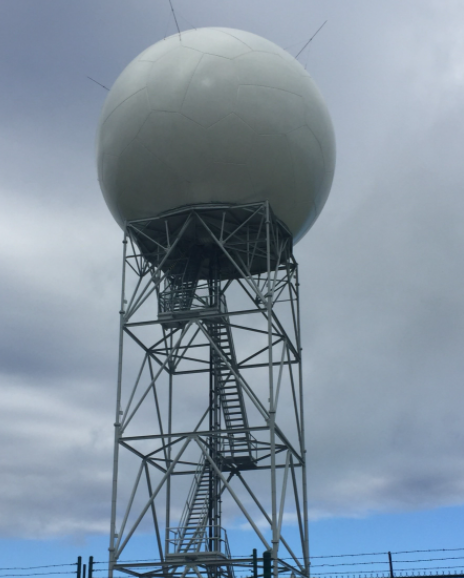 Thus, these radar systems are characterized by a pulsating signal and are difficult to classify.
It is also important to note that weather radar systems are not just at an airport. They are scattered all over the country. The range of one radar is about 80 to 100km for qualitative measurements. The effective range of the signal is about 240km. The main conclusions are that you can still detect radar up to 240km from a tower and that there are several weather radars even in a small country.
Dynamic Frequency Selection
In order to use the 5GHz spectrum, it was initially stipulated in Europe and later in the US that Dynamic Frequency Selection (DFS) must be used. This DFS regulation differs per region. For example, currently, in the US, channels 120-124-128 are still blacklisted due to possible interference with Thermal Doppler Radar systems.
Specifically, DFS means that your system will do its own channel planning and thus choose the channels for each AP. Before a channel can be chosen, a minimum of 60 seconds of listening time on a channel is required before it can be decided that this is a suitable channel. If this channel is already in use or if there is radar detection, one goes to the next channel. If there is radar detection, the channel is blacklisted for a minimum of 30 minutes. On some channels, one has to scan not for 60 seconds but for 10 minutes before they can be declared suitable.
DFS thus slows down the startup of a system because the scanning has to be done passively and a lot of time passes before one can draw a conclusion.
However, DFS also continues during the functional phase because one must remain courteous to the radar at all times. Thus, when radar presence is detected in a functional system, the radio must leave that channel as soon as possible. Specifically, the AP is given another 10 seconds to leave the channel. Then the selection of a new channel starts which can also take some time, especially in a larger network. While the AP is looking for a new channel, it obviously cannot serve any clients. After the initial 10 seconds, all connections are dropped and clients must find another AP if possible.
Although in principle clients should not perform an active scan on these frequencies, we find that the behaviour of clients can trigger DFS. Most radar alarms are false positives, by the way.
Side effects when using DFS Channels
Wireless service goes down for 1 or 10 minutes during CAC (

Channel Availability Check)​

In a site where cell planning is well arranged, we can see several APs scattered in different channels. When RADAR is detected in their using channel, APs will switch to Non-DFS channels, causing high traffic loading in those partitions.
DFS or not to DFS
The " richness " of channels on 5GHz offers perspectives, especially towards high-density deployments. Whether one makes use of these channels depends on several factors:
the required bandwidth at one location
Presence of other networks
Possible coverage with non-DFS channels
Presence of radar systems
number of simultaneous client connections
We recommend performing a site survey as a basis to determine how sensitive the location is to radar alarms. DFS channels can never be used with 100% reliability. We, therefore, do not recommend Voice-over-WiFi, alarms or other critical matters to run over DFS channels.