WiFi and access to the internet in general is becoming more and more of an absolute necessity everywhere, anytime. This also shows in WiFi setups at hotels, bars, restaurants etc., and there are many different approaches to this field. One of them is having a unique passwords generated for each user to connect to the WiFi. This approach is called Dynamic Personal Pre-Shared-Key, also known as DPPSK. DPPSK let's your network benefit from higher security standards, since the passwords for WiFi-Users are generated on-demand, dynamically, and tied to a specific user. The main security benefit comes from that no longer users are sharing the same WiFi-password, only allowing the guests you want in your network, without a complicated and tiresome captive portal authentication. The below configuration steps will guide you through a prime-example DPPSK-setup.
Where to find:
DPPSK database (NCC Pro-Pack)
Site-wide > Configure > Cloud authentication > Account type > DPPSK
Enable DPPSK:
Access point > Configure > Authentication > Network access > Dynamic personal PSK
Function description:
Just like WPA2-Personal, users must input a password/passphrase to access the wireless network. Each wireless client can have a
unique password
resulting in unique encryption key. It also supports dynamic VLAN assignment.
Scenario:
4 hotel guests book rooms for 2 nights and purchase Wi-Fi service during their stay . Hotel desk provides unique Wi-Fi codes for each hotel guests to access network.


Configuration:
1. Go to
Access point > Configure > SSID overview
and configure the SSID name. Click "Edit", then go to step 2.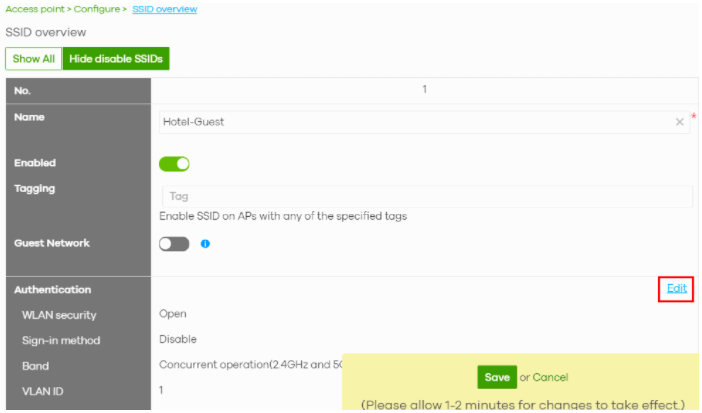 2. Choose "Dynamic personal PSK". "Users can enter this backup key to associate" is an optional function and will allow connection to the WiFi, in case the DPPSK has been lost or forgotten. When the settings are set to your likings, click "Back", and then "Save".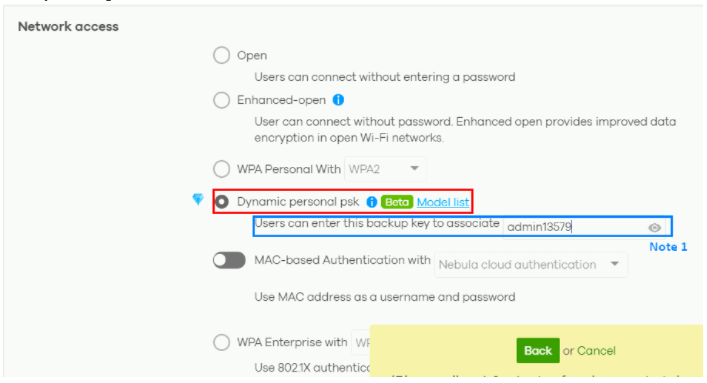 3. Navigate to
Site-wide > Configure > Cloud authentication > Account type
and select
DPPSK
.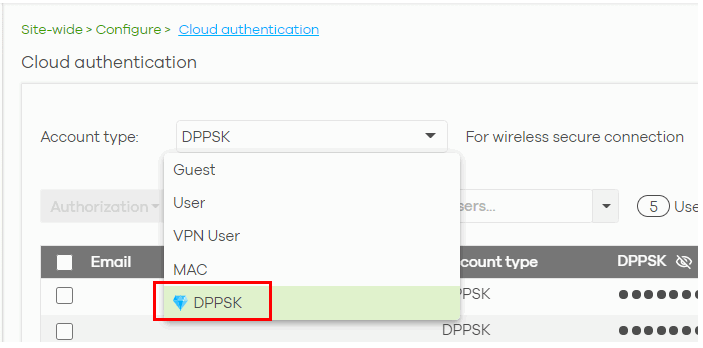 4. Click "Add", and choose "Batch create DPPSK".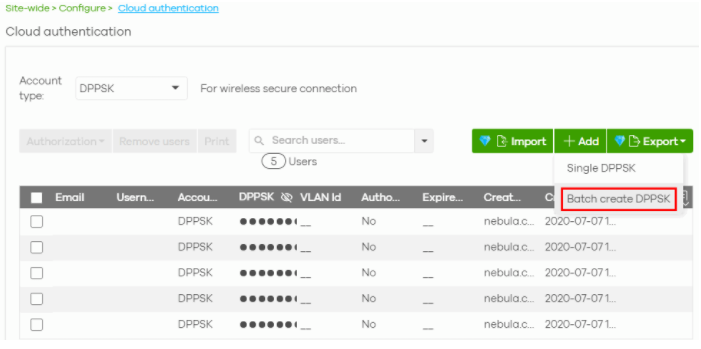 5. Create 4 DPPSKs for 2 days.
6. Choose the DPPSK users and click the "Print".

7. The DPPSK information will pop out.

Verification:

Use the DPPSK account to access the Wi-Fi network.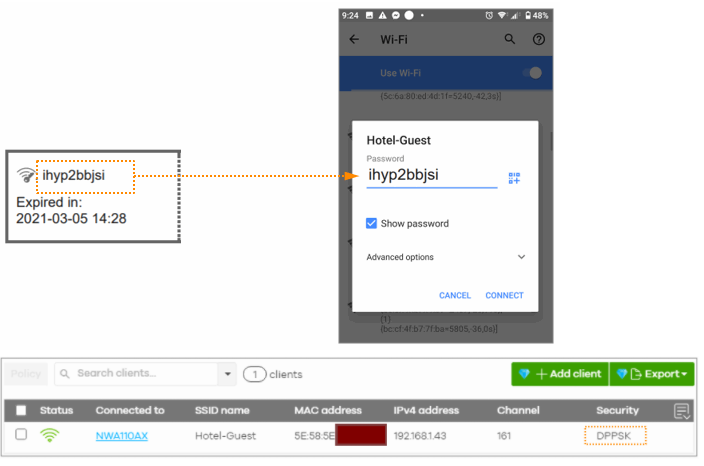 Notes:
"Users can enter this backup key to associate": This is an optional setting. The hotel desk can record this password. When the users who lose the DPPSKs, the hotel desk can tell the customers to use this password first before they get another DPPSK.


MAC-based Authentication cannot be enabled with DPPSK.

Nebula CC also allows single DPPSK account creation: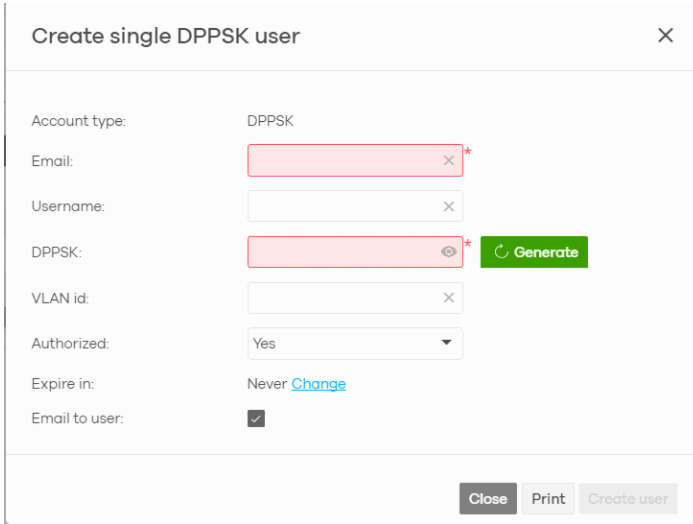 Nebula users can create unlimited DPPSK accounts, but only 1024 entries can be authorized at any given time. If authorized account exceeds 1024, oldest accounts created sets to unauthorized.


Non-supported models disable SSID with DPPSK enabled.