NAT mode is employed when the Access Point [AP] establishes a DHCP subnet with its own network address translation (NAT) for the specified SSID. This configuration offers a streamlined hardware setup suitable for providing Wi-Fi in environments like small shops or cafes, where minimal infrastructure is desired.


The AP will then assign preset subnets on the "LAN side" depending on the IP that is assigned to the management "WAN" interface.
If the AP management IP address is NOT part of "10.0.0.0/8", SSID subnet becomes "10.0.0.0/8".

If the AP management IP address is part of "10.0.0.0/8", SSID subnet becomes "172.16.0.0/12"
Sample scenario:
Enable NAT mode on the SSID which is provided for Guest usage.

Configuration:
Go to Site-wide -> Configure -> WiFi SSID settings
Click the "Add SSID Network" button.

Provide a clear and comprehensible name for the SSID (Network Name).

Toggle the network switch to "Enabled" the newly created network.
Click the "Save" button to confirm your settings.
Access the "SSID Advanced Settings" by clicking on the "Edit" option within that section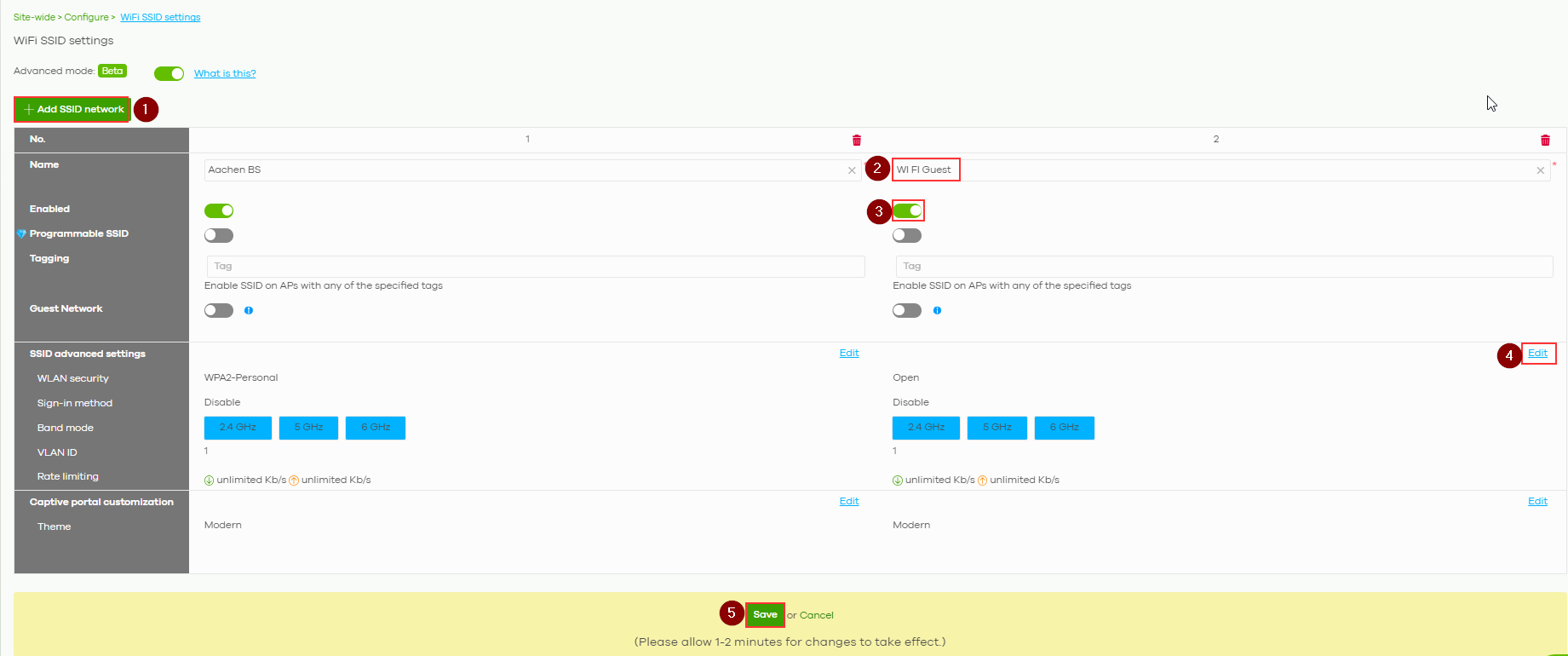 After clicking on "Edit" you will be forwarded to the next page "SSID advanced settings"
Site-wide -> Configure -> Access points -> SSID advanced settings

In the "Traffic options" section, check the "NAT mode" box to activate this function.

A list of access points that support this functionality is available at the link in Nebula (NAT mode Model list).
In the "Security options" section, you can immediately configure authentication if necessary.

After making all changes, click "Back" and click "Save" for all changes to take effect.


Successful Log:



Note:


1. The following AP features do not work when NAT mode is on.
802.11r

Layer2 isolation

Dynamic VLAN(cloud authentication, RADIUS server)
2. When NAT mode is enabled on non-supported models, Nebula CC does not show any error message. And non-supported models disable any SSID with NAT mode enabled
3. The IP address lease time is 8 hours.
4. List of access points supporting DHCP & NAT: NWA50AX, NWA50AX PRO, NWA55AXE, NWA90AX, NWA90AX PRO, NWA110AX, NWA210AX, NWA220AX-6E, NWA1123-AC HD, NWA1123ACv3, NWA1302-AC, NWA5123-AC HD, WAC500, WAC500H, WAC5302D-Sv2, WAC6303D-S, WAX300H, WAX510D, WAX610D, WAX620D-6E, WAX630S, WAX640S-6E, WAX650S, WAX655E

If the AP is managed by the NXC or USG controller, the NXC and USG will do NAT and DHCP.

The standalone APs currently don't support NAT and DHCP.