With the USG FLEX H Series, you'll enjoy exceptional high-performance support for Virtual Private Networks (VPNs) and Unified Threat Management (UTM), ensuring your data remains secure and your connections swift. Introducing the USG FLEX H Series Firewall with the cutting-edge VPN client, SecuExtender, a game-changer that's set to transform your online security and connectivity.  

Note: Please note that USG FLEX H Series does not support L2TP VPN
Disclaimer!
This article offers a general overview of the series and may not apply uniformly to every model. Prior to purchasing or using the device, please consult the model-specific documentation or reach out to technical support for accurate information.


There are two main types of Remote Access VPN: IPSec VPN and SSL VPN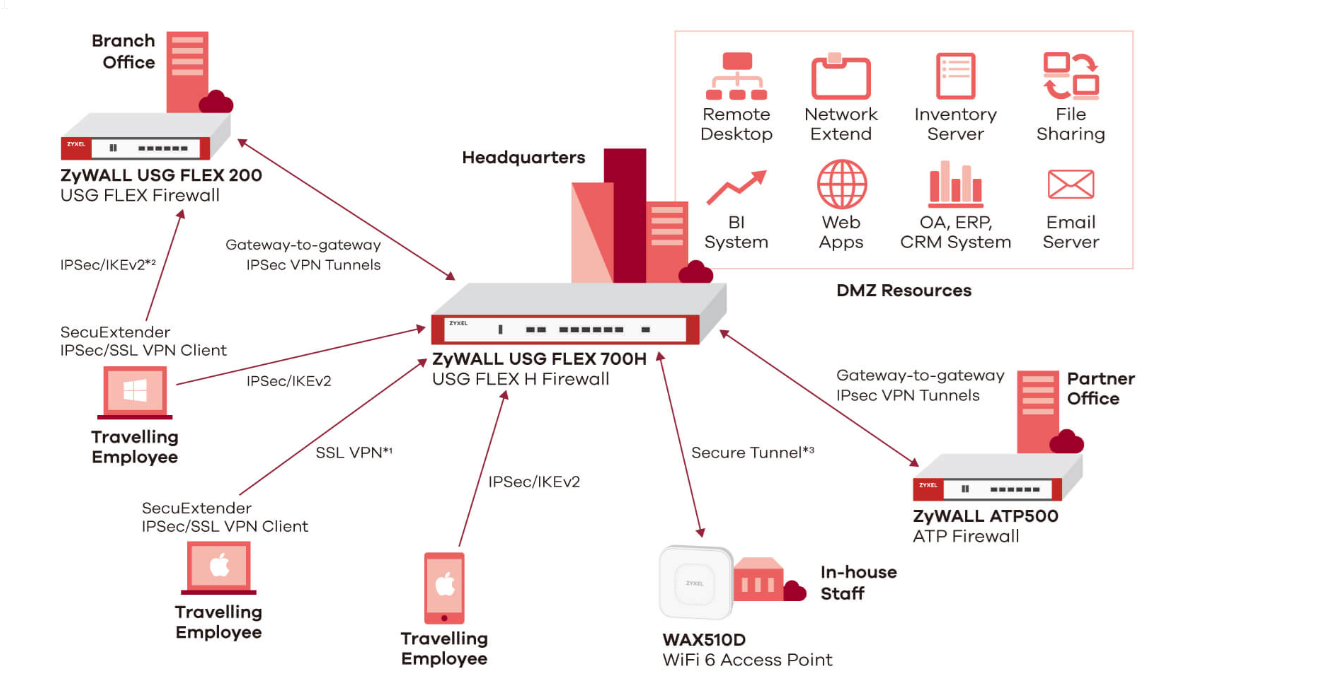 Ultra-secure access to the office network from anywhere 
Throttling the VPN client traffic bound for the office network

Added stronger key exchange group (DH) and algorithms

Two-factor authentication (2FA) support for enhanced protection*

Intuitive control panel with 25 multilingual support

1-click deployment by downloading VPN settings directly from a Zyxel firewall
* Two-factor authentication (2FA) is only supported in the Windows version, not in the macOS version. SecuExtender 2FA is compatible with Zyxel firewalls of the USG FLEX/ATP/VPN series. The USG series does not currently support 2FA.
SecuExtender

Overview
All-in-One

SecuExtender

VPN Client (Windows/

macOS),

e

asily choose an IPSecVPN or SSLVPN client that suits your needs

A single license key caters to multiple operating systems on a subscription basis. The SecuExtender subscription ensures immediate access to software updates, incorporating new features and enhancements. Take advantage of a 30-day free trial version, with an additional 15-day grace period available after the license expires.
Our flexible licensing system offers the option to acquire a SecuExtender license for individual users or opt for a subscription plan accommodating 5, 10, or 50 users, spanning durations of 1 to 5 years. Notably, our licenses transcend operating system restrictions, allowing seamless integration. Explore additional benefits in this comprehensive article:
Windows: 64-bit operating system, Windows 10 or above
macOS: Version 11 or later
Note: Please manually uninstall any previous versions before installing the latest version
Remote Access VPN - Scenario

SecuExtender

IPSec VPN For Windows
See how in a few steps to load the configuration in the SecuExtender for Windows client and start using the secure connection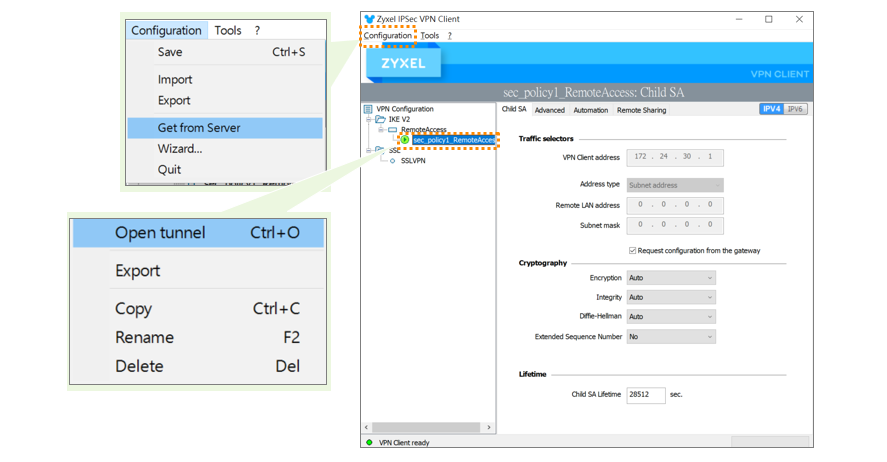 SecuExtender

SSL VPN For Windows
It's simple: Get the configuration from the server and create a tunnel for a seamless connection.

Legacy VPN - Configure Configuration Provisioning on USG Series
Please scroll at the end of the article, to see the flow more detailed.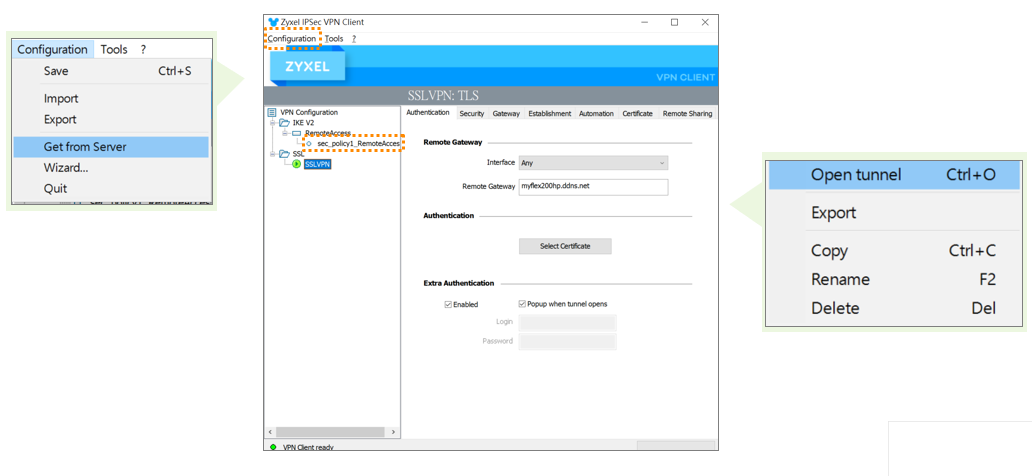 FLEX H Series IPSec VPN for

Third-Party/Native
VPN client
As a constant commitment, Zyxel empowers users with unrestricted access to third-party VPN clients, specifically integrating seamlessly with the built-in Windows and iOS/macOS clients and Android (strongSwan). To provide an introductory overview, let's examine the Windows client example.

Native Windows client-side
Extract the contents of the RemoteAccess_Win_RemoteAccess.zip file. Follow the instructions outlined in the 'Readme' file to complete the configuration settings

Execute the RemoteAccess_Win_RemoteAccess.bat batch script, ensuring administrative privileges are granted for the successful execution of the script

Simply click the Connect button to establish access to the VPN tunnel

FLEX H Series SSL VPN for Windows

OpenVPN

client

Windows OpenVPN client-side
Install the OpenVPN Connect software on Windows and import the 'SSLVPN_client_config' profile
Enter your username and password to establish a connection to SSL VPN. Once completed, a successful connection confirmation will be displayed