This step by step guide (including video) shows how to configure a VLAN ID on your USG device [Also applicable for USG FLEX, ATP, VPN series]. The video is part of a series on how to configure a VLAN on different Zyxel units. The guide will explain step by step how to configure a USG device in order to communicate via VLAN subnet.
Walkthrough Steps
Here you can see a graphical topology. This article will focus on the configuration of the USG and set up a tagged VLAN interface on port 4: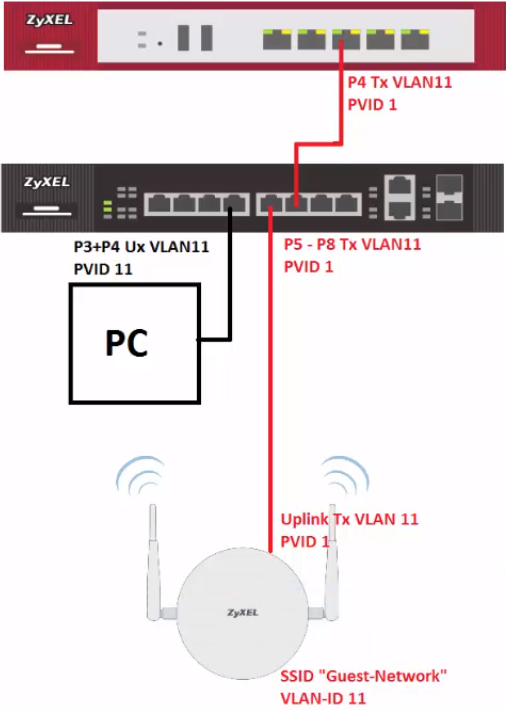 1. Add a new VLAN
Log in to the unit by entering an IP address ( by default, "admin", "1234" ).
Navigate to:
Configuration > Network > Interface > VLAN
Click on the tab "VLAN" and click "Add"



2. Configure your VLAN
As this VLAN interface will be in your LAN zone, please choose "Internal" as your "Interface Type", choose a fitting "Interface Name" like "VLAN11", choose a desired LAN zone and Base Port and type in "VLAN ID" 11 so that it matches with your "Interface Name"
Choose a desired "IP address" that is not conflicting with your already existing subnets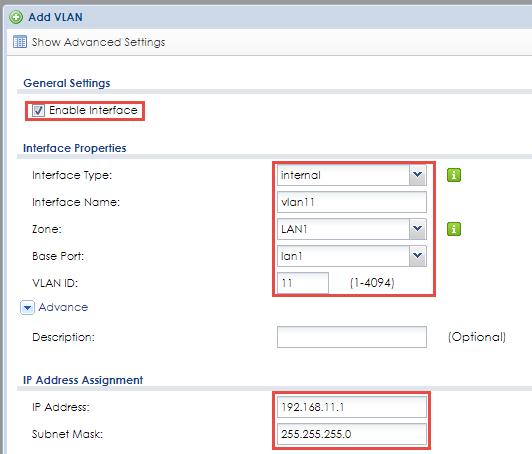 3. Setup a DHCP for your VLAN
You can set up a DHCP server if desired



After clicking "OK" the VLAN is set up. Packets with the VLAN tag 11 should now be forwarded from a connected switch.
Please note: It is only possible to configure tagged VLANs on USG ports!
Also interesting:
Do you want to have a look directly on one of our test devices? Have a look here in our virtual Lab:
Virtual Lab - Security Device as AP Controller
Virtual Lab - NXC Professional WiFi Solution
Please see the video for more detail: