When plugging in a certain number of PoE devices (PDs) into a Zyxel PoE switch, it could be that only a certain number of PDs will boot up. This happens because the PoE switch has a fixed allocated capacity to provide PoE power (please refer to the device datasheet for their allocated capacity detail of PoE). So if the total usage of PDs is reaching the switch's allocated capacity, the lower priority PD will not get power from the switch. Under this restriction, you still would enlarge the connecting PDs amount as much as possible by changing the switch's PoE mode.
On the PoE switch, there are two different PoE Modes available:
Classification:
The max power(mW) of the PD will be reserved for each PD according to each port's priority level.
Consumption:
Power will be distributed, so each device receives power. The power allocated by the switch may be less than the max power(mW) of the PD.
On factory default configuration, the PoE mode is set up to Classification.
When using Classification, the switch follows the standard defined to provide the PDs with max power. It is to guarantee that the PD could have enough power anytime. The allocated power will be reserved only for this PD's usage, no matter it needs power or not at that moment.
However, the PD does not always require max power during the running status. So the use of Consumption mode would let the switch allocate the power more effectively. With the Consumption mode, the switch will let every connecting PD get power and only provide the power according to the PD's request. So it could power on more PDs as it could with Classification.
Please note that if the switch is facing a low PoE power situation, no matter which modes you use, the switch will base on the priority of the PoE setting for each port to provide PD power.
Walkthrough steps

If you are using a GS2210-8HP or a similar switch and only use a few ports to provide PoE and your connected PDs will not start as expected, please try these steps:

1. Log in to the switch by using it's local IP address and credentials.
2. Navigate to the Basic Setting > PoE Setup.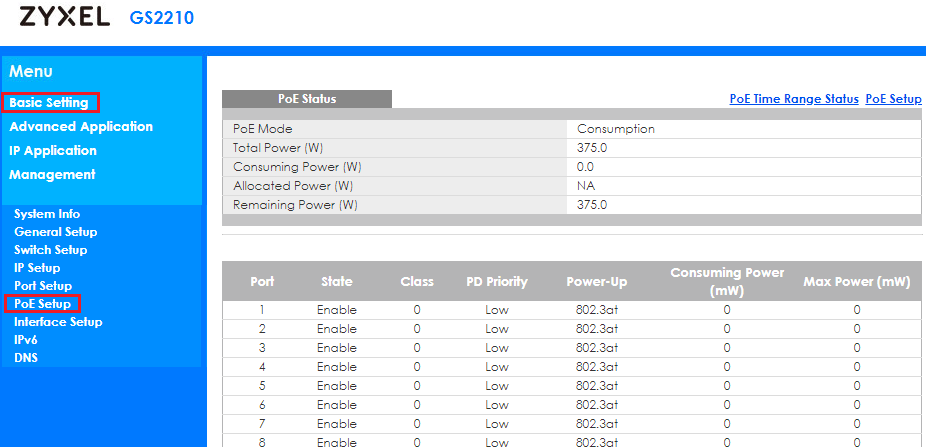 3. The PoE-Mode is set to Classification by default. Change this to Consumption mode and apply/save this configuration.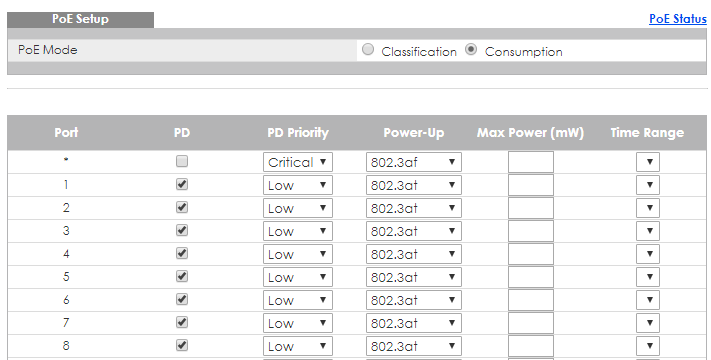 4. Reconnect those PDs to the switch.
Video