This article will show how to use the ZON utility tool, what you can do with it and how to troubleshoot the tool.
Keywords: Windows could not start the ZyTftpd32 service edition service on local computer. Error 193: 0xc1, Unable to start ZyTFTP service, ZON utility will closed immediately, TFTP port 69 is occupied, please close it and restart ZON utility.
1) Introduction
The Zyxel One Network (ZON) Utility is a unified installation tool to discover and configure Zyxel switches, APs and gateways. Users can easily maintain the network on a single platform. The ZON utility greatly simplifies the setup process to save invisible expense for businesses. This tool can find the devices in your network via the ZDP (Zyxel Discovery Protocol), which is a type of broadcast protocol that all Zyxel devices respond to. If the device is in the network, but hasn't showed up in any of the searches, most likely, it should show up in the ZON utility tool.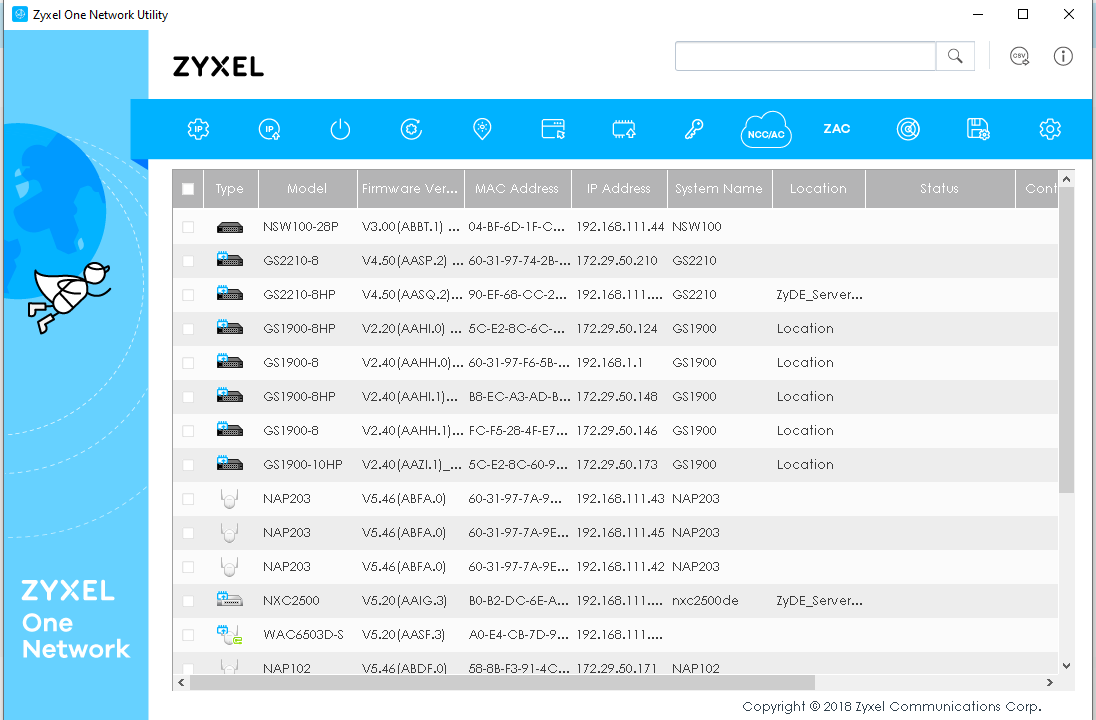 2) Download ZON Utility Tool
You can download the needed software here:

ZON - https://www.dropbox.com/s/0x75zu5sx0ruptv/ZON_Utility_2.1.5.zip?dl=1
npcap - https://npcap.com/#download
Please check the compatibility list if ZON does not recognize your device.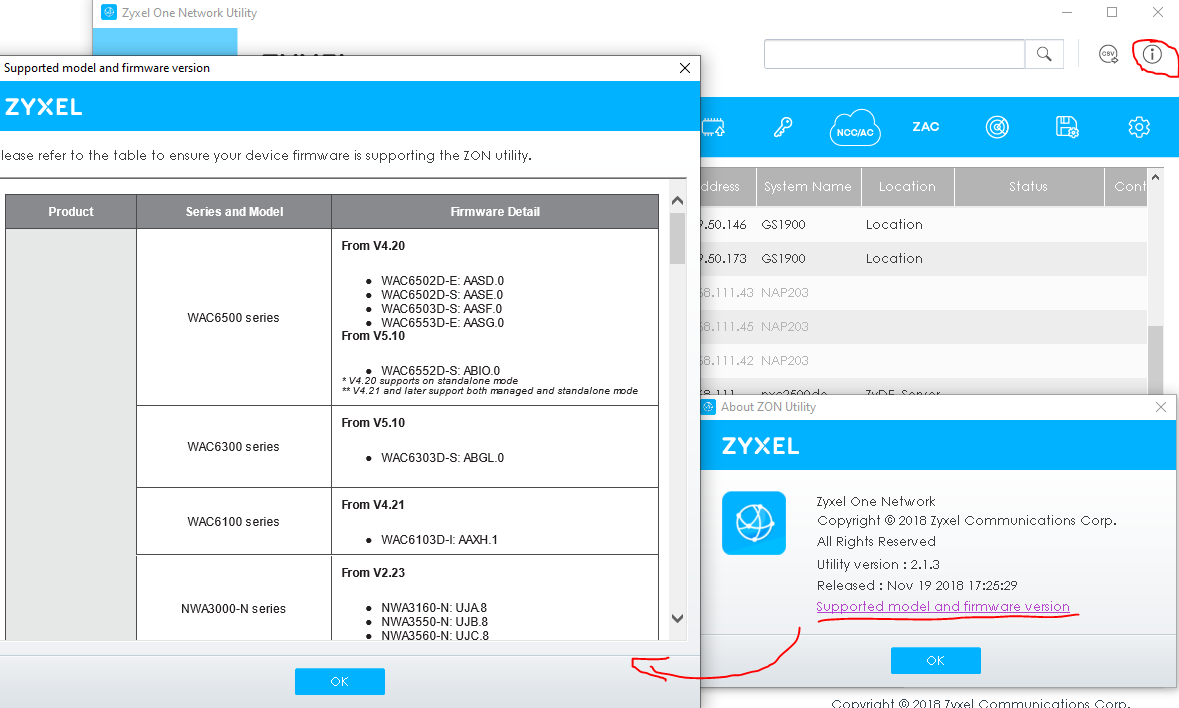 Before you start
Check Win10cap & Nmap
Check for Win10cap Installation:
Go to your computer's Control Panel.
Verify if Win10cap is installed. If it is installed and you do not require it for any specific purpose, we recommend uninstalling it.
Installing Nmap for Network Discovery:
Zyxel One Network relies on Nmap for network discovery. To install Nmap on your Windows 10 computer, follow these steps:
Download Nmap from this link: https://npcap.com/.
During the installation process, you will encounter four checkboxes at some point.
Make sure to check the last checkbox absolutely. This step is crucial for enabling Nmap to function seamlessly with Zyxel One Network.
3) How to use ZON Utility Tool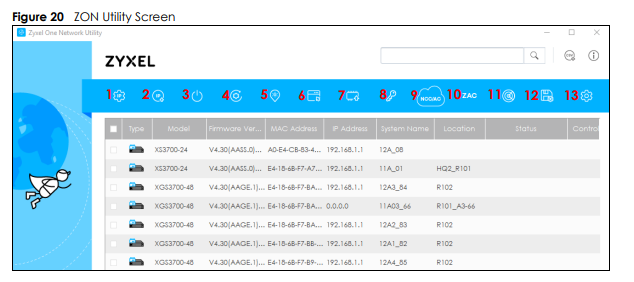 | | |
| --- | --- |
| ICON | Description |
| 1. IP Configuration | Change the selected device's IP address |
| 2. Renew IP Address | Update a DHCP-assigned dynamic IP address |
| 3. Reboot Device | Use the icon to restart the selected devices.  |
| 4. Reset Configuration to Default | Reload the factory-default configuration file. You will lose all previous configurations |
| 5. Locator LED | Locate the selected device by causing its locator LED to blink. |
| 6. Web GUI | Access the selected device Web Configurator from your browser. |
| 7. Firmware Upgrade | Upgrade new firmware to selected device of the same model. Make sure you have downloaded the firmware from Zyxel website to your computer and unzipped it in advance. |
| 8. Change Password | Change admin password of the selected device. You must know the current admin password before changing. |
| 9. Configure NCC Discovery | Enable or disable the Nebula Control Center (NCC) discovery feature on selected device. If it's enabled, it will try to connect to NCC. It needs to be registered in Nebula and you must have internet access. |
| 10. ZAC | Run the Zyxel AP Configurator of the selected AP |
| 11. Clear and Rescan | Clear the list and discover all devices on the connected network (of the selected network adapter) again. |
| 12. Save configuration | Save configuration changes to permanent memory on a selected device. |
| 13. Settings | Select a network adapter for the computer on which ZON is installed. |
4) Troubleshooting

4.1 Select the correct network adapter
Make sure you use the correct network adapter.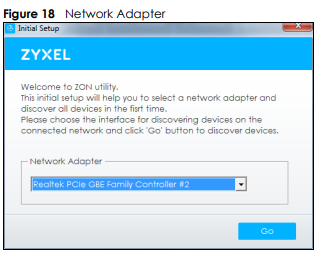 Open the ZON Utility tool and make sure that you're using the correct network adapter on your PC:
Navigate to "Settings 

-> Network Adapter" and choose the correct adapter (If you're using WiFi, it should say "Wi-Fi" and if you're using a wired network it should state "Ethernet"):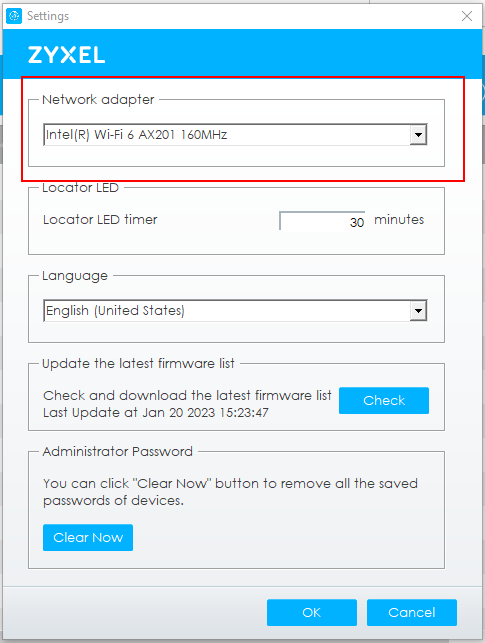 If you still don't know what network adapter you're using, you can navigate to Control Panel -> All Control Panel Items -> Network Connections" or "Network -> Change adapter options": 

Then click "Clear and rescan" to rescan your network for Zyxel devices.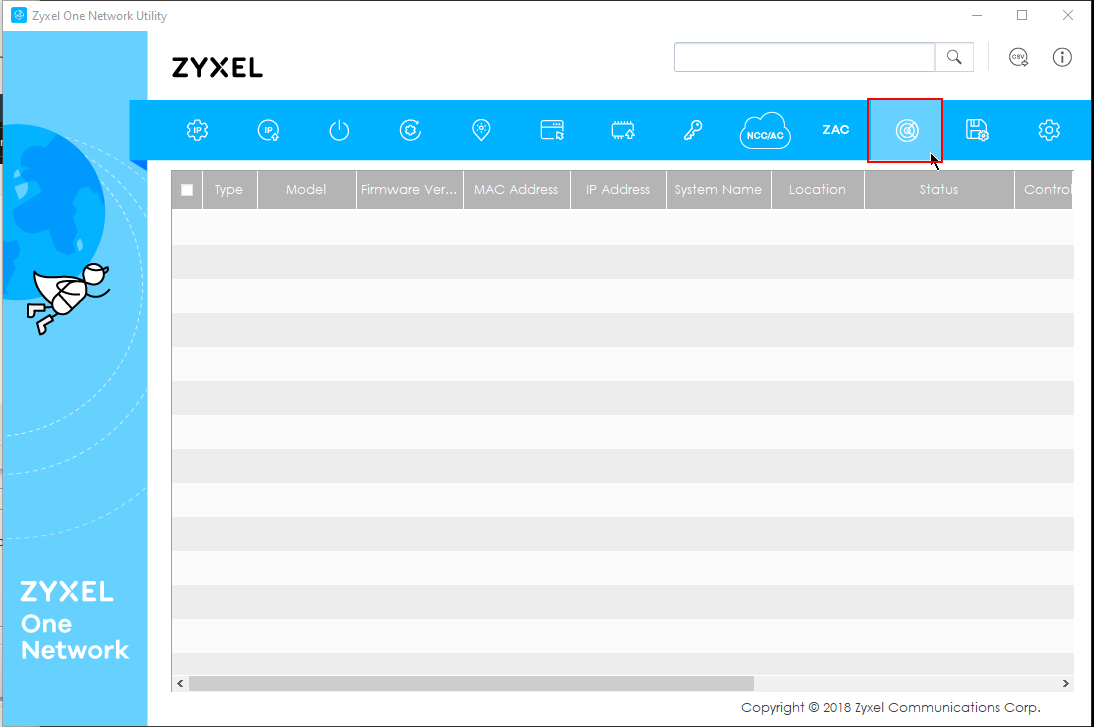 If you find your device in ZON, please firmware upgrade your device using "https://download.zyxel.com" and download the latest firmware. Then you can apply it and see if it comes online, or if it gets an IP address. 
4.2 Windows could not start ZyTftpd32 service
If you get this error, you might not have administrator rights to your PC. Please check that Zytftpd32 service is running and that you have admin rights on your PC.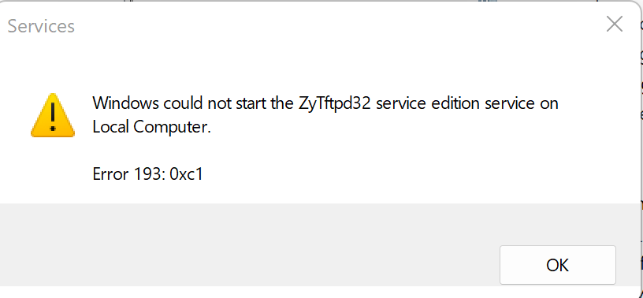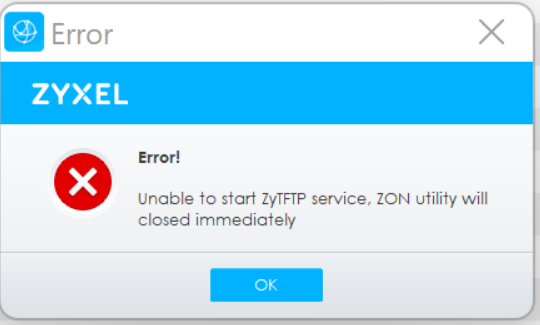 4.2.1 Make sure ZyTftpd32_svc is running
Please start the ZON utility tool as an administrator on your PC, make sure that the service in Windows called "ZyTftpd32_svc" is running: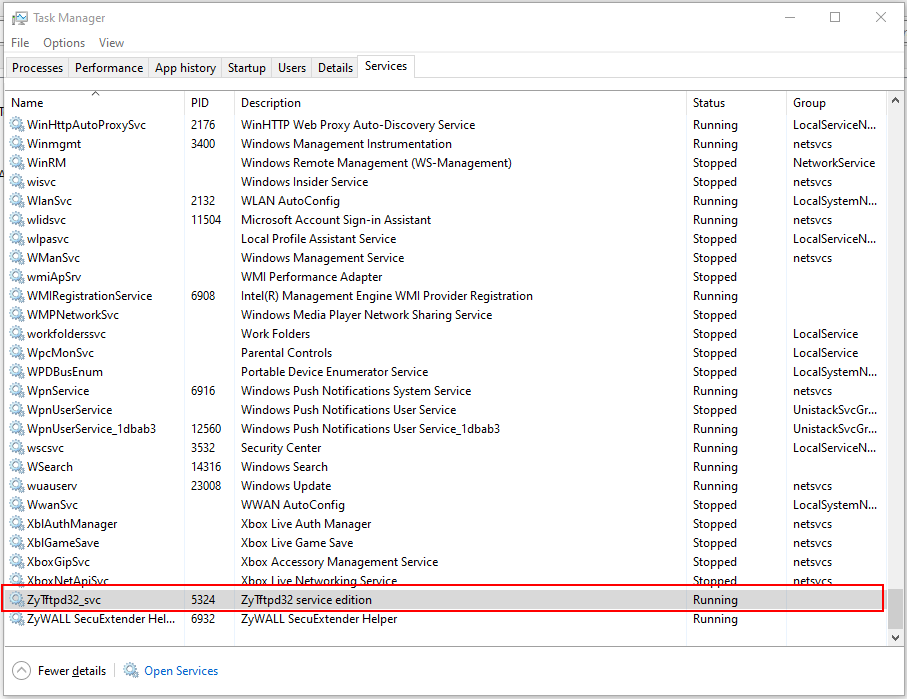 4.2.2 TFTP port 69 is occupied issue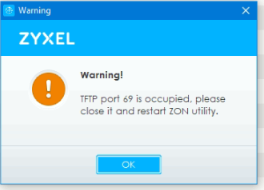 If port 69 is occupied, we need to find out what is running on port 69. So to find out what service is blocking port 69, you need to run the command: 
netstat - ano | find ":69":


 
In this example, you can see that a service is using that port on PID 13920. 

So you need to go into task manager and services tab and find the PID 13920 and stop that service: 


 
If we disable the spiceworks service, we can run now ZON successfully.
4.2.3 Make sure there is no "Program.exe" in systemdrive(C:)
Also, there might be a file called "Program" in the systemdrive(C:) of PC.
So, please confirm if you have a file called "program" on the systemdrive(C:), it affects the use of ZON Utility.