This step by step guide shows how to configure VLAN over WDS (wireless distribution system). When using a wireless bridge, we also want to make sure that all VLANs are also usable over the WDS connection.
Scenario:
When two physical locations need to connect to each other in wide area places, it can be cheaper to bridge them wireless than wiring Ethernet. For example a main office wants to build up a point to point bridge to the branch office. There should also be the VLANs from main office available in Branch office.
What do you need for it?
- WDS supported APs, WAC for example
- VLAN capable switch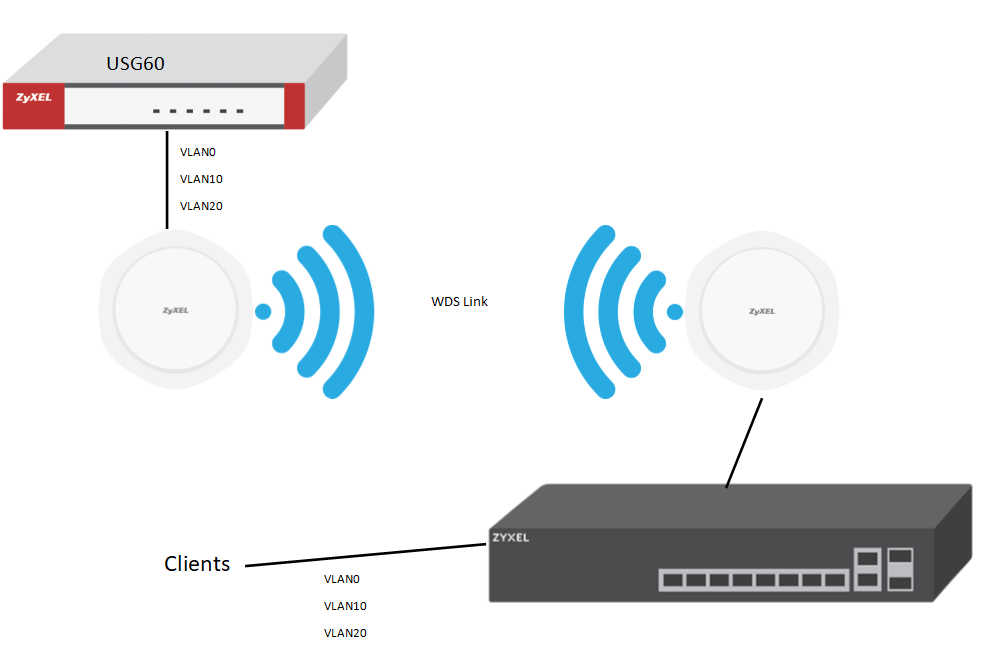 Table of Content
1. Configure the APs in standalone
1.Configure the APs in standalone
Configure the APs in standalone. By default use https://192.168.1.2 or use our helpful tools like ZON or ZAC. 
Navigate to 
Configuration > Wireless > AP Management 
Set the first AP to root AP and click "Apply"

2. Second AP
Select you're second AP as repeater and enable " WDS Wireless Bridging"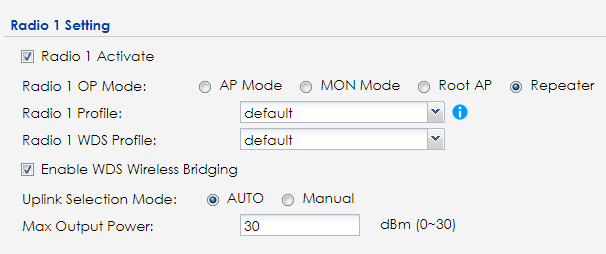 ->WDS Profil
under Configuration > Object > WDS Profile can it be configured. The WDS SSID and the pre-shared key can here be configured. the WDS SSID will be hidden.

3. Channel Configuration
Make sure that the APs don't switch their channels by configure them as manual go to
Configuration > Object > AP Profile > Radio
edit the radio (2.4 G or 5 G) on both APs to the same. Look after to edit the radio which is used to built the wireless bridge. 
- check manual and select a channel as desired
4.WDS Link Information
Go to Monitor > WDS Link Info 
Here you can check if the WDS connection works. If the connection is working it should look like that:

5. Creating the VLANs
Now after finishing that, it is time to create the VLANs.
 Go to:
Configuration > Network > VLAN
Add VLANs as desired.

Note: Remind to create and add both APs to the VLANs
Example for VLAN creating: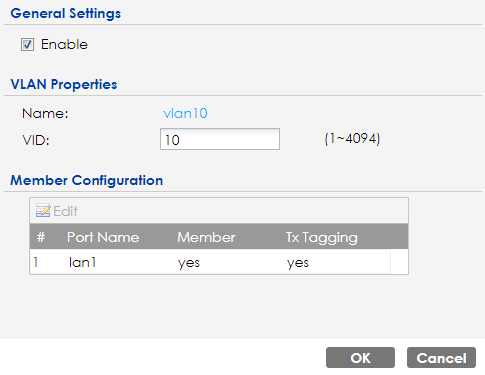 The following articles show how to... 
configure a VLAN on a USG device
configure VLAN in Ethernet switches
6. Check the results 
Now plug a client into the switch which is only with the repeater AP. Now you should be able to access internet from the other site or something and ping devices on the other site. The clients should get an IP address like the configuration you done.