This article quickly describes the difference between Vendor ID-based VLAN and Voice VLAN.
The Vendor ID-based VLAN is a professional pack feature (support model: NSW100, NSW200, GS1920, GS2220) in Switch>Switch setting under Nebula.
Voice VLAN and Vendor ID-based VLAN are very similar. However, where the Voice VLAN only allows you to create different OUI with the same VLAN ID, the latter case allows you to configure different OUI profiles with different VLAN IDs.
Voice VLAN can create 6 entries and Vendor ID-based VLAN can reach up to 8 entries.

Entering a Vendor OUI format of 1C:74:0D:9C is equal to a MAC address range from 1C:74:0D:9C:00:00 ~ 1C:74:0D:9C:FF:FF while the second entry is from 64:16:7F:00:00:00 ~ 64:16:7F:FF:FF:FF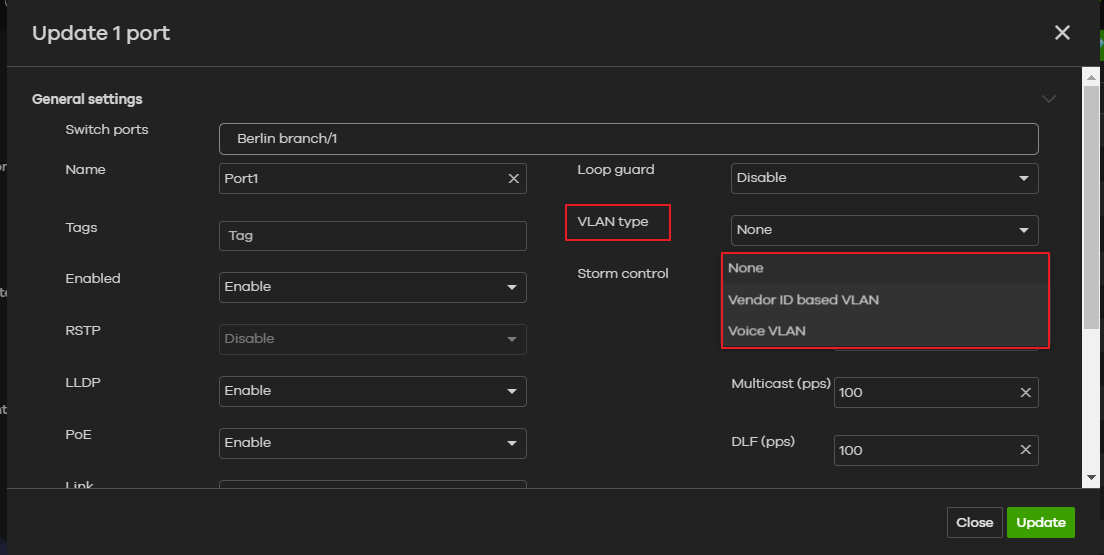 Also, remember to configure the VLAN type in Switch>Switch ports for the corresponding option.
You have a Standalone Switch, please check here: Voice VLAN [GS/XGS-Series]
If you want to learn / know more about our VLAN design, please have a look here:
VLANs - Tagged VLANs vs. PVID (Setup Example Untagged/Tagged VLAN on a GS22XX-Switch)
VLANs - A deeper look at how they work
Setup Assistance, you´re looking for assisted configuration by our Professional Services Team? Please check here: Zyxel ConfigService Switch