Here we will give you an Overview: How Zyxel Switches can support the requirement of Switch Redundancy / HA / Stacking.
1. Why Do We Need a Redundancy / HA / Stacking System
3. Support Model Series and Quantity
4. Difference Between Stacking and iStacking
1. Why Do We Need a Redundancy / HA / Stacking System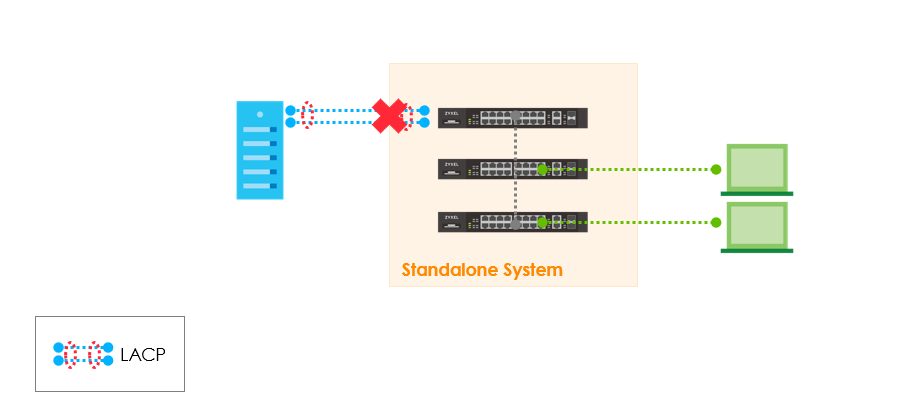 In general case, we will connect to the server with LACP protocol to provide more bandwidth and link redundancy. However, because of LACP protocol limitation, you can only configure two or multiple ports for a trunk in the same switch. The problem is if there is one single failure point, which means, switch goes down or link goes down, what will happen then?
Clients from downlink cannot access the server anymore and all the services goes down as well.

Our Solution: A Virtual Chassis / Stacking
The basic concept of Stacking is to stacked up to 8 ZyXEL switches functioning as one single switch. Which means, it allows you to connect LACP from one switch to another switch.
Therefore you can avoid one single failure point in this kind of scenario.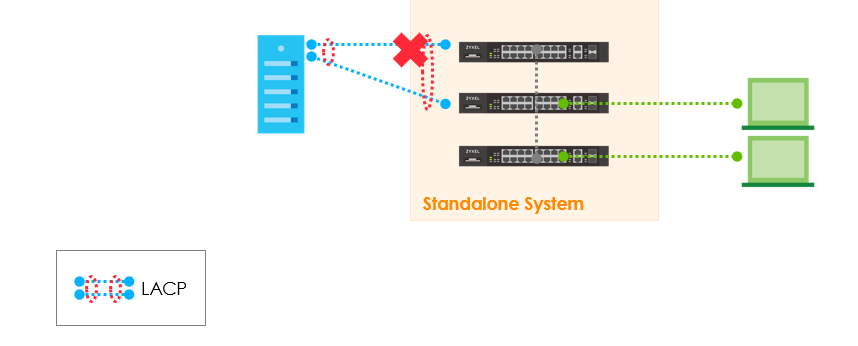 Benefits of Stacking:
- High Port Density
- Centralized Management
- Redundancy
- Hot Swappable
- Modularity
You can consider these three switches as one logical switch and tie the server running one link of LACP to the first switch.
Then connect another link of LACP to the second switch.
If the first switch goes down, two clients connected to the third switch still can access the server via the second switch. What's more, you can centralize the management of these three switches via a single IP.
2. Stacking Topology
Stacking is a technology to stack several switches to function as a single logical switch.

As for the topology, users may choose a daisy chain topology or a ring topology.
XGS2210/XGS3700/XGS4600 Series support Stacking technology.
Each switch communicates with each other by stacking channels to synchronize configuration, system logs and important information for the stacking system.
3. Support Model Series and Quantity and Modularity
1.XGS2210 Series: up to 2 switches
2.XGS3700 Series: up to 8 switches
3.XGS4600 Series: up to 4 switches
You can Stack 2 or more switches of different model types but stay in the same Series with 10G speed

According to current design, Stacking feature is applied with 10G speed only.
The last 2 SFP ports of our Switch are dedicated for Switch stacking!
4. Difference Between Stacking and iStacking
| | |
| --- | --- |
| Stacking | iStacking |
| Hardware Stacking | Cluster Management |
| Stack up to 8 XGS3700 Series as a One Stacking System | Use a Single IP to Manage up 24 Switches Simultaneously |
| A Single Management IP for Stacking System | Up to 24 IP Addresses for iStacking System |
| Master Centralizes to Manage All the VLANs for Backup and Linecards | All the Switches Work in the same VLAN or Broadcast Domain |
5. Configuration Example
What is hardware stacking on a switch?
Basic setup Redundancy / HA / Stacking
How to configure stacking for switch (high server availability)
How to setup link aggregation between a stand-alone switch and switch in stacking mode
Firmware Upgrade for a Stacking System