This article provides a step-by-step guide to updating the firmware of a device in Nebula, whether it is a firewall, switch, or access point (AP). In addition, the article explains how to determine when you need to update the firmware and the differences between public, stable, and latest firmware versions. With a few simple clicks, you can easily upgrade the firmware of your Nebula device. The purpose of this guide is to provide a comprehensive understanding of the upgrade process and the possibilities it opens up for your devices. 
Automatic Upgrades:

Under normal circumstances, Nebula checks devices weekly (default Sunday morning/afternoon) for new firmware versions and installs upgrades to devices. However, this can compromise system integrity and stability if the firmware upgrade causes problems.
Therefore, Nebula Control Center provides a buffer of up to 45 days (60 days during Chinese New Year) during which the weekly firmware check is postponed/not performed.


If necessary, you can push the upgrade installation manually as soon as the upgrade is available and without waiting for the automatic installation.  Nebula allows you to manually initiate firmware upgrades on individual devices or groups of devices.


Manual Upgrades:
Navigate to the "Configure" -> "Firmware management

" -> 

"Devices

"

Select the number of devices to be upgraded and click on the "Upgrade Now" button

Read the warning in the window that appears and click "Ok".

After that, the installation of upgrades will start immediately. Depending on which devices have been selected for the upgrade, Nebula will decide in which order to install the upgrades. As a rule, it usually applies to access points, switches, and other devices first and only at the end firewall.


Scheduled Upgrades:
Nebula Control Center enables you to schedule firmware upgrades at specific times. This feature is beneficial for organizations that prefer to upgrade their devices during off-peak hours to minimize disruptions to network services. With scheduled upgrades, you can choose a date and time when the firmware upgrade process will begin, ensuring that it happens when it's most convenient for your network environment.  There are two types of scheduled upgrades, Schedule by device type or Individual schedule (Nebula Plus/Pro Pack feature).


Upgrade schedule by device type
It is possible to set an upgrade schedule for your devices by type. This means that when you set a schedule for upgrading a Firewall, for example, it means that all Firewalls in your organization will be upgraded at the same time.
Navigate to the "Configure" -> "Firmware management

" -> 

"

Overview

"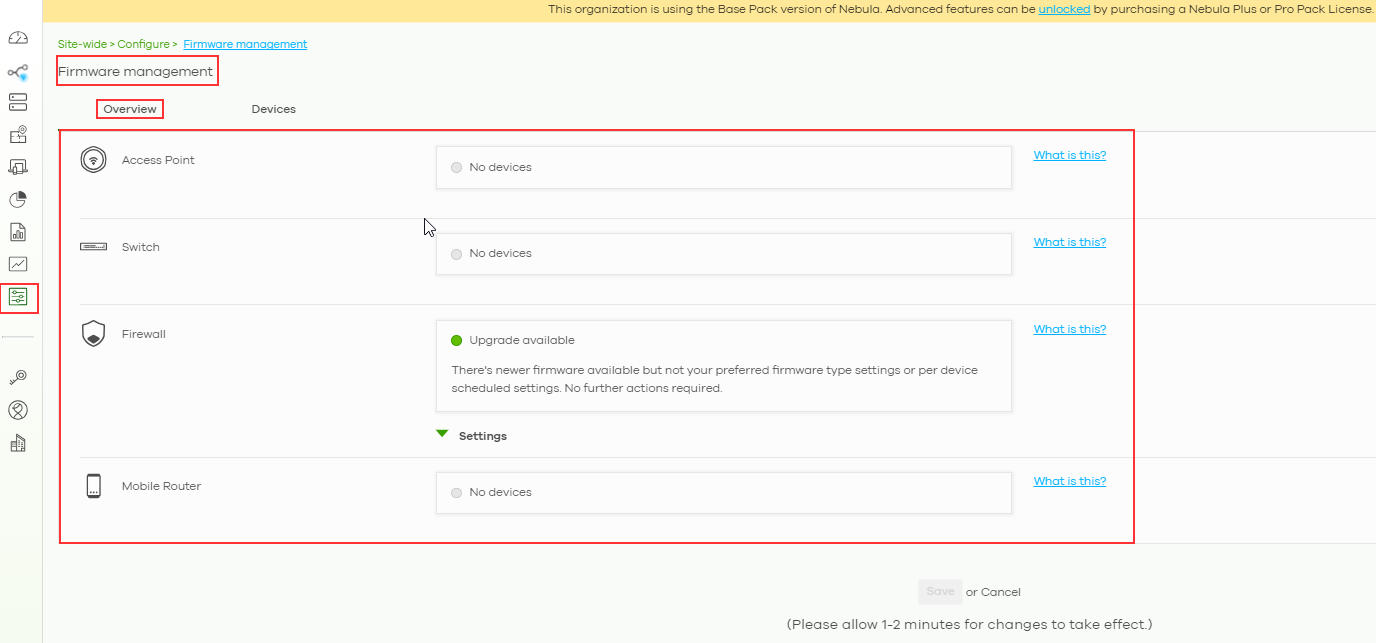 In the schedule setup window, set the desired schedule and click "Save"

Individual schedule

(Nebula Plus/Pro Pack feature)



Individual update schedules allow you to set a separate schedule for each device in your organization. This optional feature is available in the Nebula Plus/Pro Pack feature.

Navigate to the "Configure" -> "Firmware management

" -> 

"Devices

"

Select one or a few of the devices to be upgraded and click on the "Upgrade Now" button

and click on the "Schedule Upgrade" button.
In the window that opens, set the schedule and click on the "Update" button