In this Guide, we are going to install a Datecode Firmware for APs managed by a USG/Zywall/ATP.
Table of Content
5. Optional: Change back to Official Version
1. ZAP version check
Confirm the AP firmware download from ZAP4 cloud file. If the ZAP version is not
the ZAP4, then the device will not find the date firmware. The device must
upgrade the firmware to the latest version.

CLI > show capwap firmware-update info

2. Change Source
Write the DF download path on USG/Zywall.
configure terminal 
capwap firmware-update source 5.40(.0)
3. Check Available Firmware
Login the GUI and press check button. You will see Available Firmware version
show the date firmware version.

Check by CLI.

CLI > show capwap firmware-update info

4. Download & Apply
Press Apply button to download the date firmware. You will see the Runtime
firmware change to the date firmware version.
Black type: USG/Zywall save the date firmware in the device.
Gray type: the date firmware is not saving on the device. When the AP is
online, USG/Zywall will download the date firmware for AP.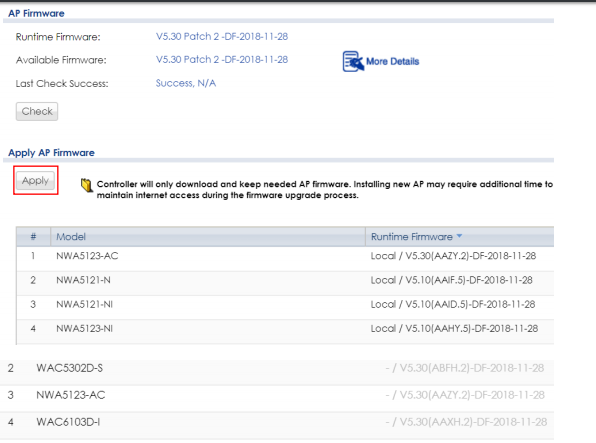 You can see WAC6103D-I Runtime firmware is gray at begin. I use WAC6103D-I
online, the AP will also be change firmware to date firmware version.
The AP Registration will display Compatible AP due to the AP version is
latest than USG/Zywall version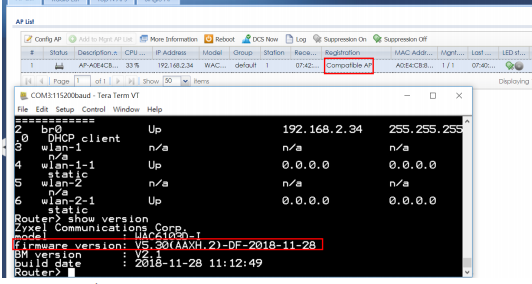 After USG/Zywall finish download the date firmware, you have to restore the configuration.
 CLI > configure terminal capwap firmware-update source official

5. Optional: Change back to official Version
Press Check button, you will see the available firmware version back to official
version. If you don't want AP use official version, do not press Apply button.