This article will explain what Cloud-Saving Mode means and why it's used. It will also go through how you can manage and disable Cloud-Saving Mode.
Table of Content
What is Cloud-Saving Mode?
Nebula organizations in Base (free) status will enter Cloud-Saving Mode if no administrator has accessed the organization for the past 30 days. When Cloud-Saving Mode is activated, it will not monitor nor poll the device or network activity, except for event logs.
Firmware upgrades are still possible during Cloud-Saving Mode.
Cloud saving mode will disable any kind of monitoring/polling (Switch, AP, Gateway, Site) except for event logs. This will mean there are e.g. no client Information, no network activity graphs etc. p.p. displayable for the period the device was in Cloud saving mode - since the time before cloud-saving mode is anyways excluded as per licensing-model, these information will be completely empty upon an administrator looking into a cloud-saving-mode enabled organization.
Why is Cloud-Saving Mode implemented?
We needed to implement the Cloud-Saving Mode because of the growing number of online devices installed. Therefore, to ensure that Nebula Cloud Center can sustain the service quality of the installations, Cloud-Saving Mode was implemented.
How do I get out of Cloud-Saving Mode?
There are two ways to get out of the Cloud-Saving Mode. One is to visit the organization within 30 days. The second way to remove the Cloud-Saving Mode is to upgrade the organization to Nebula Plus or Pro.
I need to access older network activity. Can I contact the support for it?
Unfortunately, once the Cloud-Saving Mode is activated, the support won't be able to retrieve the information either. The reason behind it is that the information don't exist on the backend. Therefore, upgrading to Nebula Plus or Pro won't recover the logs either.
My organization had Nebula Pro. When will the organization enter Cloud-Saving Mode?
After Nebula Pro has expired, the idle period (30 days) will start regardless of when you last accessed the organization.
Last Begin Enter
admin access idle period Cloud-Saving Mode

How do I know that Cloud-Saving Mode is deactivated?
When you login and access the organization again, this message will appear:
Welcome back
You haven't logged in to this organization for over 30 days.
NCC has deactivated the traffic stats collection (except for the device's event log for troubleshooting) to converse bandwidth & cloud resources.
You may disable Cloud-Saving Mode on the banner, and NCC will resume data collection.
OK
Then you have to disable the Cloud-Saving Mode by clicking the link in the banner and sliding off the slider: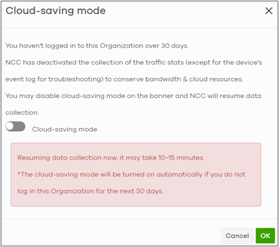 Back to our Nebula Phase 11 Overview.