This guide will inform you about the possibilities the new group-wide features give you.
1. Group-Wide Settings - What is it all about
As you know before, Nebula is structured in such a way, that each account has access to certain organizations, which in turn contain sites. However, for bigger companies managing a wide array of customers, more granular structures are needed. Hence, in the MSP-Pack, we are introducing the Group.

Nebula Groups can contain multiple organizations, offering an enhanced access-management catering companies which need different tiers of access across the platform.
Below image showcases, where the group-wide settings link into:

The group can be set in the MSP section: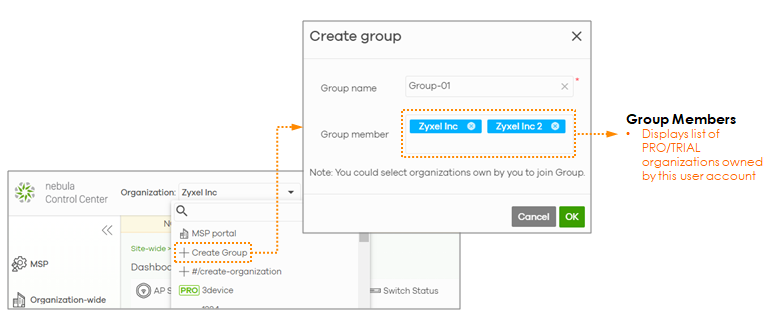 And after the group is created, a group icon will show up on the left-side: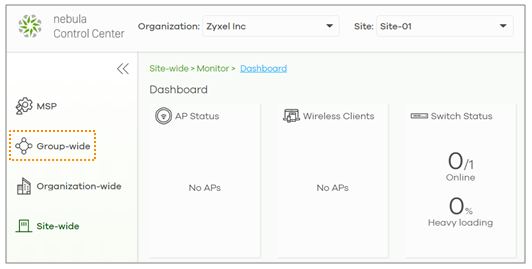 If you happen to have multiple groups, you will also see a drop-down menu to choose your group from:

It is important to note, that Group-wide Settings is a Pro Pack Feature and requires fitting licensing!
Since the Group-wide Settings is a Pro Pack Feature, it is important to note down what will happen once the Pro Pack license would expire:
The expired organization remains in the group
Group-wide Overview and Inventory page do not display data from the expired organization anymore
Configuration changes made in the group-wide settings still apply to the expired organization
If the expired organization is removed from the group list by the user, the user cannot add the organization back to the group list until the Pro Pack status is renewed
Regarding the Group-wide Administrators, please check the below graph to see an example setup and rights distribution among group-wide admins:


Back to our Nebula Phase 11 Overview.