Nebula introduces "Group-Wide Settings," catering to larger companies and MSPs for streamlined access management. This feature allows configuring settings across multiple organizations within a group, enhancing access tiers. Notably a Pro Pack feature, it offers a Group Portal for status checks, Org-to-Org VPN for resource sharing, Inventory display, Group Administrators management, Change Log for tracking changes, and Group Settings modification. 
1. Group-Wide Settings - What is it all about
As you know before, Nebula is structured in such a way, that each account has access to certain organizations, which in turn contain sites. However, for bigger companies managing a wide array of customers, more granular structures are needed. Hence, in the MSP-Pack, we are introducing the Group. 

Nebula Groups can contain multiple organizations, offering an enhanced access-management catering companies which need different tiers of access across the platform.
Below image showcases, where the group-wide settings link into:

The group can be set in the MSP section: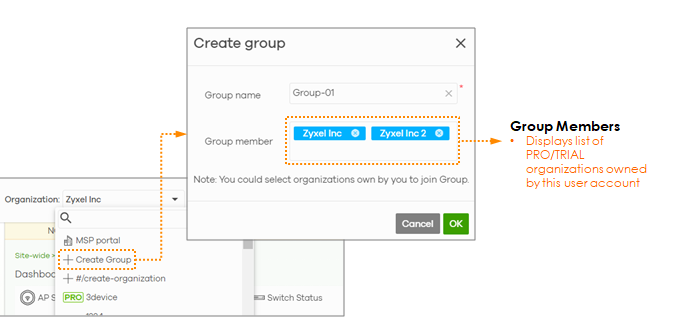 And after the group is created, a group icon will show up on the left-side when you enter the group created: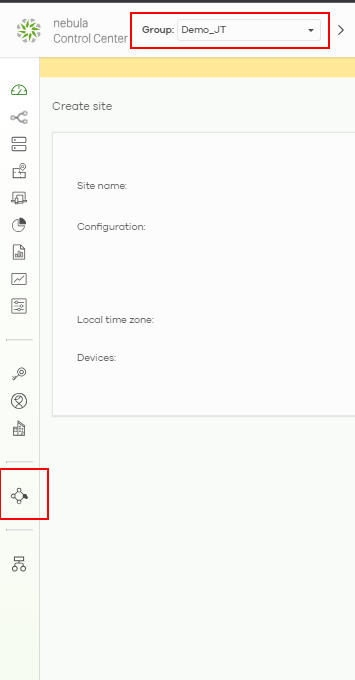 If you happen to have multiple groups, you will also see a drop-down menu to choose your group from: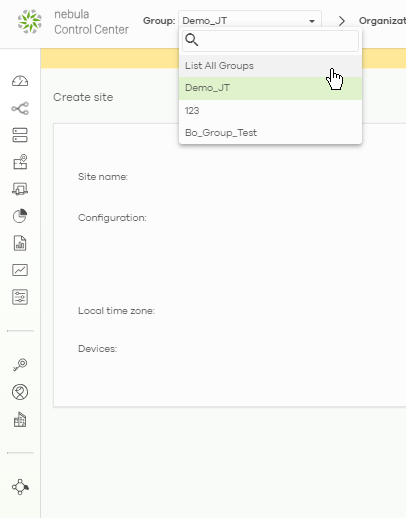 It is important to note, that Group-wide Settings is a Pro Pack Feature and requires fitting licensing!
Since the Group-wide Settings is a Pro Pack Feature, it is important to note down what will happen once the Pro Pack license would expire:
The expired organization remains in the group
Group-wide Overview and Inventory page do not display data from the expired organization anymore
Configuration changes made in the group-wide settings still apply to the expired organization
If the expired organization is removed from the group list by the user, the user cannot add the organization back to the group list until the Pro Pack status is renewed
Regarding the Group-wide Administrators, please check the below graph to see an example setup and rights distribution among group-wide admins:

Group Portal
The group portal is for checking the statuses of all the organizations in that group.
Statuses include: 
- No recently alerting or offline devices
- Recently alerting devices
- Recently offline devices
- All devices have been offline over 6 days
- No any devices
You can also find the organization name, Type (Base/Plus/Pro), NCC license status (licensed or unlicensed), NCC license expiration (UTC) (when license expires), Sites (how many sites), Devices (how many devices), AP (number of APs), SW (number of Switches) Security Appliance (number of firewalls), MR (number of mobile routers).
Navigate to: 
Group-wide > Group Portal

Org-to-Org VPN
Org-to-org VPN allows devices in different organizations in a group to access each other's resources through a easy-to-deploy VPN tunnel.

Navigate to:
Group-wide > Org-to-Org VPN
How to configure Org-to-Org VPN
Inventory
Shows all devices in the organizations of a selected group. 
Navigate to:
Group-wide > Inventory

Administrators
Group Administrator accounts can be added, modified or deleted through this screen. A group administrator has administrator privileges in all organizations in the group. 
Navigate to: 
Group-wide > Administrators

Change Log & Group Settings
Change log is made for Group administrators to see which admin that did what change in the organizations of a group. It also has a time-stamp for when the change was made. 
Navigate to:
Group-wide > Change log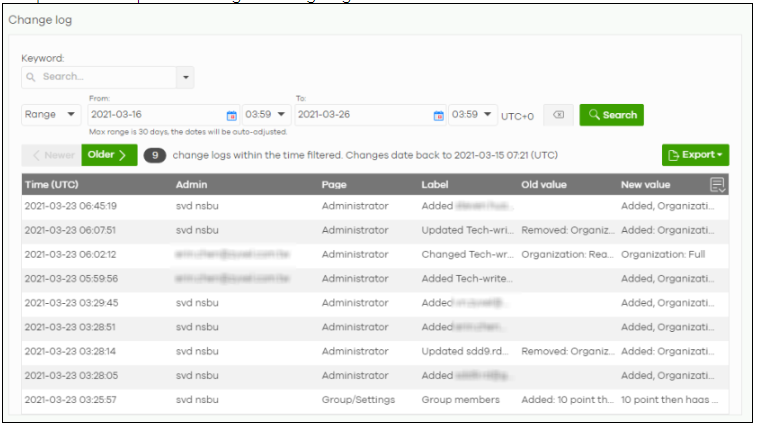 Group settings changes your general group settings such as the group name and members. 
Navigate to: 
Group-wide > Group settings