This article shows which steps are needed to get a Nebula Mobile Router (LTE3301-Plus/NR5101/NR7101) Online in Nebula Control Center (NCC).
Hardware
First, you have to check if you use the correct Hardware/Software Version of your Nebula Mobile Router.
Mobile Router into Nebula - Hardware and Software Identification (LTE3301-Plus / NR5101 / NR7101)
Device Preparation
Place the device in an ideal location:
Indoor Mobile Router – near balcony or window
Outdoor Mobile Router – rooftop or near the window
Insert SIM on slot 1
Power-on mobile router
Connect PC to LAN port or WLAN SSID of the mobile router for accessing the Web GUI
Accessing Mobile Router's Web GUI
Option 1: Connect PC to LAN1
Option 2: Connect PC to SSID "Zyxel_XXXX" using WiFi Key
Web GUI admin password is unique for each mobile router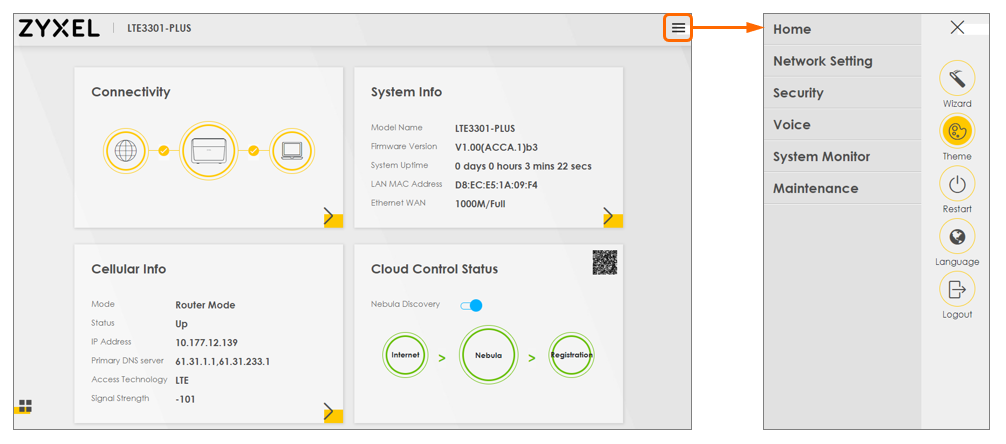 NCC Discovery
Enabling NCC Discovery causes the device to call home to NCC periodically
Disable NCC Discovery if there are no plans to switch to cloud management mode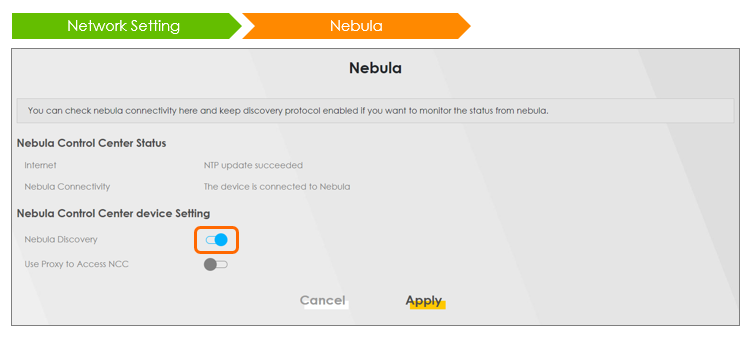 Enabling Ethernet WAN
Manually enable Ethernet WAN on Indoor Mobile Router (LTE3301-Plus & NR5101) if using a wired broadband Internet.
Connect cable on WAN port after enabling Ethernet WAN

Changing WAN IP Settings

WAN Backup
Only Indoor Mobile routers (LTE3301-Plus & NR5101) support WAN failover (backup)
Enabling WAN Backup allows the administrator to select the primary WAN interface manually.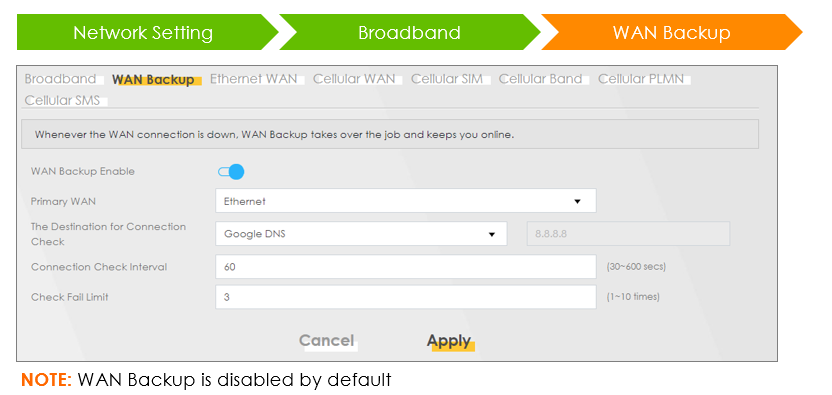 WAN Interface Behavior
Only allows one type of WAN interface active at any given time
If the mobile router has both Ethernet and Cellular WAN service:

Cellular IP Passthrough
When IP Passthrough has been enabled, it allows the outdoor mobile router to act as a bridge for the downlink device to connect to Cellular Network.
Conflicting Default IP Subnet
Check that there is no IP conflict.
If Mobile Router and Firewall default LAN IP Subnet is both 192.168.1.0/24, change either Firewall or Mobile Router LAN subnet when Firewall uses Mobile Router as an uplink device.

Entering PIN Code
To enter the Pin Code from your SIM Card (if required)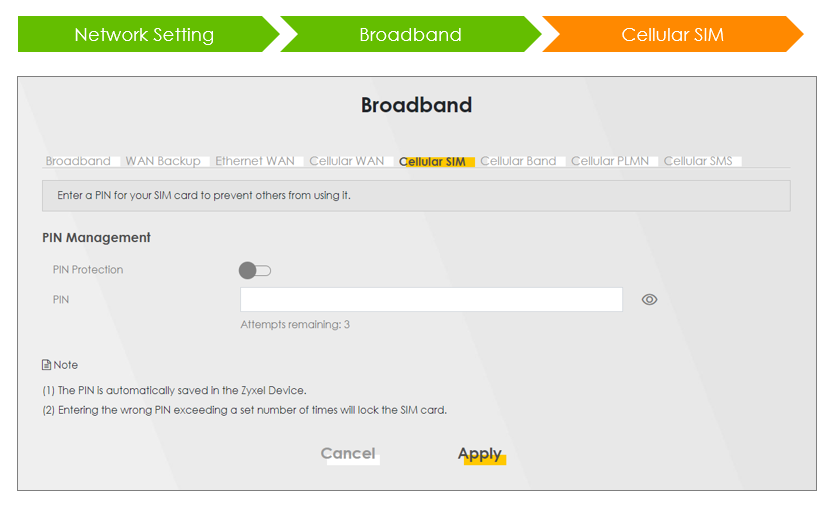 Signal Strength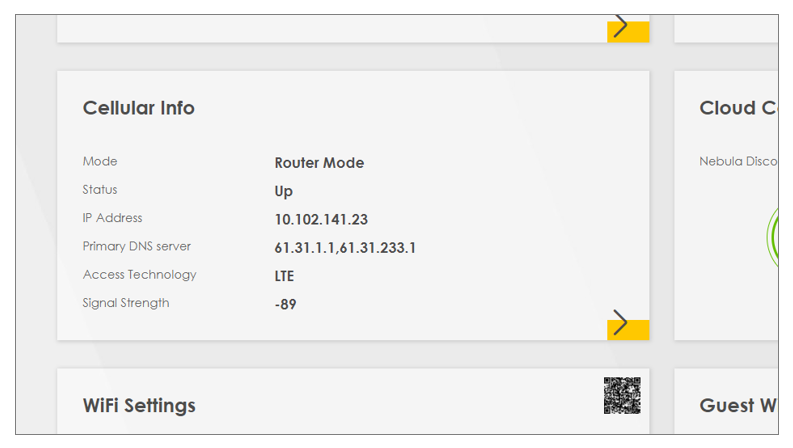 Cloud Control Status
Internet (success) – when NTP sync is successful
Nebula (success) – when a connection to d.nebula.zyxel.com is successful
Registration (success) – when the device has been added to a Nebula organization

Mobile Router in Nebula Site
NCC only allows the assignment of one mobile router for each Nebula site

Adding more than one Mobile Router to the site displays an error message
Adding Mobile Router to NCC
Click add to enter the MAC address and the Serial Number to register the Mobile Router into Nebula CC and click the Button "Finish"

.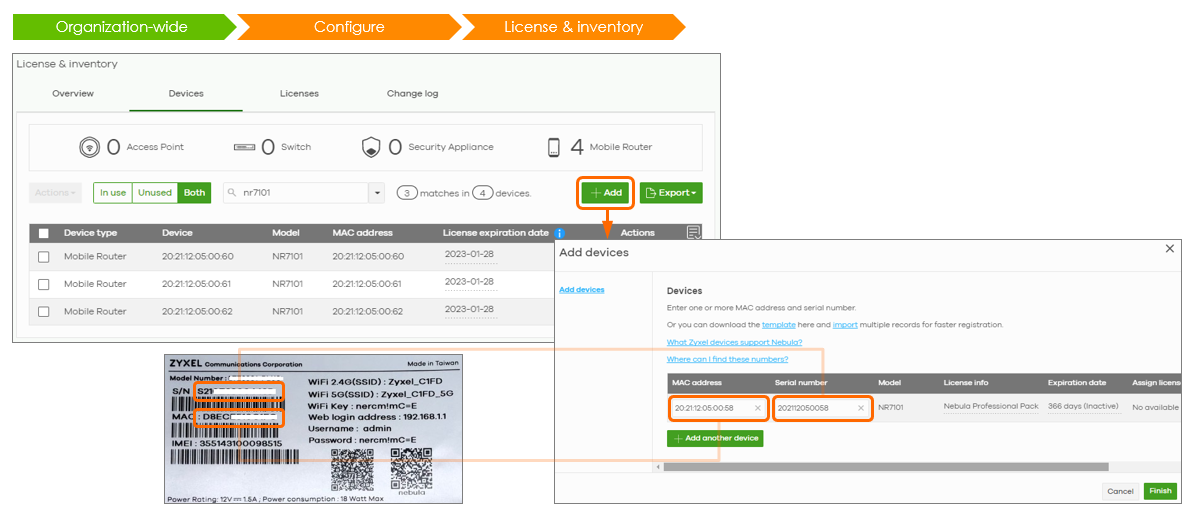 Congratulation, after registration, you should be able to see the Mobile Router online in the Nebula Dashboard: