In this article, we will take a look at the NBG-418Nv2 and some tricks to being able to handle the device more confidently.
Table of Content
1) Logging into the device
When trying to access the router you can use these IP-addresses - if it's in router mode (meaning it's your primary network device) or bridge mode (if you have another router that is your primary network device)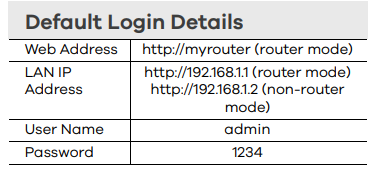 If you have any problems, check this article out: Accessing your router via Web GUI
2) LED lights
Make sure that the LED lights are lighting up correctly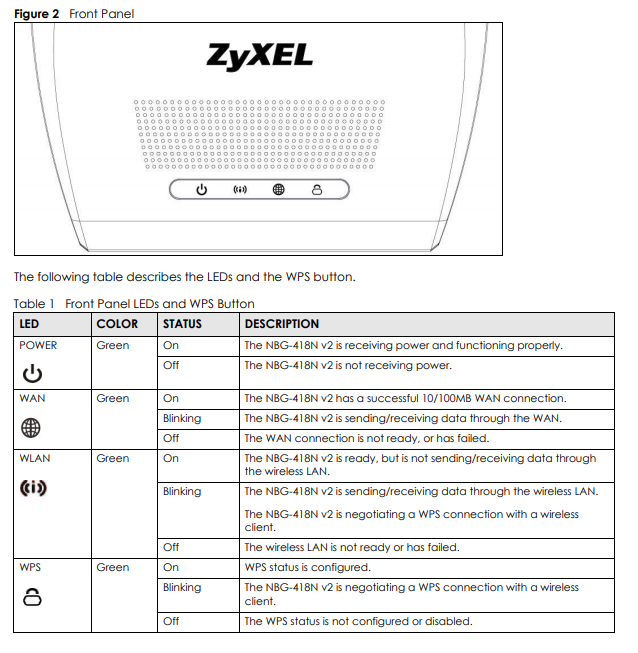 3) Reset the device
You reset your NBG-418Nv2 through the WPS button. Hold the button for 20 seconds and then wait for 3 minutes for the device to start up again (Do not power off the device when it's resetting)
4) Changing the WiFi password
Login to the device. Then go to network -> Wireless LAN -> General

Choose the security mode WPA2-PSK(AES) and then choose your new password under "Pre-Shared Key"
5) Firmware upgrade
If you're having any problems or bugs, it could be a good idea to firmware upgrade your device.
a) Go to this website to download the latest firmware https://www.zyxel.com/support/DownloadLandingSR.shtml?c=gb&l=en&kbid=M-02857&md=LTE3301-M209
b) Extract the zipped file you have downloaded with the built-in extractor of your operative system (or Winzip, 7-zip)
c) Login to the Web GUI of the LTE3301 using this guide: Accessing your router via Web GUI
d) Go to Maintenance-> Firmware upgrade and then click on Browse... and choose the .bin file you have extracted

e) Click on upload and let the firmware be updated, this can take up to 3 minutes (DO NOT TURN OFF THE DEVICE).