In this article, we will show you how you can put your router in bridge mode / IP passthrough mode.
What is bridge mode (IP passthrough mode)?
Setting bridge mode on your router means that your router will send your public IP further to the next router (your NAT router). This is used if you have VDSL connection, but no VDSL connection on your router, then you can buy a router to put in front and put it into bridge mode.
What is the difference between bridge mode and IP passthrough mode?
Bridge mode is disabling all routing functions in your router and forwards all the traffic to the next router. DHCP can still be used. In IP-passthrough mode all traffic is terminated at the "bridged router" while in bridge mode, the traffic is not terminated.
How to configure IP-passthrough mode
1) Enable IP-passthrough mode
Navigate to Network setting -> Broadband Celullar IP Passthrough and make sure it's enabled. You can choose between Fixed and Dynamic Mode. Fixed mode means that the router will send traffic to a specific MAC address of your choosing. Dynamic mode means that it will send the traffic (and public IP) to the first device connected in your network.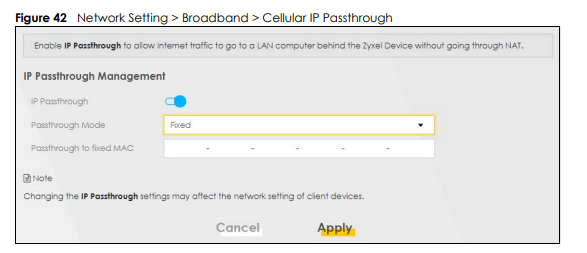 2) Disable the firewall
Secondly, disable the firewall to prevent any unwanted blocks in your traffic flowing out from your NAT router. Navigate to Security -> Firewall -> General and disable both the IPv4 firewall and IPv6 Firewall: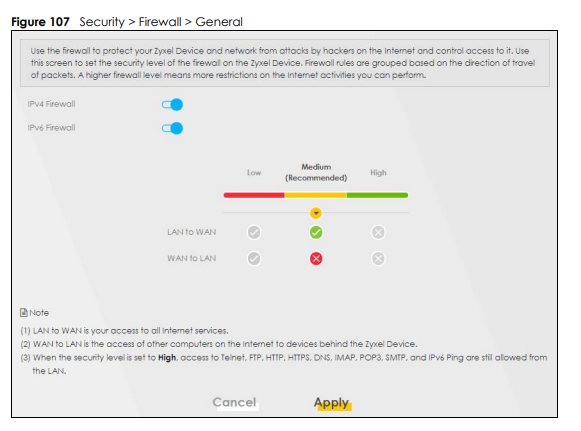 3) Connect your router and internet connection
Make sure that your NAT router is connected to your bridged router on LAN1 and the internet connection is connected to WAN or "DSL", depending on what connection you have
4) Reboot your bridged router
Make a reboot and afterwards the bridge mode / IP passthrough mode should work.