This is a step by step to show you how to set up a Multy network using Multy U and the Multy App. In this scenario, we will create a new site and add both Multy Us to create a WiFi mesh. We decide which Network name we want to use and which password it should have.
Table of Content
1. Add new Multy
Open your App and make sure that you are logged in.
Tap on the blue marked button to add a Multy to a new Multy site: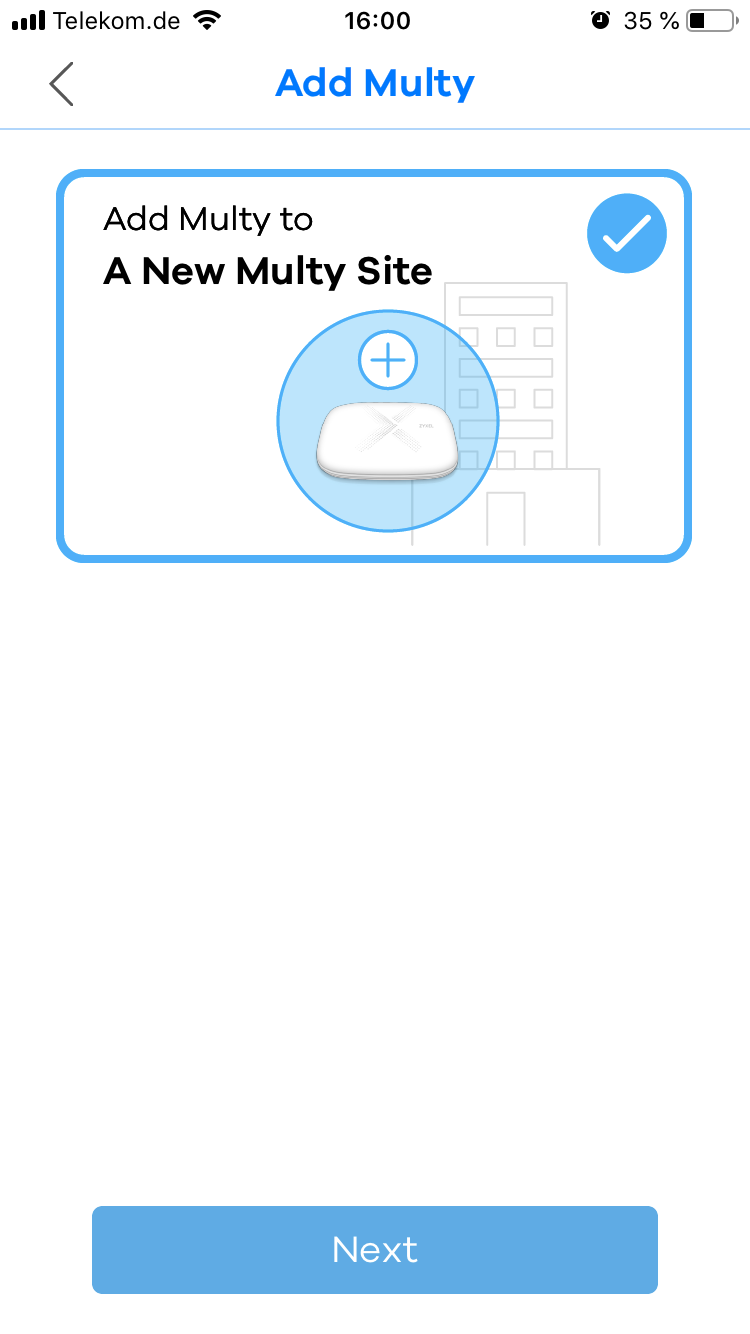 2. Site Name
Choose a name for your site: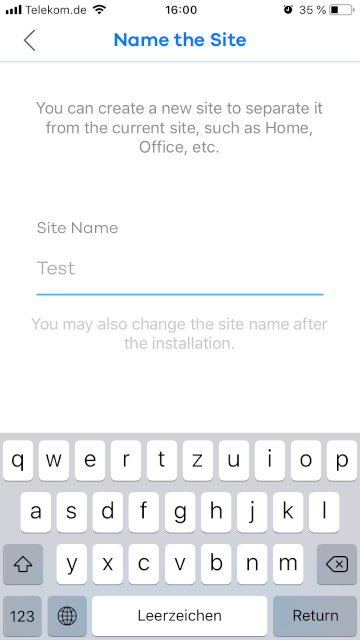 3. Select Correct Model
Select the device you want to add (In this example we chose the Multy U)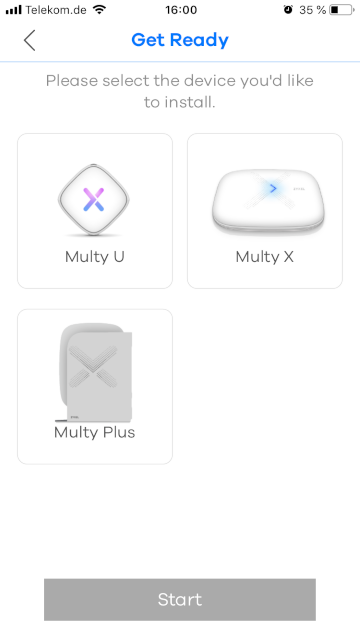 4. Prepare Items
Follow the instructions on the screen to prepare the Multy: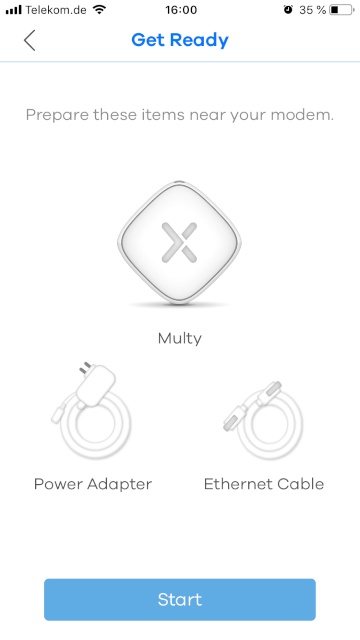 5. Unplug Modem
Unplug the modem to start from a new network: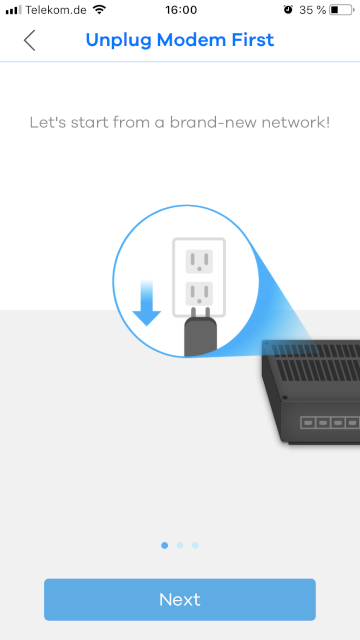 6. Connect Multy to Modem
Connect the Multy to your modem/router:
7. Power On Multy
Power on both router/mode and your Multy device: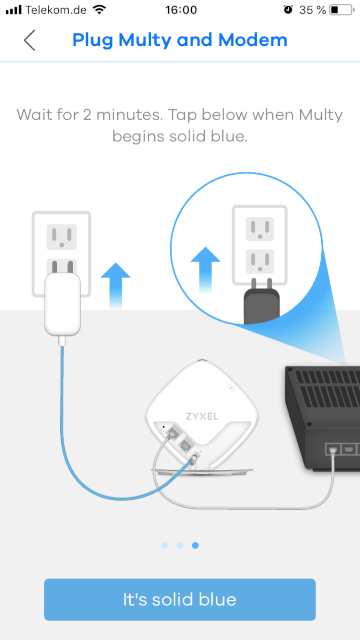 8. Multy Location
Wait for 2 minutes. Tap below, when the Multy LED is blue and tap on the button below.
Now the Multy App tries to establish a connection to your Multy.
If this succeeds you will see the following screen where you can choose in which room the Multy is: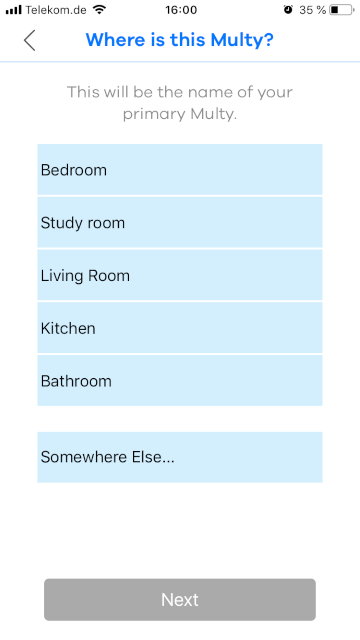 If you tap on next you will have to wait until until the Internet connection has been tested successfully.
After the test you will see the following screen: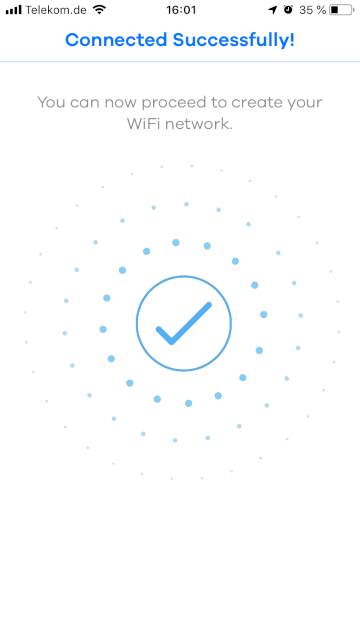 9. WiFi Setup
If you've come so far, almost half of the work is done!
Now all you need to do is to setup your WiFi: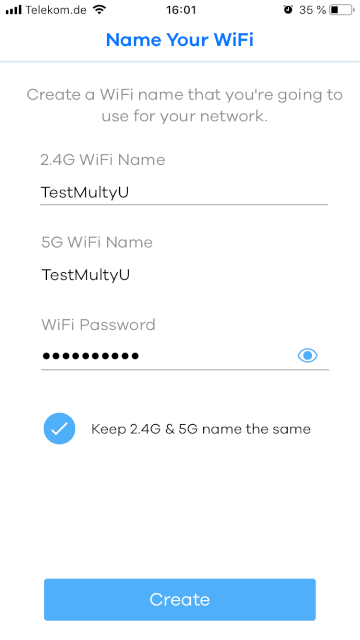 You can assign different names to the 2.4G and 5G network and of course a password.
If you are done, please tap on "Create"
You will see the following screen for 30-120 seconds: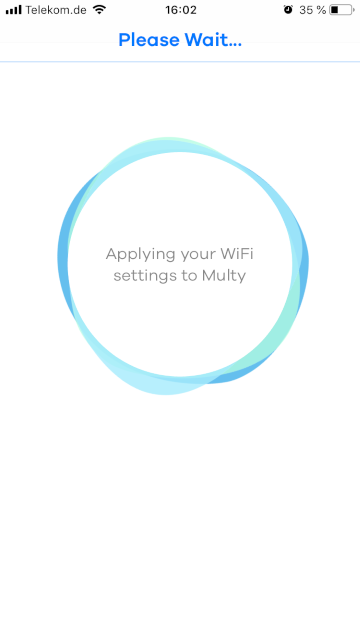 The creation of your first Multy WiFi will be confirmed by this screen: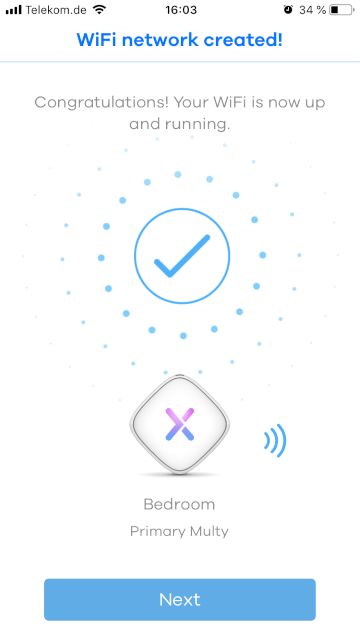 10. Add another Multy
You can now choose to leave it at one Multy, or add another Multy to the site:
Click on "Add Multy" to add another Multy: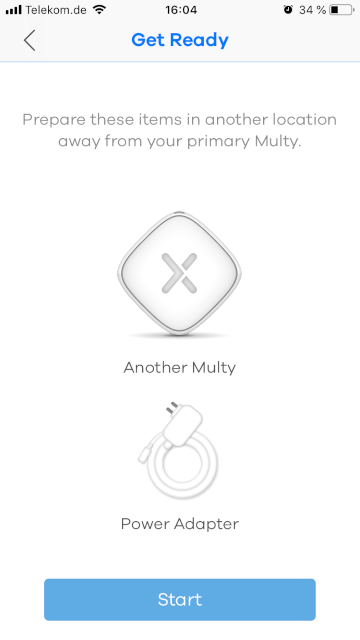 Check the distance between both Multy devices: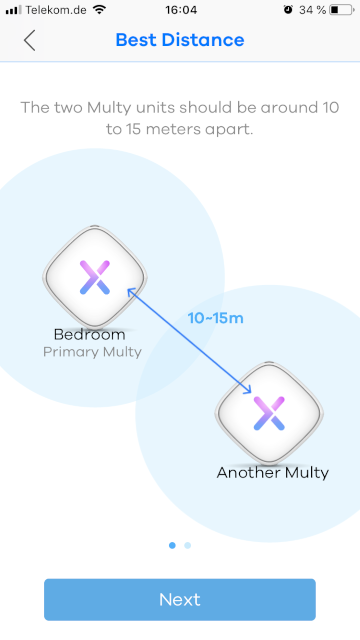 Power up the Multy and wait until the Multy LED is blue:
If yes, tap on "It's solid blue" and you will see the following screen: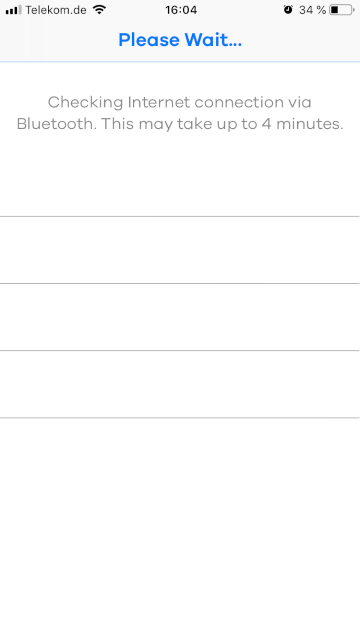 After the connectivity check is done successfully, both Multy's will be paired via Bluetooth: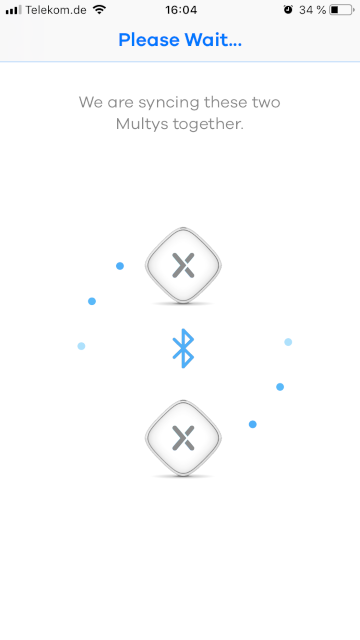 If this is successfully and you will see the following screen: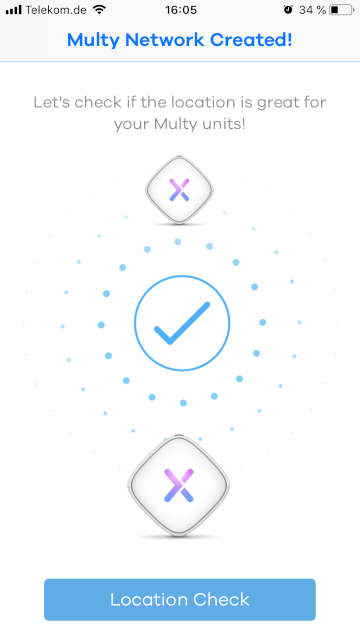 The "Location Check" will make sure that the distance between both Multy's is not too far and not too near.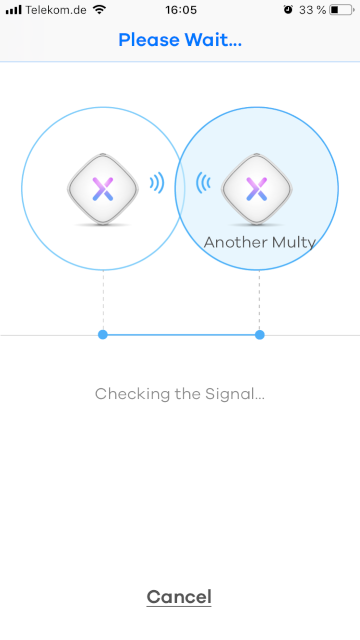 If you need to change the distance, the app will tell you in what direction you have to change it: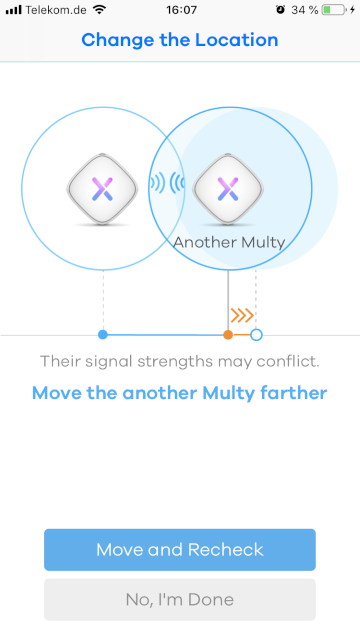 When the check is done and successfull you will be forwarded to the next screen, where you have to choose the location of the Multy: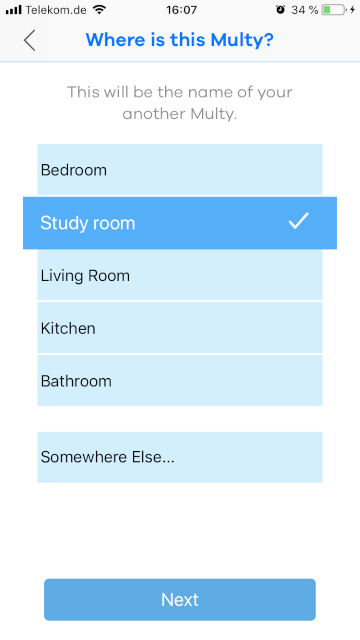 You have now successfully added the Multy to your site: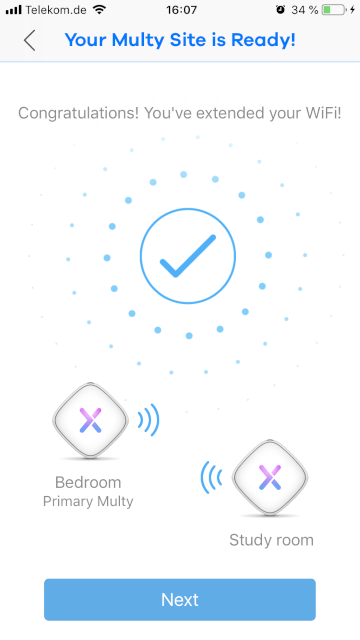 The following two screens are informational screens about your WiFi and general wiring:0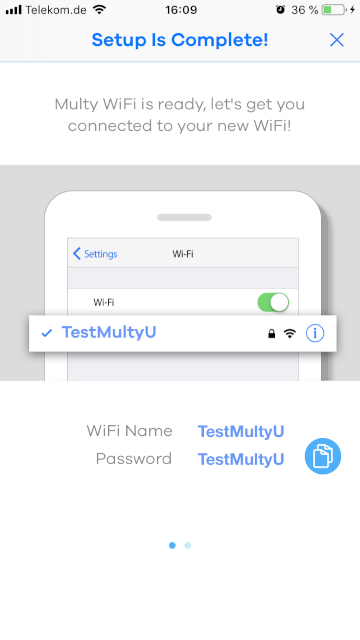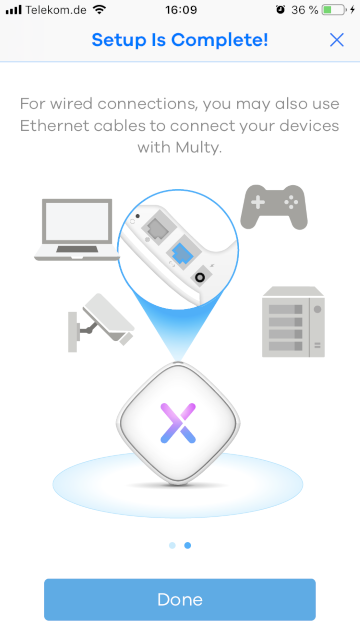 Your home screen should look like this now: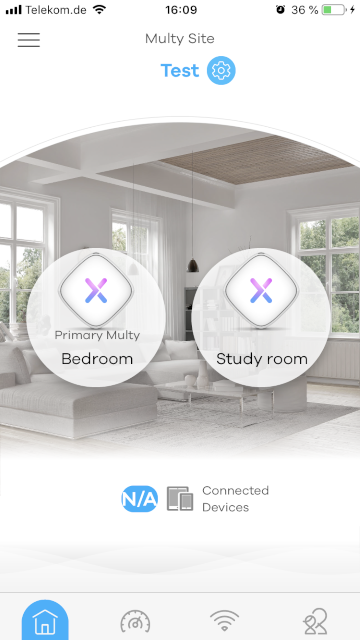 Congratulations, you have now successfully added two Multy to your site and can enjoy WiFi!